A resurfaced video of late Jeopardy! host Alex Trebek appearing to predict Ken Jennings' future has been shared on Twitter.
Prior to co-hosting the popular game show, alongside actress Mayim Bialik, Jennings made history as a beloved contestant. Not only does he hold the record for the longest winning streak on Jeopardy! with 74 consecutive wins, he's also the highest earner in a regular season.
Trebek died in November 2020 at the age of 80 from pancreatic cancer. For the 2020-2021 season, Jeopardy! continued with a slew of guest hosts, who included Jennings and Bialik, before the pair were confirmed as permanent dual hosts in July 2022.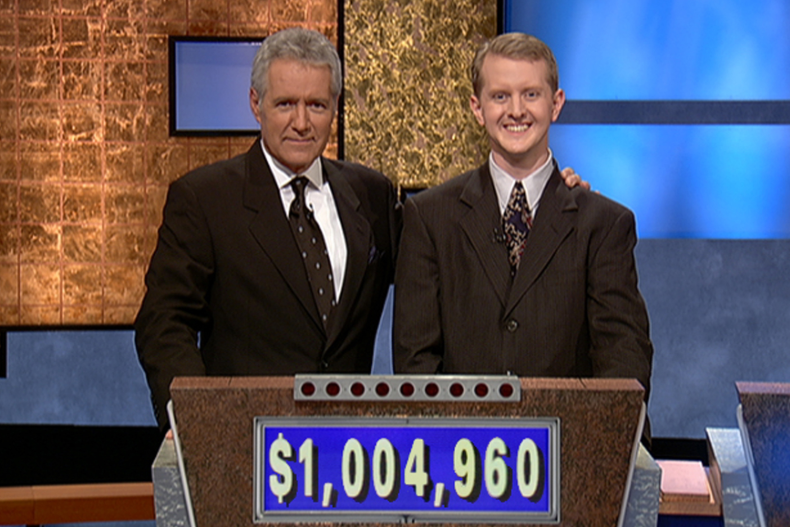 A fan of the show recently took to Twitter to share a clip of Trebek and Jennings' interaction during a 2014 episode.
"I was watching an old game from 2014 and noticed Alex said this…," the caption read.
In the 10-second video, Jennings said: "I've been behind this podium a lot, and I feel really at home here."
"How would you feel over…," Trebek replied, pointing to where he stands to host the show. "No we won't talk about that," he joked as the audience laughed.
In the comments, one person called their banter "fate," while another surprised user simply said: "Wow!"
While announcing his hosting news on social media, Jennings paid tribute to Trebek.
"It's official! There is white smoke over Culver City. @missmayim and I are your Jeopardy! hosts next season," the Emmy Award nominee tweeted a year ago, on July 28, 2022.
"Jeopardy! has been a big part of my life since I was a kid, and I take the show and its legacy very seriously," he continued. "It's been a singular honor to be associated with the talented staff and crew there for the past 18 (!) years."
In a note posted to Jeopardy!'s official website at the time, Jeopardy! executive producer Mike Davies praised Bialik and Jennings.
"Mayim and Ken are both extraordinarily talented and simply lovely humans," he wrote. "They support the staff and each other. They love and respect this institution of a television program. In return, the staff and I are honored to work alongside them."
Jennings successfully auditioned for Jeopardy! in 2004 and won a whopping $2.52 million from his 74-game streak. He also appeared on several Jeopardy! spinoff shows including 2005's Jeopardy! Ultimate Tournament of Champions, 2011's The IBM Challenge, 2014's Jeopardy! Battle of the Decades and 2019's Jeopardy! All-Star Games.
Bialik, meanwhile, is a neuroscientist and author, though she is arguably best known for her role as Amy Farrah Fowler on the CBS sitcom The Big Bang Theory. In addition to guest hosting during season 37, she also hosted ABC's Jeopardy! National College Championship.
Do you have a tip on an entertainment story that Newsweek should be covering? Do you have a question about Jeopardy!? Let us know via entertainment@newsweek.com.