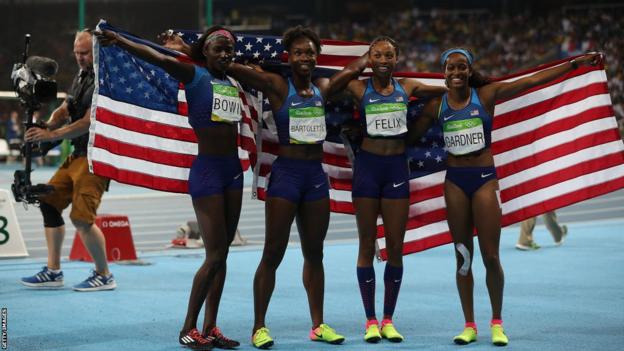 Olympian great Allyson Felix has called for better maternity care for black women to ensure teammate Tori Bowie's death "is not in vain."
Of the four Americans who teamed to win gold in the 4x100m relay at the Rio 2016 Olympic Games, three nearly died or died in childbirth.
Felix gave birth at 32 weeks in 2018, having developed preeclampsia and "wasn't sure if she would make it."
Her and Bowie's teammate Tianna Madison (formerly Bartoletta) said that He almost dies during delivery after going into labor at 26 weeks.
writing for Time magazine, seven-time Olympic champion Felix said, "Three gold medalists from that 4x100m relay team in Rio set out to become mothers. All three of us, all black women, had serious complications."
"Tori has passed away. We are dealing with a black maternal health crisis. Here you have three Olympic champions and we are still at risk."
Felix, the most decorated American track and field athlete of all time, noted CDC data as of 2021, which states that the maternal death rate for black women in the United States is 2.6 times the rate for white women.
In the UK, data published by the University of Oxford in 2021 showed that black women were four times more likely than white women to die in pregnancy and childbirth.
Felix said: "That needs to change, now, especially in light of Tori's tragic passing.
"Awareness is huge. Serena Williams had near-death complications during her pregnancy. Beyoncé developed preeclampsia [a condition that causes high blood pressure during pregnancy and after labour].
"I hate that it takes Tori's situation to put this back on the map and get people to pay attention to it. But often, we need that wake-up call."
Felix, 37, added that she has a "very real concern" about having more children and called on the medical community to "do their part" and "listen to the pain of black women."
"I am hopeful that things can improve," he added.
"It's my hope that Tori, who stood on the podium in Rio with gold around her neck and sweetness in her soul, doesn't die in vain."