Conservative pundit Ann Coulter accused Matt Schlapp, chairman of the American Conservative Union (ACU), which hosts the Conservative Political Action Coalition (CPAC), of being a "groomer" on Sunday following new sexual misconduct claims made against him.
ACU Vice Chairman Charlie Gerow announced his resignation on Friday while urging that an independent probe be made to look into the sexual misconduct allegations made against Schlapp, who was sued for alleged sexual battery earlier this year, according to The Washington Post. The Post also reported two new alleged instances of sexual misconduct from male staffers based on anonymous sources.
Matt Smith, a member of the ACU executive committee, denied the allegations in a statement to the Post on Saturday. Newsweek also reached out to the ACU for further comment via email. The allegations could not be independently verified.
"These allegations are completely fabricated and represent a blatant attempt by Mr. Gerow and disgruntled individuals to force Mr. Schlapp to step down," Smith wrote. "Only when it became clear that he was not going to be reelected to the board did he fabricate these false allegations."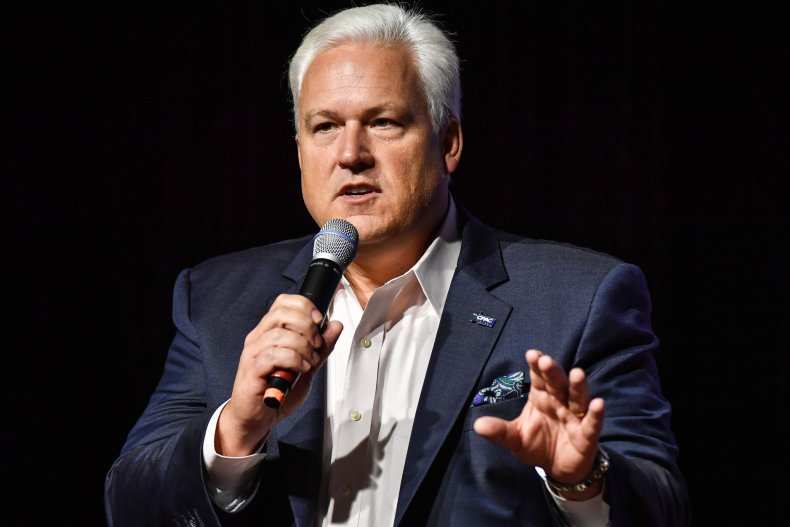 Coulter, an influential conservative commentator, responded to the report on Sunday morning in a post to the social media platform X, formerly known as Twitter.
"We found your groomer," she wrote.
Her post was an apparent reference to the "groomer" attack that some conservatives have used to falsely claim members of the LGBTQ+ community are engaging in or encouraging pedophilia.
Some conservatives have increasingly used the attack amid debates about how gender and sexual orientation should be discussed in schools. The term is viewed by the community as a deeply offensive trope, with many experts dismissing the notion that LGBTQ+ individuals are more likely to engage in pedophilia.
Schlapp previously faced sexual misconduct allegations earlier this year by GOP staffer Carlton Huffman. Huffman filed a lawsuit against Schlapp in January over an incident he said occurred on October 19, 2022, when he was working on Georgia GOP Senate candidate Herschel Walker's campaign.
In the lawsuit filed in the Virginia Circuit Court in Alexandria, Huffman accused Schlapp of fondling him without his consent when he drove Schlapp back to his hotel after a campaign event in Atlanta.
Schlapp has denied any wrongdoing in the case. His spokesperson Mark Corallo said in a March statement: "We find it ironic that someone who was fighting to maintain anonymity cooperated with The Washington Post on a profile piece complete with photographs ready for publication almost immediately following the court's ruling. We are confident that when his full record is brought to light in a court of law, we will prevail."
Schlapp has been widely ridiculed for the anti-gay views that CPAC has helped spotlight, with January's allegations renewing those criticisms.
In addition to leading the ACU, which oversees the largest conservative conference in the United States, Schlapp has also been an adviser to former President Donald Trump. Schlapp's wife, Mercedes, also worked as Trump's communications director from 2017 to 2019.