US Secretary of State Antony Blinken received a silent greeting when he arrived in China on Sunday for high-level diplomatic talks.
He was greeted by Yang Tao, Director General of the Department of North American and Oceanic Affairs at the Ministry of Foreign Affairs, and US Ambassador to China Nicholas Burns when he landed in Beijing.
Blinken is the first senior US diplomat to visit China in five years, continuing icy US-China relations. He postponed a February trip following the diplomatic melee sparked by what the United States said was a Chinese spy balloon flying over American airspace.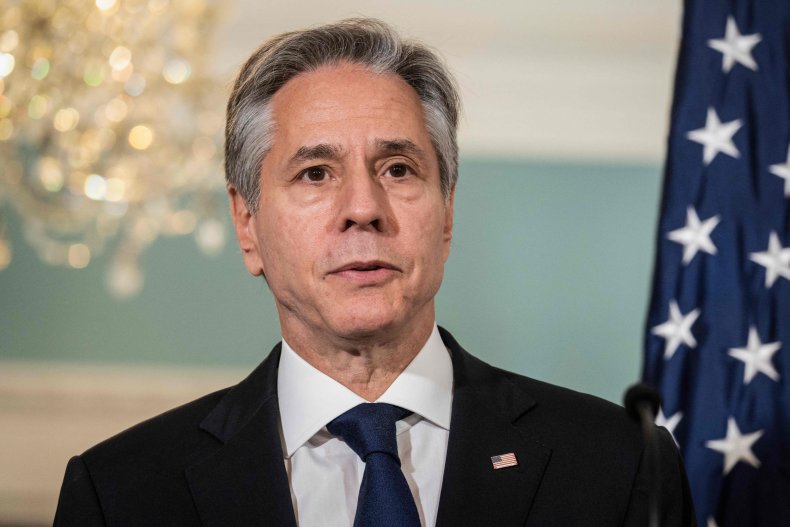 Photos and videos showed that there was no red carpet to welcome Blinken, and only a small number of officials gathered at the airport.
Human rights activist Jennifer Zeng, who has lived in the US for the past 12 years, pointed out in a tweet that "only the US ambassador and Yang Tao, the director of the Department of North America and Oceania at the Chinese Ministry of Foreign Affairs (a much lower level #CCP official) were present to welcome him at the airport. No red carpet. No welcoming crowds, no waist drum performance… This, by Chinese standards and culture, is deliberate humiliation."
Professor Steve Tsang, director of the China Institute at the School of Oriental and African Studies in London, UK, said news week that Blinken's visit is seen by Beijing as a concession to the US.
Blinken "is trying to reopen high-level dialogue and set up some kind of guard rails to reduce the risk of US-China relations slipping further," Tsang said.
"Beijing essentially thinks the US is to blame and unless the US side shows 'sincerity' and backs off its hostile approach towards China, there isn't much to talk about.
"So the very fact that the visit is taking place is already being seen by Beijing as a concession it has made to the US, the visit is unlikely to ensure any concrete results."
Twitter users were quick to compare the lack of fanfare over Blinken's arrival to the grand welcome French President Emmanuel Macron received when he arrived in China for a state visit in April.
China rolled out the red carpet for Macron, and China's top diplomat Wang Yi greeted him at the airport. A Chinese honor guard and children were also part of Macron's welcome.
"No Red Carpet, No Homecoming Party" wrote Zhao DaShuai,, who in her Twitter biography claims to be an employee of the Propaganda Bureau of the Popular Armed Police.
"But still, it's better that Ursula von der Leyen has to get off a commercial terminal. Let's see if she's important enough to meet President Xi." [Jinping] like Bill Gates just did."
Although Twitter is officially blocked in China, some Chinese companies and national media, such as Huawei and CCTV, use the service through a government-approved VPN. Many government departments and officials have their own accounts.
Another Twitter user shared a video of Blinken's arrival, writing: "No red carpet. No high ranking officials to meet him. Just cross a red line."
However, some said the two visits should not be compared.
"Blinken is a cabinet-level official on a working visit, while Macron is the head of state on a state visit," one Twitter user noted.
Former President Donald Trump was also given a lavish welcome ceremony when he arrived in Beijing for a state visit in 2017. He descended red-carpeted stairs to uniformed guards and children waving American and Chinese flags.
Blinken began his visit by meeting with Chinese Foreign Minister Qin Gang for a lengthy discussion, The Associated Press informed.
On Monday, he will hold further talks with Qin and Wang, China's top diplomat, and possibly meet with President Xi.
Asked if Blinken could ease tensions with China on his trip, President Joe Biden told reporters on Saturday: "Sure. Well, look, China has some legitimate difficulties that are not related to the United States. And I think that one of the things that caused the balloon wasn't so much that it was shot down, but I don't think the leaders knew where it was and knew what was inside and knew what was going on, I think it was more embarrassing than intentional.
"So I hope that, in the coming months, I will meet with Xi again and talk about the legitimate differences we have, but also how there are areas where we can get along."