Belarusian opposition leader Sviatlana Tsikhanouskaya responded on Monday to rumors about the health of President Alexander Lukashenko.
Speculation about Lukashenko, a key ally of Russian President Vladimir Putin, began to grow after he walked out on Victory Day festivities in Moscow last Tuesday.
Lukashenko was photographed at the event with a visible bandage on his right arm. He was the only head of state present who did not join Putin in laying flowers at the Tomb of the Unknown Soldier.
Lukashenko returned to the Belarusian capital Minsk early, reportedly for health reasons, rather than attend a meal with Putin and other leaders. He has not been seen in public since then, fueling speculation about his condition.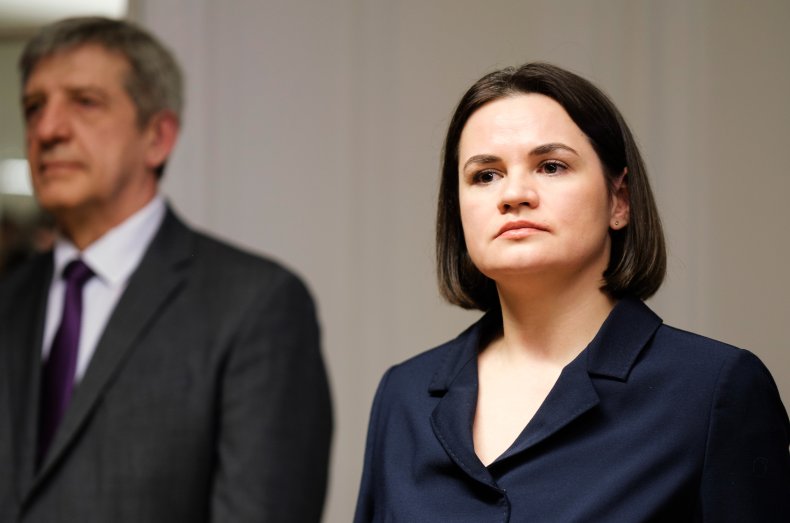 Tsikhanouskaya, the exiled leader of Belarus's main opposition organization, spoke about this on Monday. "There are many rumors about the health of the dictator Lukashenko. For us, it only means one thing: we must be well prepared for each scenario," she tweeted on Monday morning local time.
Tsikhanouskaya called on the international community to be ready to help Belarus transition to a more democratic political system in case Lukashenko is no longer fit to lead the country due to his health problems.
"To bring Belarus to the path of democracy and prevent Russia from interfering. We need the international community to be proactive and fast," she wrote.
news week reached out to Tsikhanouskaya's spokesman for comment by email.
The Belarusian government has remained silent on Lukashenko's health, issuing no formal statements that provide any kind of clarity on his condition. However, a Russian official on Monday acknowledged the rumours.
Konstantin Zatulin, a member of Russia's State Duma, told Russian media outlet Podyom that Lukashenko had been ill before his appearance at the Victory Day event. He said there is "nothing supernatural" about Lukashenko's condition, adding that he does not have COVID-19. Zatulin did not confirm Lukashenko's diagnosis.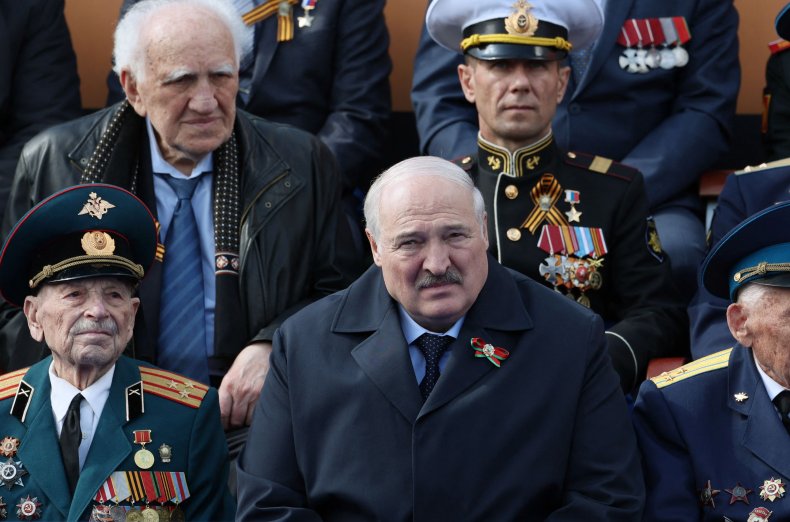 "Despite the fact that the man fell ill, he considered it his duty to come to Moscow, and then in the evening of the same day he held events in Minsk," Zatulin said. He probably needs to get some rest, that's all.
Lukashenko, 68, has led Belarus since 1994 and has faced international condemnation for aspects of his leadership. He has been criticized for jailing political opponents, as well as his support for Putin.
Tsikhanouskaya's husband, Siarhei Tsikhanouski, was arrested in 2020. He was accused of staging mass arrests and inciting hatred after announcing plans to challenge Lukashenko in that year's election. Tsikhanouskaya eventually ran in his place, and authorities sentenced Tsikhanouski to 18 years in prison in 2021.
Ukrainian authorities have commented on speculation about Lukashenko's health. Anton Gerashchenko, an adviser to Ukraine's internal affairs minister, tweeted: "On May 9 in Moscow, Lukashenko appeared ill, had a bandaged hand and left early for Minsk. Back in Belarus, he did not deliver the May 9 speech." for the first time". time ever.
"Lukashenko has not appeared in public since then. His absence is the number one topic in the unofficial media in Belarus," Gerashchenko added. "Information appeared today that Lukashenko and his entourage have some kind of flu. Interesting."