Anheuser-Busch heir Billy Busch has said he'd like to "make Bud Light great again" by buying the brand back after sales slumped following the company's partnership with transgender influencer Dylan Mulvaney.
Busch made the comments during an appearance on the podcast of conservative activist Benny Johnson, which was streamed to thousands of viewers on Friday.
Bud Light became the target of a boycott after the brand sent Mulvaney a personalized beer can earlier this year to celebrate her "365 Days of Girlhood" as part of a promotional campaign.
The U.S. sales revenue of Anheuser-Busch, Bud Light's parent company, fell by 10.5 percent in the second quarter of 2023 according to its latest financial report, with the company attributing a sharp fall in sales to wholesalers and retailers "primarily due to the volume decline of Bud Light."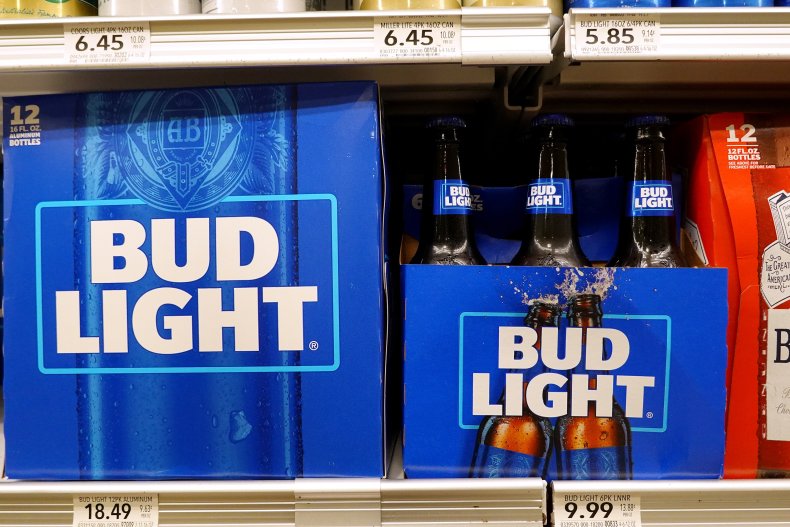 In answer to a question from Johnson, Busch said he'd be interested in purchasing Bud Light if its parent company puts it on the market.
He said: "I know Anheuser-Busch InBev just sold off eight brands and if they ever decide to sell the Bud Light brand they could sell it to me, I'd sure as heck try to pull some people together and buy that brand because I think we can make Bud Light great again."
The end phrase is a modified version of the 'Make America Great Again' slogan which Donald Trump used during his 2016 presidential election campaign.
InBev, a Belgium brewing firm, purchased Bud Light's parent company Anheuser-Busch in 2008 for around $52 billion, turning it into the largest beer producing firm in the world.
The Busch family, which had owned Anheuser-Busch for more than a century, had reduced its stake in the company between 1989 and 2008, leaving it unable to stop the sale from going through.
Asked what advice he'd give the current Bud Light executives Busch replied: "I would have first said 'watch out who the marketing people are that you hire'—they're these young, woke … who want to push political agendas down your throat coming out of these woke schools.
"Coming out with an ad the beer drinker can't relate to just doesn't make any sense."
Newsweek has contacted Anheuser-Busch InBev for comment via email.
Don't Understand Their Audience
Busch claimed those running InBev had trouble relating to the customer base of the iconic American brands they took over.
He said: "I don't think the new company InBev really understood their audience. They're a foreign company, they come to America, they really know financials, they know how to cut expenses—they're great at that kind of stuff but do they really know the American audience? The Bud Light drinkers?
"Obviously not or else they would not have come up with an advertising campaign like they did."