A burger restaurant in Atlanta is being slammed online for offering free food to Chloe Bailey after the vegan singer was given a beef burger elsewhere by mistake.
Bailey was staying in an unnamed hotel with her sister Halle Bailey—star of The Little Mermaid and the other half of the pop duo Chloe x Halle—when the incident occurred. The pair ordered Beyond Burgers, a meat substitute made from pea protein, rice protein, dried yeast and cocoa butter, amongst other vegan-friendly ingredients.
However, the hotel sent the sisters beef burgers by mistake. Unaware that the meal wasn't vegan, the 25-year-old Swarm star took a bite, breaking her 10-year streak of no meat. Devastated, she shared her story on TikTok. In the emotional video, the star said she'd specified that her order was vegan, with no "butter on the bun or anything like that."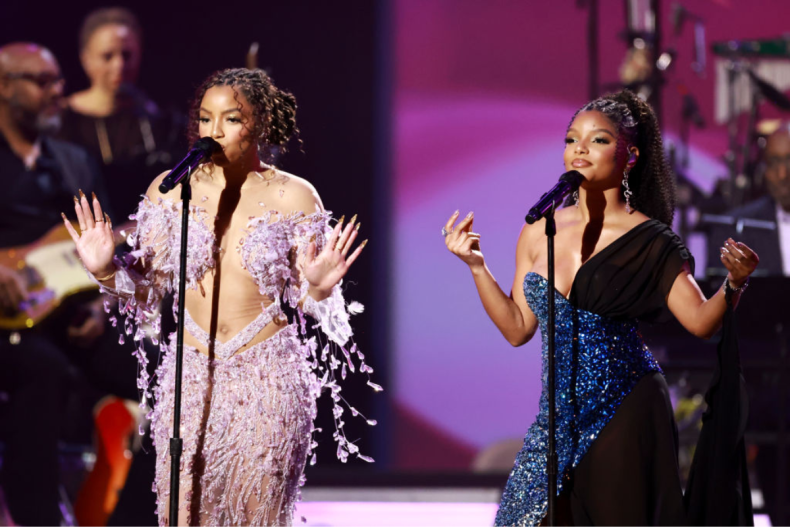 Her sister tried the burger first and suspected they were not Beyond, but Bailey touched the patty and believed it to be vegan. But after taking a bite, the actor immediately knew it was actual meat. She called downstairs, only to find out that the hotel thought she'd ordered "brand burgers."
"Does anybody know what a brand burger is?" she asked her fans in the clip. "Immediately I'm losing my s***."
Bailey burst into tears, but her 23-year-old sibling found the situation hilarious.
"Halle's laughing at me because I'm crying," Bailey continued in the clip. "This is right before the concert yesterday. I'm crying, Halle's just laughing so hard at me because I'm freaking out.'"
After the footage went viral, Slutty Vegan ATL posted to social media offering Bailey free burgers for life. Founded in 2018 by CEO Pinky Cole, Slutty Vegan began in Atlanta's west end, but now has restaurants in Alabama, New York and Texas.
"Because we would NEVER!!!" Slutty Vegan wrote alongside the offer, asking fans to tag Bailey so she'd see the message. However, as news of the giveaway spread on social media, many people were unimpressed.
"Give it to someone who can't afford to buy your burgers," commented Facebook user Peggy William.
"Tag the homeless ppl. How about that," said Instagrammer one9two_ohh. "These rich folk set for life already. Smh."
"One thing rich ppl will get is free s***," wrote X user Wednesdaigh Adams. "You got ppl starving in 3rd world counties like Detroit but sure give the millionaire little mermaid start free food."
"Pass the free food for life onto a fam livin in poverty, pay it forward and such," suggested angisfree.
"Annoying that they offer 'lifetime free meals' to rich ppl and the restaurant is in one of the most underserved counties in the metro Atlanta area," said @orangemoonmagic. "Makes me not want to support their business anymore tbh."
The Bailey sisters became vegans in their teens. In a 2017 interview with Complex, they explained the diet change was originally to help their voices, but the pair have never looked back, with Halle Bailey recently named one of PETA's "most beautiful vegan celebrities."
Newsweek reached out to Chloe Bailey and Slutty Vegan ATL for comment.