A professor's cats making "cameos" in his online classes have the internet in hysterics.
TikToker Hasmik Mkhitarian (@h.mkhitarian) shared a build of his chemistry professor's cats showing up during his seminars, with the attention-seeking felines receiving nearly four million views.
During a discussion about transmetallation, a black and white cat can be seen sniffing the corner of the professor's screen. In the clip below, a tabby cat can be seen fidgeting on his knee before standing up and blocking the camera with his body.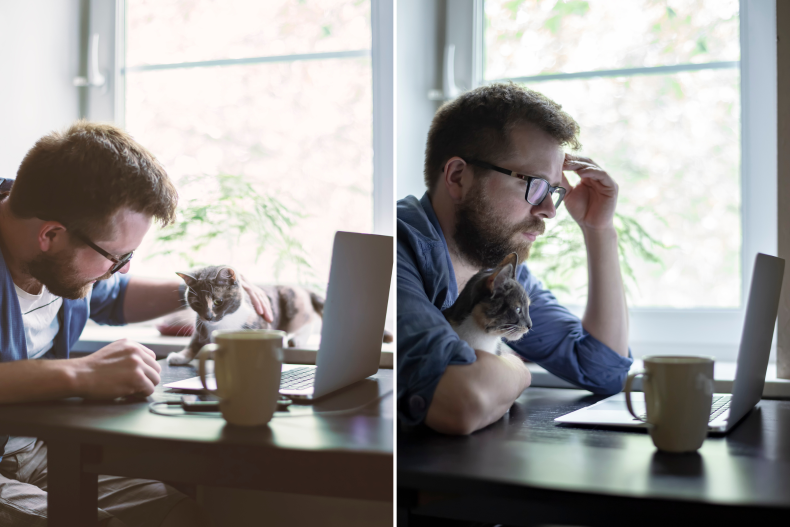 Clearly not concerned with the students' learning experience, the cat wags its butt in the teacher's face and swipes at him with its tail. Apparently used to having his cats interrupt his lessons, the teacher continues to talk about science.
In the final scene, the professor turns the camera to his black and white cat. He asks the cat if he has "anything to add" before logging off, but the cat just stares into the lens.
"By far the best teacher I've ever had," Mkhitarian wrote alongside the images, which have received over a million likes.
Since the COVID-19 outbreak made remote work and online classes the norm, unscheduled visits from pets have become commonplace over video calls.
TO study 2020 published in the Veterinary Behavior Magazine found that pets became more attached to their owners during the first confinement. According to the Pew Research Center, 35% of US workers with jobs that can be done remotely still work from home full-time, so it's no surprise they continue to show up for virtual meetings and webinars.
Despite their contempt for education, the cats gained many new fans online, with chongasaurus dubbing them "associate professors."
"I never wanted to take chemistry so badly," MegRyan commented.6.
"I would 100% pay attention to it," Mercy said.
"I would never miss a class," alexlr55 agreed.
"Damn TA's [teaching assistants] really getting sticky these days huh?" Schlim Shady wrote.
"Why does it seem like the black cat is judging all the students?" Carly asked.
"He's making sure everyone pays attention and doesn't disrespect his father," said pjmsfavleo.
Other users were more interested in the professor, with Maelie wondering, "Is he single?"
"Just something about a man who has a cat that's lovely," said AHHHH.
"Someone tag me when they find their @", wrote diandra mejia.
"Imagine being smart enough to TEACH o-chem," Christina commented. "A cat to start with? I'm in love."
news week has reached out to @h.mkhitarian via Instagram.
Do you have funny and adorable videos or photos of your pet that you want to share? We want to see the best! Send them to life@newsweek.com and they could appear on our site.