Former New Jersey Governor Chris Christie on Sunday verbally sparred with a Fox News host who called into question his outspoken criticism of former President Donald Trump.
Trump and Christie are each among the crowded field of candidates vying for the Republican Party's 2024 presidential nomination. While the former president has long held a commanding lead in the polls, despite his four recent criminal indictments, Christie has been among the candidates who have struggled to gain a significant foothold with the GOP base, regularly polling in the single digits.
Nevertheless, Christie has distinguished himself on the campaign trail with his consistent and full-throated critique of Trump, while others in the field have been called out for a seeming unwillingness to criticize the former president and potentially alienate his supporters. In his numerous media appearances, Christie has derided Trump for his litany of criminal allegations and insisted that Republicans will fail to retake the White House next year if he is their nominee for a third time.
On Sunday, Christie made an appearance on Fox News for an interview with Howard Kurtz. During the discussion, Kurtz cited a Politico article claiming that the former governor's criticisms were only reaching those who have already been persuaded against Trump, to which Christie took issue.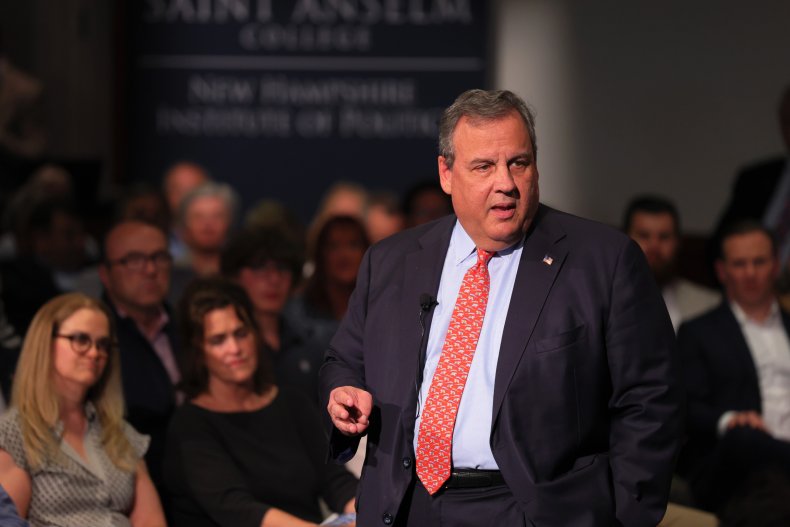 "Yeah, how did those people get persuaded in the first place?" Christie countered. "I mean, let's face it, Howie, this is a guy who's going to be sitting in a courtroom for all of March and most of April defending himself for trying to interfere with the peaceful transfer of power rather than making the case against Joe Biden."
Kurtz then put forward a statistic claiming that 60 percent of Republicans believed that the nearly 100 criminal charges leveled against Trump were unfair. A similar poll, recently conducted by CNN/SSRS, found that only 44 percent of likely Republican voters in 2024 were concerned about the charges against him. That survey, which was carried out from August 25 to 31, included 1,259 registered voters and had a margin of error of 3.5 percentage points.
In response, Christie said that the real trouble would be the impact of the indictments on the opinions of independents and "soft Democrats" in next year's general election.
"No, I think the questions are wrong," the former governor said. "Whether you think they're unfair or not, they are going to impact independent voters and soft Democrats in the general election. Both sets of people we need to win a general election as Republicans. And Donald Trump cannot win those people while he's under indictment of four cases."
The former governor further cited Trump's indictments pertaining to the January 6, 2021, Capitol riot and his mishandling of classified documents at Mar-a-Lago as major deterrents to his performance in the next general election. Trump, meanwhile, has plead not guilty in all the cases he currently faces.
"And if you don't think that these charges and that conduct are going to be a major focus in the general election, if we nominate Donald Trump, you're kidding yourself. And we're going to lose," Christie said.
Newsweek reached out to Trump's office via email for comment.