The 10th anniversary celebration of the Satanic Temple in Boston, Massachusetts, this weekend is met with counter-events from various Christian groups, including revival rallies designed to "ambush" the group's SatanCon convention.
The temple, unlike the Church of Satan, does not worship the biblical Satan as a deity, but has historically used its religious association to "reject tyrannical authority," according to the organization. website. Friday kicked off the group's second annual SatanCon at the Boston Marriott Copley Place, about 25 miles south of the organization's iconic home in Salem, Massachusetts.
The organizers of the group have nicknamed the three-day event as the "largest satanic gathering in history," and the convention will include performances, rituals, and a "Satanic Market."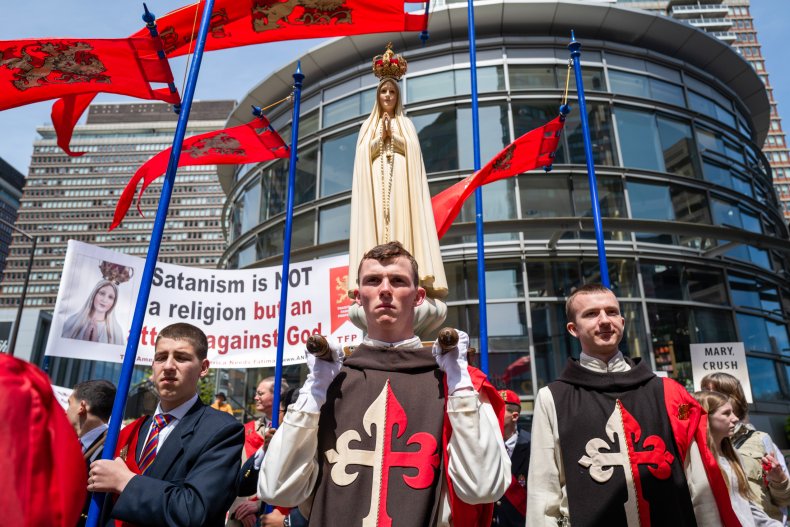 However, the sold-out event has drawn the attention of opposition groups, including the Catholic Archdiocese of Boston, which said Catholic News Agency last week that the diocese is responding to SatanCon with "intense prayer."
"Under the direction of Cardinal [Sean O'Malley]we are addressing it through a prayerful and balanced response," said an archdiocese spokesman, Terrence Donilon.
A separate Christian activist group is also hosting an event titled "Revive Boston," which is scheduled to run on the same dates as SatanCon, at the Revere Hotel Boston Common, less than a mile from the temple event. The "revival" weekend will include worship, prayer services and a "citywide outreach" to "preach the gospel in key locations" throughout Boston, according to Revive Boston. website.
in a video Shared on YouTube in February, Revive Boston frontman Dr. Jaymz Sideras said the event is a "counter-response" to the Satanic Temple's "blasphemy weekend."
"Even though they think they are coming to ambush Boston, they don't know that God has planned to ambush them," Sideras said.
While The Satanic Temple does not preach belief in Satan, the group encourages empathy, compassion, justice, and the separation of church and state. More recently, the temple has used its position as a religious organization to roll back abortion bans following the overturning of the Roe vs. Wade in summer.
In October, the temple sued Idaho and Indiana over the states' near-total ban on abortions, arguing that the restrictions infringe on the religious liberties of its members. The temple has also filed a lawsuit against the state of Texas, and describes an abortion procedure as a religious ritual for its female members, acting as an "affirmation of self-esteem and bodily autonomy."
Attorney James Mac Naughton, who represents temple members in lawsuits against Idaho and Indiana, previously said news week that the "Satanic Temple view is that a fetus is part of a woman's body."
"As such, she has absolute dominance and control over it and can get rid of it or keep it as she sees fit," Naughton said.
news week has contacted The Satanic Temple's press team by email for comment.