Elite Russian units involved in the heaviest fighting in Ukraine have been reconstituted up to six times, according to a senior Kyiv military intelligence official, as Moscow's troops continue their efforts to occupy Ukrainian regions despite massive casualties.
Vadym Skibitsky, the deputy head of the Ukraine's defense intelligence agency (GUR), told the Yalta European Strategy summit in Kyiv on Saturday that 18 months of intense fighting has badly degraded Russia's foremost units.
"The professional composition of the best-prepared Russian troops had been destroyed by the middle of summer last year," Skibitsky said. "I can give you an example: the 155th Brigade of the Pacific Fleet. Right now, this brigade is fighting in its six composition.
"So, these are not marines. These are also people who are part of the marine crews, other kinds of troops and military personnel. But this is not [for] amphibious assault," Skibitsky added.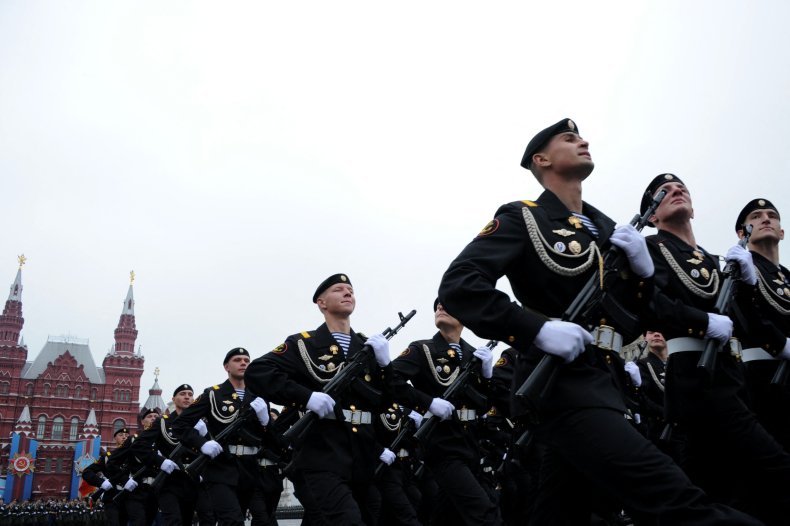 Russia's naval infantry is among its most potent battlefield resource. Like the airborne forces—or the VDV—marines are better trained, equipped, and motivated than regular Russian units.
The Pacific Fleet's 155th Brigade was among those pushing to capture Kyiv in the opening days of the war, and has since been in action in hotspots including Pavlivka and Vuhledar. The 155th was also reportedly present in the Kyiv suburbs of Irpin and Bucha, where occupying Russian units committed some of the most-infamous atrocities of the war to date.
The unit's travails are emblematic of Russia's top forces, which have been decimated by the faltering invasion of Ukraine. European officials have previously told Newsweek that elite units—including those earmarked to lead hypothetical future invasions of NATO states—have suffered up to 40 percent casualties.
"These are not the airborne troops that entered the territory of Ukraine on the first days of the aggression," Skibitsky said on Saturday, referring more broadly to the degradation of Russia's top formations including the VDV. "This is the second or the third composition of the lineup of these troops."
Neither Russia nor Ukraine releases casualty figures. American officials recently told The New York Times that Russian battlefield casualties are now approaching 300,000, including around 120,000 killed. Ukraine's Defense Ministry claims to have "eliminated" almost 270,000 Russian soldiers since February 2022. Newsweek has not been able to verify these figures.
Russian President Vladimir Putin has sought to reinforce his mauled professional units with waves of mass mobilization. Moscow sought to draft 300,000 people into service after September 2022's partial mobilization. Rumors of a second, larger wave of mobilization abound, along with reports of stealth mobilization going beyond the program announced last year.
Tightened mobilization measures and more intense recruitment efforts have been augmented by the recruitment of imprisoned Russians for service in so-called Storm-Z units.
Ukraine's military has also suffered badly, though Western estimates say Kyiv's losses are lower than that of the invading force. U.S. estimates put total Ukrainian casualties at up to 200,000, with some 70,000 believed killed. Again, Newsweek has not been able to verify these figures.