Danelo Cavalcante, an escaped murderer who has managed to evade being re-captured since breaking out of prison a week and a half ago, has changed up his look, authorities said while providing an update on the manhunt.
A search for the convicted murderer has been underway since Cavalcante, 34, climbed a wall to escape out of the Chester County Prison in Pocopson Township, Pennsylvania, on August 31. He was being held at the facility while awaiting transfer to another prison to serve out a life sentence for stabbing his former girlfriend Deborah Brandao to death in a vicious attack in front of her two young children in 2021.
A jaw-dropping video clip, shared by the Chester County District Attorney's Office several days after his shocking escape, showed Cavalcante crab-walking up a wall in the prison exercise yard. On September 8, authorities announced that the prison tower guard who was on duty at the time. Cavalcante's escape went unnoticed for more than an hour until guards took a headcount, according to the district attorney's office.
While providing an update Sunday, authorities said Cavalcante has eluded police, fled the search area, changed his appearance, stole a dairy delivery van before ditching it miles away and has attempted to contact his former coworkers.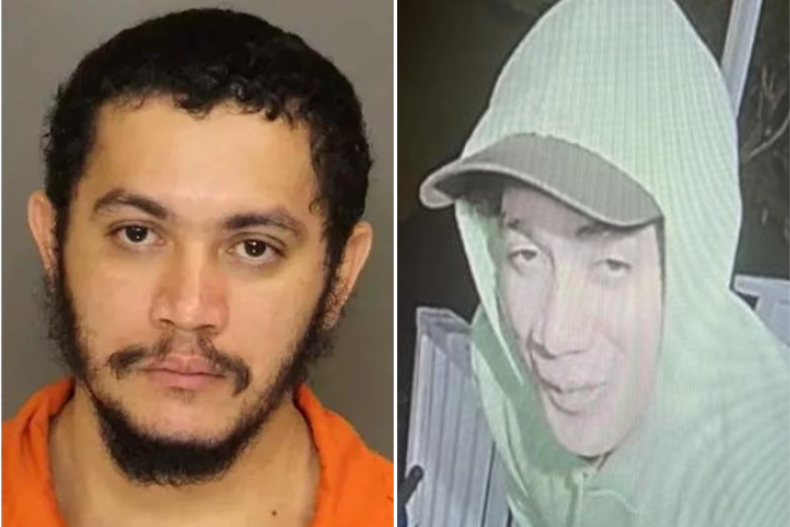 Cavalcante was last spotted overnight in northern Chester County near the town of Phoenixville, according to the Pennsylvania State Police (PSP).
Newsweek reached out via email on Sunday to the PSP for further information and comment.
Baily's Dairy said in a post on its Facebook page that a delivery van was stolen between 7 p.m. and 10 p.m. Saturday.
The theft wasn't noticed for hours, giving Cavalcante time to travel more than 20 miles northeast to East Pikeland Township and then to Phoenixville. Shortly before 10 p.m., he went to an East Pikeland Township home of a former coworker, but the person was not home at the time, police said.
The coworker called police after returning home and reviewing his doorbell camera footage, PSP Lt. Col. George Bivens said during a Sunday news conference.
Not long after stopping at the house in East Pikeland Township, Cavalcante then traveled to the home of another former coworker who lived in the Phoenixville area. This person was also not home, Bivens said.
Images captured from doorbell cameras were released by the state police to show Cavalcante's new look, according to the PSP. He now appears clean-shaven and was seen wearing a yellow or green hooded sweatshirt, a black baseball cap, green prison pants and white shoes.
In Focus
Escaped murderer Danelo Cavalcante remains at large as of September 10, 2023. He has changed his appearance and is now clean-shaven, according to authorities, who shared these images captured from doorbell cameras on September 9.
The stolen dairy van was found around 10:40 a.m. Sunday in a field in East Nantmeal Township, roughly 15 miles west of Phoenixville, police said.
While authorities said there is evidence that he is no longer in that area, they did not provide detail or elaborate on his whereabouts and said he remains at large.
Bivens expressed confidence, pledging to "aggressively continue" the manhunt for Cavalcante with the assistance of federal, state, county and local resources.
"This is a minor setback," he said. "We'll get him, it's a matter of time."
Bivens said he believed Cavalcante abandoned the dairy van because it was low on fuel. Authorities expressed concern that he would attempt to obtain another vehicle or had already done so.
Both the PSP and the U.S. Marshals Service warn that Cavalcante is "extremely dangerous." A $20,000 reward is being offered for information leading to his capture and police are urging anyone with information to call 911.