Anthony Fauci has sparked a backlash from politicians and commentators after saying that wearing face masks protects individuals from spreading coronavirus, but that there was inconclusive evidence to suggest it prevented a pandemic spiraling at a whole population level.
The former chief medical adviser to the president, who was regularly the face of the government's response to the pandemic, told CNN on Saturday that "an individual protecting themselves or protecting them from spreading it, there is no doubt that masks work," amid a spike in infections of the virus and speculation that fresh COVID restrictions could be on the horizon.
"Fauci admits that masks don't work for the public at large but still absurdly claims masks work on an individual basis," Rand Paul, a Republican senator for Kentucky who was suspended from YouTube in 2021 for questioning mask wearing, wrote on Sunday in one of many critical responses to the interview. "More subterfuge."
Some private institutions, hospital operators and colleges have reintroduced the requirements for staff or visitors to wear masks while at their sites to limit the spread of the new variants—EG.5 and BA.2.86—which have recently emerged. The moves sparked concerns that nationwide restrictions could be set to return.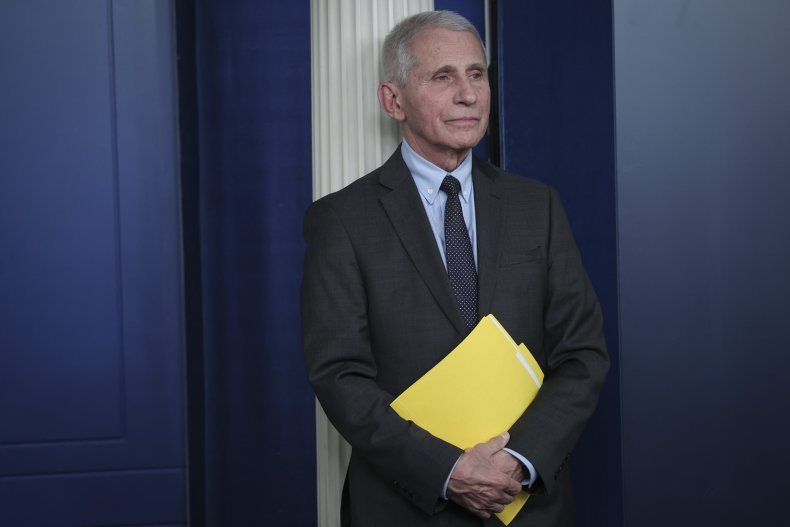 In the week to August 19, there were more than 15,000 hospitalizations due to COVID-19 infections across the U.S., the most recent monitoring figures from the Centers for Disease Control and Prevention (CDC) show—a rise of nearly 19 percent on the week prior.
Admissions have been steadily rising since July, but are far below the highest peaks of the pandemic and appear to be localized into hotspots. The highest number of hospitalizations due to COVID-19 in any week since the virus first emerged was over 150,000 in January 2022, and the highest weekly total this year was over 44,000 in the first week of January.
"We're starting to see a surge of cases…about an 18 percent or 19 percent increase in hospitalizations, certainly going in the wrong direction," Fauci told CNN host Michael Smerconish on Saturday.
While he noted that "we're not talking about mandates or forcing anybody," he said he hoped that if cases were to grow to a "reasonably high level" that the CDC recommended mask wearing again, that individuals "abide by the recommendation and take into account the risk to themselves and to their families."
A CDC spokesperson told Newsweek on Thursday it currently has no intention to call for a return of mandated mask-wearing, but didn't deny that this might change if cases of the new variants were to rise significantly. Fauci previously said he thought there was "not going to be the tsunami of cases that we've seen" before.
Despite his advocacy of mask wearing, Fauci was questioned about the diverging views on the effectiveness of face masks at limiting the spread of COVID-19.
There are differing opinions among the scientific community as to the efficacy of mask wearing, though many agree that when used in tandem with other measures—such as washing hands, social distancing and vaccination—they help stop the virus spreading.
"When you're talking about at the population level, … the data are less strong than knowing that if you look on a situation as an individual protecting themselves or protecting them from spreading it, there is no doubt that masks work," the leading immunologist said.
"Different studies give different percentages of advantage of wearing it," he added. "But there's no doubt that the weight of the studies, and there have been many studies, indicate the benefit of wearing masks."
However, he was probed on one particular study, first published by the Cochrane Library in 2020 and updated this year, which found that wearing even medical-grade face masks "makes little or no difference" to infection rates. Smerconish cited an interview with The New York Times in which the study's lead author, Tom Jefferson, an epidemiologist at the University of Oxford, said: "There is just no evidence that they make any difference."
Fauci responded that "there's no doubt that there are many studies that show that there is an advantage" at the level of individual infections, but "when you're talking about the effect on the epidemic or the pandemic as a whole, the data are less strong."
He added: "But we're not talking about that, we're talking about an individual's effect on their own safety."
"Even the [mainstream media] (CNN) are rowing back on the effectiveness of mask wearing mandates," Andrew Bridgen, a British member of parliament who was suspended in January for spreading coronavirus misinformation, wrote on X, formerly Twitter. "Unscientific and harmful."
"We know he lied back in 2020," Chad Prather, a host on right-wing outlet Blaze TV, alleged. "Guess what. He's lying NOW. Anything to stay relevant." Meanwhile, doctors who had previously opposed mask mandates expressed vindication at Fauci's concession.
Fauci told Newsweek that he was "not interested" in responding to the critics, but noted: "Even Cochrane itself put out a statement that the study referred to by Smerconish on CNN that masks do not work was 'widely misinterpreted.'"