Texas Governor Greg Abbott came under fire on Friday after a report emerged that a migrant child had died while being bused to Chicago.
The busing of migrants to major cities, particularly those run by Democratic governments, has become an increasingly common tactic of Abbott's in handling migrants who cross the U.S.-Mexico border into Texas. Abbott, a Republican, has said that the practice is meant to bring greater attention and concern to the issue of undocumented migrants to Democrats, whom he has accused of not treating the issue seriously enough. His opponents, however, have decried the practice as inhumane and likened it to human trafficking as a political stunt.
This practice came under renewed fire on Friday after Texas officials confirmed that a 3-year-old boy had died on one of the program's buses en route to Chicago, the Houston Chronicle reported. Few details about what happened to the boy are available, but the Texas Division of Emergency Management claimed that "no passenger presented with a fever or medical concerns" before the trip began.
"Once the child presented with health concerns, the bus pulled over and security personnel on board called 9-1-1 for emergency attention," the division said in its official statement. "After the ambulance arrived, the bilingual security personnel translated for the parents and the paramedics who were providing care for the child. The child was then taken to a local hospital to receive additional medical attention and was later pronounced deceased."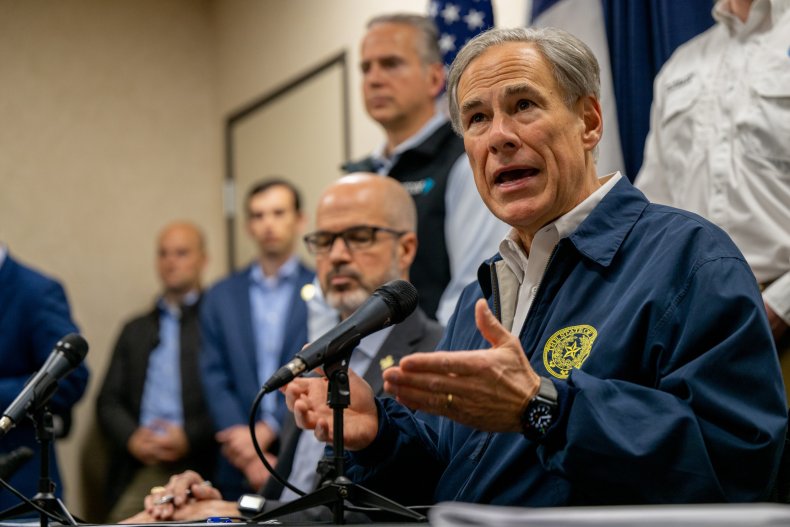 Reactions online to the child's death were swift, with various critics of Abbott taking to social media to condemn his treatment of migrants and the busing program specifically.
"Greg Abbott is already responsible for a child dying in his razor wire buoy stunt," Democratic strategist Sawyer Hackett posted to X, formerly known as Twitter, on Friday. "Now another child has died in his stunt to abduct and ship migrants out of state. He has blood on his hands. He shouldn't be sued, he should be prosecuted."
Ben Meiselas, co-founder of the left-wing political action committee, MeidasTouch, called the report sickening and condemned Abbott's program as "barbaric."
"Not sure how many migrants need to literally die on Greg Abbott's watch for us to treat what's happening at the Texas border as the national scandal that it should be," MSNBC host Mehdi Hasan posted to X.
Newsweek reached out to Abbott's office via email for comment.
Responding to those posts, several X users disputed putting the blame on Abbott and the busing program, writing that the fault is on the federal government for not taking a harder stance against border crossings. One user wrote that the child's death happened on President Joe Biden's "watch," despite the Texas government operating the program.
Abbott's administration, meanwhile, recently came under intense scrutiny after it was found that floating barriers being used on the Rio Grande River to deter migrants were equipped with circular saws. At least one dead migrant was found near one of these barriers, with Texas officials claiming that they had actually died further upriver.
Abbott's decision to employ river barriers now faces a lawsuit after the Department of Justice (DOJ) decided to sue the state and the governor over them. The DOJ says it poses a threat to navigation and presents humanitarian concerns. The Texas governor, conversely, has vowed to fight the lawsuit, pledging to go all the way to the U.S. Supreme Court if necessary.