Ukraine has made some territorial gains in its counteroffensive, which Russian sources have acknowledged but are trying to downplay, according to the Institute for the Study of Warfare.
The counteroffensive is underway in at least three areas of the front, ISW said, with Ukraine's Deputy Defense Minister Hanna Maliar saying Ukraine's forces had advanced as far as 1,500 meters (nearly a mile) into the south of the country. Ukrainian and Russian sources said kyiv had made gains south of Velyka Novosilka in Donetsk Oblast between Saturday and Sunday.
Ukrainian soldiers were shown on video footage raising their country's flag over the village of Blahodatne, south of Velyka Novosilka, which is one of the main axes of the counteroffensive. Ukrainian troops from another brigade filmed themselves with their unit's banner in Neskuchne.
Kiev said another village, Makarivka, had been taken, while Ukrainian media also reported that the 35th Marine Separate Brigade liberated the Storozhove settlement in an operation that killed around 50 Russian soldiers.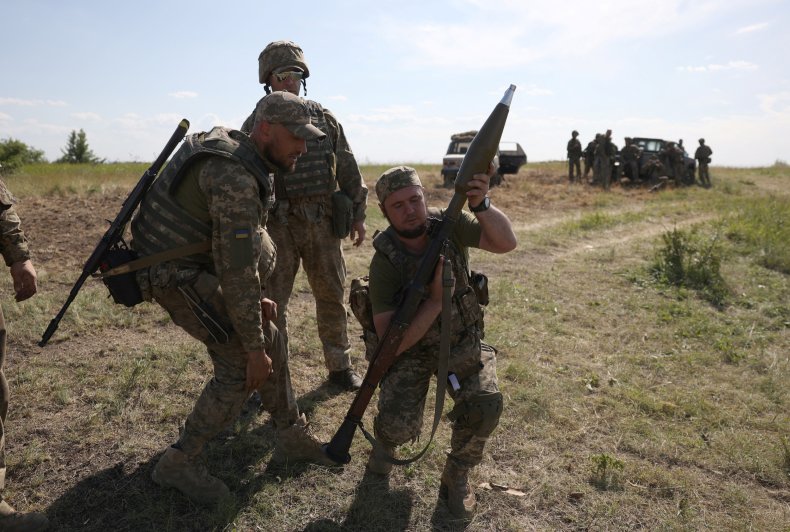 "Today the national flag flies over Storozhove again, and it will be the same with every settlement until we liberate all Ukrainian land," the brigade said in a Facebook post.
Former British intelligence officer Philip Ingram said news week that Ukraine's reported gains were "encouraging", especially given that Ukrainian forces were still in the probing and penetration phases of their attacks.
"I still anticipate a large formation attack along the main Ukrainian effort once the initial Russian defensive lines have been breached," Ingram said. "Until then, the Ukrainians will continue to push through the Russian positions, keeping them guessing where and when it will happen."
ISW said Russian military bloggers were trying to cast doubt on reports of Ukraine's successes, saying battles are ongoing in "grey zones" or areas that were disputed or not fully occupied by Russia.
This was an attempt to "downplay Ukrainian gains and fail to report on Ukrainian forces breaking through defensive lines," ISW added.
He noted that although Ukrainian forces had liberated several cities, "claims of a Ukrainian 'breakthrough' are premature at this point."
Meanwhile, Russian state media, citing AFP, reported that Ukraine had lost several of its US-supplied Bradley infantry fighting vehicles "during the offensive on Zaporozhzhia in the Orikhiv area. The agency said six of the nine infantry fighting vehicles had been "completely destroyed".
Russian President Vladimir Putin said on Friday that the Ukrainian counter-offensive had begun, but claimed that it had failed to achieve any of its objectives and that Kiev forces had suffered "significant losses."
Military analyst Konrad Muzyka of Rochan Consulting said in a side article on Monday that in the counteroffensive so far, kyiv had employed roughly 10 brigades, but only one confirmed with Western-made equipment.
The first four days saw Ukraine "liberate more than 60 square kilometers of territory" but the attacks near Orikhiv "resulted in some Ukrainian losses and were not as successful," Muzyka told the weekly Ukraine Conflict Monitor.
news week contacted the Russian and Ukrainian defense ministries for comment.