It was 10.30 a.m. on a Thursday when we received an email from the court telling us the jury had submitted note number nine. It was the nineteenth excruciating week of this trial, and the jury had been deliberating for its second week.
The majority of the defense counsel was staying at the attorney lodge in the courthouse. Having been waiting—and unable to fill time without speculating what jurors were doing, thinking, and saying to each other—we were all highly stressed.
Waiting for a jury to deliberate is a feeling like none other; no matter how much you attempt to work on something else, your mind goes back to the jury sitting in a room deciding your client's fate.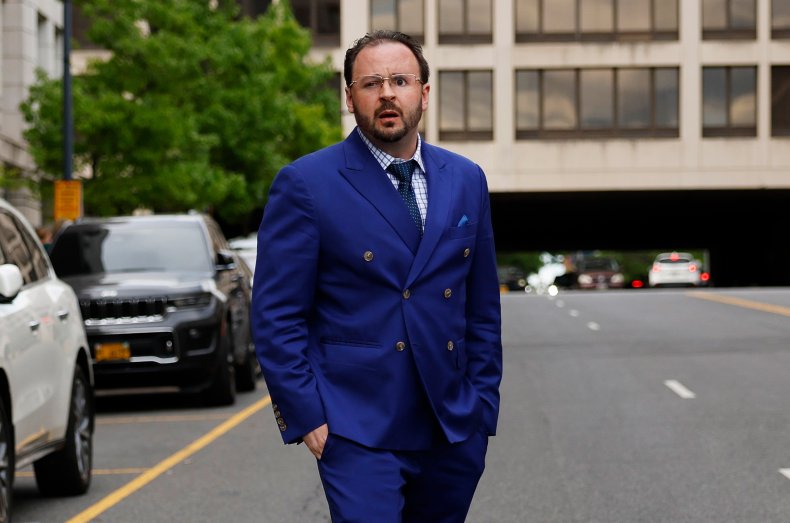 This time the stakes could not have been higher, and I was feeling the pressure.
The email told us there was a partial verdict. Oh no. A partial verdict is usually not good for defendants and typically means the jury must go back to finalize what they could not already agree on.
When I arrived, everybody on the defense side of the room looked pale. I read the jury note, which stated in substance: We are undecided on count one, which is a seditious conspiracy, for only Dominic Pezzola, and count two, which is another conspiracy for only Pezzola.
There were issues with two of the other counts, but the jury had reached verdicts on everything else. Everyone was in complete shock.
After the partial verdict was read to a completely packed courtroom, journalists seemed to be having a field day in reporting that four of the top Proud Boys were found guilty of seditious conspiracy.
Dominic Pezzola, who I referred to throughout the entire trial as "Dom", remained the only defendant who was yet to be convicted, and still stood a chance to beat two conspiracy counts—including the top charge of seditious conspiracy.
I met Dom. Because the jury had not specifically stated they were deadlocked yet, the consensus I came to was they would keep deliberating until they also found Dom guilty of the two remaining conspiracies.
The rest of the afternoon, waiting on the verdict of those two counts, was a blur. It felt like an eternity before we returned to court after jury note ten was submitted.
We were told the jury could not reach a verdict on two of Dom's charges—the second conspiracy count, and count eight of an assault charge. For the top charge of seditious conspiracy, Dom was found not guilty.
I really did not know what to think. I will never forget sitting at the defense table and hearing those words. I felt like I could breathe for the first time in months.
The judge then granted a mistrial for the other conspiracy charge against Pezzola, and the remaining assault count. This was a huge victory for us.
Agreeing to represent Dominic Pezzola
When I received a call on January 14, 2021, telling me one of my former clients had been arrested for his involvement in the Capitol riots, I didn't think these cases were out of the ordinary.
As a criminal defense attorney, I don't let my morals or political beliefs dictate how I handle a case—I care about the evidence and the law, which is devoid of emotion.
I agreed to represent an outspoken young man called Edward "Jake" Lang, who I had come to know well after representing a few years before January 6th, and for me it was business as usual.
At the beginning, I treated his case the same way I would have any other, but looking back I realize I was completely wrong; how these cases have proceeded is anything but normal.
The first day, for example, I attempted to negotiate a bond package with the government. However, it soon became clear to me that negotiations were completely off the table. This was coming straight down from Washington, D.C., and the outcome would be harsh.
Around 30 days after his arrest, Jake was moved to the U.S. capital, and I felt the treatment he and others involved on January 6 received was horrifying. They were being thrown in the hole for months at a time.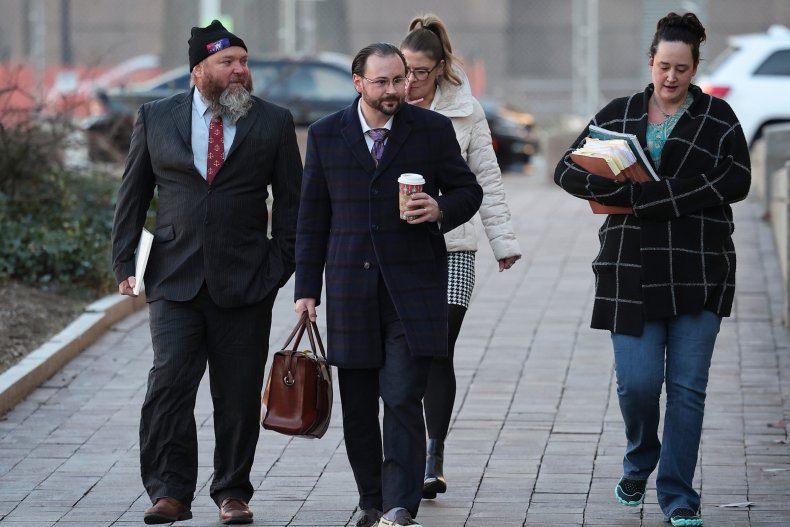 While I don't think there's a straightforward answer to whether every person who took part on January 6 was punished excessively, individually, I feel there are a lot of people who have been treated unfairly, and their conditions thus far have been exceptionally harsh. These cases have destroyed people and their families' lives.
A selected handful of these individuals are being prosecuted to the fullest extent of the law, without question, solely to make an example of them. Is that fair and equal protection under the law?
Shortly after taking Jake's case, he told me over the phone that he was being held with other men involved on January 6, who had bad lawyers and needed help. I couldn't help them all, so I asked him to give me a list of men he was close to and promised to look at their cases.
Dominic Pezzola's was one that stood out immediately.
He had been caught on camera breaking a window with a riot shield. I thought they were going to make an example of him no matter what, and they did—within a couple of days after January 6, his name was brought up on the Senate floor.
His bond was continuously being denied, but when I read the decisions it made no sense to me. This was a former Marine with no criminal history. He had a wife, two kids, and ran his own flooring company. He was a family man who did everything he could to provide for them.
He'd never been in trouble before, but had got caught up in whatever was going on during the COVID-19 pandemic. I was looking at this thinking: "This is crazy. Why has his bond been denied? He should be able to properly prepare for his trial "
I had no idea something much bigger was planned for him, and that he would end up being superseded into the Proud Boys case. He had only been a Proud Boy for around one month, so I thought he really didn't have much to do with these guys.
I thought if someone deserved a good fight, it was Dom Pezzola.
Backlash for representing Dominic Pezzola
I have received backlash for my decision to represent Dom. The person who sticks out the most is the mother of a long-term client of mine who called me to tell me she was disgusted with me. I asked her how it differed from her son needing my representation, without my judgment, but she couldn't understand me.
I have received a lot of threatening emails saying things like: "I hope you die," or "you're disgusting," or "I hope you and your children die."
Colleagues of mine in different cases have also felt the need to share their political opinions with me, and their opinions about January 6. I have been called the "attorney for the insurrectionists" when I walk into certain courtrooms.
These kinds of comments don't normally affect me. Still, I was shocked that someone I had worked closely with—someone whose family I had taken care of—no longer respected me because I represented someone she did not politically align with.
It made me realize just how divided our country is right now.
Cleaning Dominic Pezzola of his seditious conspiracy charge
I first met Dom behind a wall of glass at a D.C. jail. We talked through a phone, and it was a horrible setup. I could tell neither the room nor the phone had been cleaned in a long time and I could barely hear him.
My first impression was that Dom is a man's man—someone who has no problem getting their hands dirty, is a hard worker, and really cares about his family. I felt he was a typical Italian New Yorker.
He displayed several qualities I admired and having spent a lot of time talking to Dom, I have grown to respect him. Not only is he someone I really went to bat and fought for, I consider him a friend.
Initially, Dom was charged with various charges including assault, resisting or impeding officers, robbery of a police shield, and destruction of the Capitol building. Over a year later, he was superseded into the seditious conspiracy indictment with Proud Boy leaders.
While I feel Dom was overcharged on many of these counts, seditious conspiracy blew my mind.
Seditious conspiracy is a unique legal term that dates back to the Civil War era, the essence of which means trying to overthrow your own government, which I feel is nowhere close to what these facts show here, especially in the case of Dom Pezzola.
In our history, it's always required a substantial amount of force to take over the government. Neither Dom nor his co-defendants brought a weapon that day, so I believe there was no real force component to substantiate those charges.
The actual language on the verdict form that the jury had to use to find a defendant guilty of seditious conspiracy consisted of two goals, which the jury had to find existed.
Goal one was to oppose by force "the authority" of the Government of the United States. Goal two was to use force to prevent, hinder, or delay the execution of any law of the United States.
I could not understand how they were going to justify using that charge, and it's amazed me how they've been able to weaponize it.
After working with Dom for a while, it became clear to me that there was only one count the government was willing to talk about—seditious conspiracy. If any of these guys wanted to take a plea deal, they would have to plead guilty to that charge.
But this was not an option for Dom, who has a G.I. Bill from his time in the United States Marine Corps which would be canceled if he was convicted of trying to overthrow his own government. I knew we would have to go to trial.
I also knew that Dom's trial was going to be different. We had the full weight of the federal government against us and the event was taking place in D.C., where the majority of residents vote Democrat and despise what happened on January 6.
We were faced with the worst potential jury pool and the most massive adversary, so regardless of Dom's individual case, we were starting off at a substantial disadvantage. I knew the trial would involve us getting knocked down every single day, but Dom was ready to fight that charge.
When I knew what we were up against, I started getting to know the other attorneys and learning about Dom's co-defendants. I spent a lot of time working on Dom's robbery count, which I disputed because I did not feel he had used force to obtain the police shield.
Regarding Dom's assault charge, I argued that he acted in self-defense because there were gunshots constantly going off around him and people being shot near him.
I focused a lot on separating Dominic from everybody else, to distinguish him and get him as far removed from these other defendants as possible. I wanted him to be his own character, his own personality out of New York. I spent months painting and framing that picture.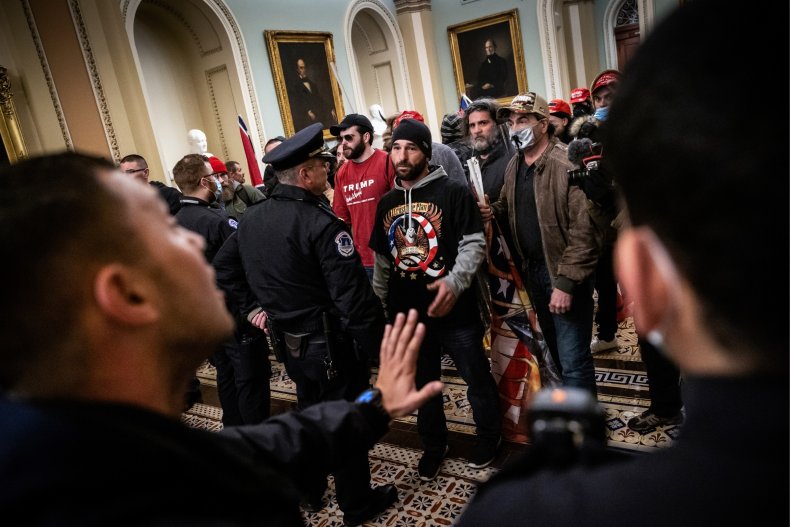 I restructured the narrative surrounding Dom, by going over detail after detail after detail about what actually happened, over and over again until people were sick of it.
There were various parts of the trial where I just stayed quiet and let other attorneys hash things out; I needed to send the message that certain arguments were not our fight.
By the time the jury came back with their verdict on May 4, everybody was physically and mentally exhausted. I wasn't getting paid for my role in the trial and was desperate to get back to New York to see my kids and wife, who was eight months pregnant at the time.
When I originally got this case, I worked out an initial retainer with the family but that was exhausted very quickly. By the time Dom stood and testified, he had been in jail for around 28 months and everyone ran out of money, very quickly. There was nothing coming in and there were a lot of promises from various different people, but they fell through.
By this point, I was in way too deep to say no. I had to move forward, but I was losing substantial amounts of my own money. I spent a large portion of our savings during the course of the trial because there were so many expenses.
I'm happy with the fact that the jury gave true consideration on seditious conspiracy, and found that Dom was not guilty. I believe they could have come to a different decision just because they did not like him, or I, or the Proud Boys.
I fought every day for almost six months and got a small amount of what I fought for and what I believe that we deserved.
Dominic wants me to handle his appeal, and there have been various different issues throughout the trial that I look forward to addressing on appeal. I will go forward as best as I can while Dominic still has some substantial exposure.
In the future, I don't see a vast amount of January 6 fefendants being "exonerated" per se. However, everyone has due process rights to ensure that the procedure throughout the course of your case is fair.
Even if you're caught with a smoking gun in your hand, or are up against overwhelming evidence, you're entitled to an attorney, and you're entitled to fair proceedings.
I believe the way some of these cases have been handled from jump street has set up a landscape that has been so one-sided it makes it difficult to defend against the charges and be completely acquitted.
On the flip side, I feel that there's going to be another round of new arrests of some pretty heavy hitters.
In this particular case, I believe the government tested a new theory against Enrique Tarrio, who was convicted of seditious conspiracy despite not being present in Washington, D.C. on the day.
So now, if they can link anyone's emails or text messages to January 6 and call it a conspiracy, they may be able to convict anyone, even those who never stepped foot on the Capitol grounds that day.
Ultimately, I think the public is going to start to see that a lot of what they believe is not accurate or that these have been weaponized cases.
I think people are starting to realize much more about January 6 and that certain groups are beginning to consider whether there have been injustices in all of this. I believe that as time goes on, the tides will start to change.
Steven Alan Metcalf is a Criminal Defense Lawyer at his Manhattan-based law firm Metcalf & Metcalf.
All views expressed in this article are the author's own.
As told to Newsweek's My Turn associate editor, Monica Greep.
Do you have a unique experience or personal story to share? Email the My Turn team at myturn@newsweek.com.