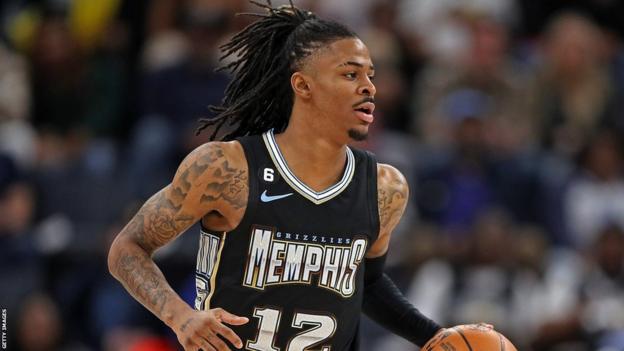 Memphis Grizzlies guard Ja Morant has been suspended 25 games without pay for "conduct detrimental to the NBA."
His return is contingent on completing an NBA program that "directly addresses the circumstances that led him to repeat this destructive behavior."
Morant was suspended for eight games after the initial incident in March.
On that occasion, video showed the All-Star guard, who was the No. 2 overall draft pick in 2019, holding a gun at a Colorado nightclub, after which he apologized and said he would "get help."
"I take full responsibility for my actions last night," he said. added in a statement.
Morant said he is "committed to keep working on myself." after the last incident, when during a live broadcast on Instagram he posed with a gun in a car with several other people as they were leaving a social gathering in Memphis.
"I know that I have disappointed a lot of people who have supported me," Morant said.
"This is a journey and I recognize that there is more work to be done. My words may not mean much at this time, but I take full responsibility for my actions."
The 2023-24 NBA season begins in October, with each team playing 82 regular-season games.
The NBA said Morant's suspension begins immediately and will remain in effect for the first 25 games in which he is eligible and able to play.
"For Ja, basketball needs to take a backseat right now," said NBA Commissioner Adam Silver.
"[His] The decision to return to wielding a firearm on social media is alarming and bewildering.
"The potential for other youth to emulate Ja's conduct is particularly troubling. Under these circumstances, we believe a 25-game suspension is appropriate and makes it clear that reckless and irresponsible behavior with weapons will not be tolerated."
The National Basketball Players Association, the league's players' union, criticized the length of the ban.
"We believe it is excessive and inappropriate for a number of reasons," NBPA Executive Director Tamika Tremaglio said.
"It's not fair and consistent with past discipline in our league. We will explore all options and next steps with Ja."