Jason Aldean's track "Try That in a Small Town" may have caused controversy this summer—with accusations of racism and promoting gun violence—but the uproar doesn't seem to have dented the country singer's popularity amongst his fanbase.
The singer took to X, the social network formerly known as Twitter, on Wednesday to celebrate three sold-out shows in Florida and Alabama.
"Y'all are b*****!" the 46-year-old wrote alongside a clip of him performing on stage, set to his hit "She's Country."
"Big weekend comin' up," he said. "Let's go!"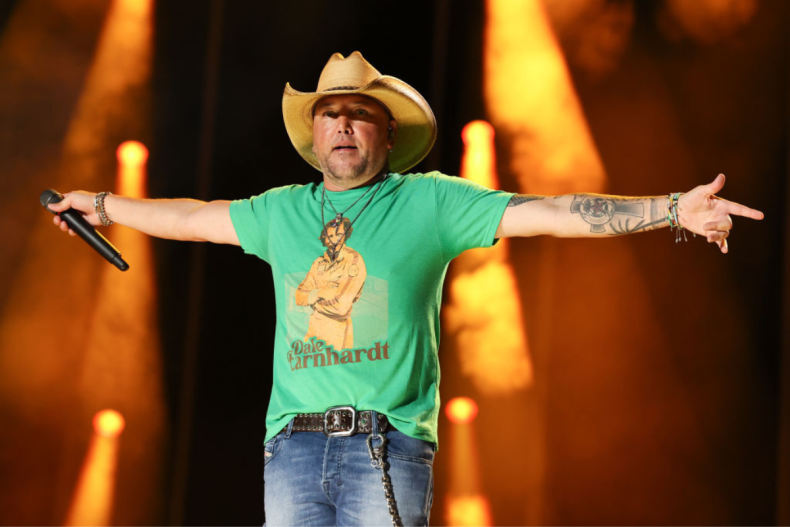 Since being shared, the post has received over 139,000 views and over 4,300 likes from fans, with follower Robyn Pirog writing: "You rock."
The music video for "Try That in a Small Town" sparked a furor online when it was released in July, with many viewers calling the clip racist.
Along with scenes of violence against police officers mixed with footage of protests against racism, Aldean appears next to Maury County Courthouse in Columbia, Tennessee. The courthouse was the setting of the 1946 race riots, as well as where 18-year-old black man Henry Choate was lynched by a mob of white men in 1927.
In response to the outcry, Country Music Television (CMT) removed the video from its rotation, leading to a boycott of the station. Aldean called out critics at his concert in Charlotte, North Carolina, on August 11.
During the show, the "Dirt Road Anthem" singer accused the media of trying to "twist a lot of things to look this way or that way."
"We put out a song that was supposed to start a conversation about people looking at what's going on in our country and hopefully realizing that what's going on in our country is a complete s*** show. Right?" Aldean told the crowd, before launching into a speech about cancel culture.
"I feel like to me my message was pretty clear. And by the looks of what's going on tonight and what happened with the song and the video once it came out, I feel like a lot of people are on my side, what do you say?"
Despite the controversy surrounding the track, "Try That in a Small Town" reached number one on the Billboard Hot 100.
A poll commissioned by Newsweek asked viewers of the video—among a sample size of 1,500 adults—for their thoughts on the song. Conducted by Redfield and Wilton Strategies, researchers discovered that 50 percent of listeners either "disagreed" or "strongly disagreed" that the track and video are racist, with a strong political divide.
When asked if "Try That in a Small Town" was a "heinous song calling for racist violence," 66 percent of Donald Trump voters disagreed. In comparison, only 24 percent of Biden voters agreed with the statement.
Newsweek has reached out to Jason Aldean for comment.