Josef Newgarden and Pato O'Ward traded the lead over and over again, each driver refusing to give up an inch on Texas Highway.
With two laps to go to victory lane, they even hit wheels.
"We're going wheel to wheel like 226 mph or something," O'Ward said. "He's pretty crazy, I have to say."
CLICK HERE FOR MORE SPORTS COVERAGE ON FOXNEWS.COM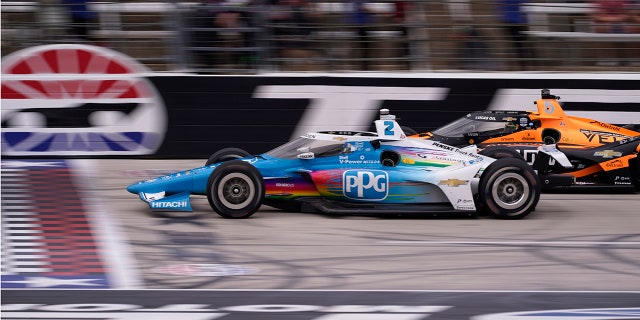 His exciting race it came to an abrupt end when Romain Grosjean crashed with one lap remaining, moments after Newgarden had passed O'Ward. Newgarden crossed the finish line under caution for his second straight win at Texas, the third of his career.
"We had a great car. I don't know what else to say other than our car was fast," Newgarden said while wearing the traditional Texas celebratory cowboy hat presented to the winner. "I don't know if it fits me. I apologize to any cowboy who makes fun of my fit."
Newgarden and O'Ward were so dominant on Sunday (they combined to lead 214 of the 250 laps) that at one point in the race, they were the only two drivers on the lead lap. They frantically traded the lead in the final third of the race, neither showing any inclination to lift their foot off the gas in the fight for victory.
There were periods of white-knuckle racing, three-wide passing, and amazing bravery, as the drivers were unafraid of the high speeds of Texas. IndyCar on Saturday used the entire field to specifically run a second high line around the 1.5-mile race track in an effort to create a passing lane.
The result was 482 passes per position, almost 200 more than in last year's race. The 26 lead changes were the most at Texas since 2001, a span of 26 IndyCar races.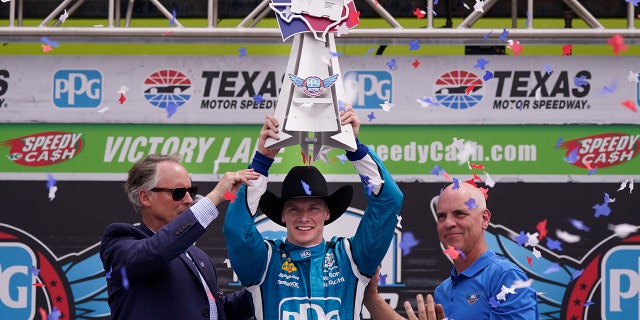 INDYCAR DRIVER DEVLIN DEFRANCESCO FLIES THROUGH AIR IN SCARY ACCIDENT DURING FIRST RACE OF SEASON
Newgarden credited the spirited run to seven-time NASCAR champion Jimmie Johnson, who made his IndyCar debut on an oval in Texas last year and finished sixth. Johnson won a NASCAR-record seven Cup races at Texas.
"I think it's the Jimmie Johnson effect," Newgarden said. "We were here last year, people were like, 'This guy, Jimmie, look at him, he can do it.' I think Jimmie Johnson basically gave everyone confidence this weekend."
The chance for a thrilling final lap ended when Grosjean crashed in fifth when the leaders took the white flag. Newgarden led a race-high 123 of the 250 laps in his Chevrolet for Team Penske. And it was a strong recovery from the season opener last month, when Newgarden's engine caught fire on the streets of downtown St. Petersburg, Florida.
"We're playing a little bit to catch up. We've got a long way to go," Newgarden said. "We're on the board. We weren't on the board coming out of St. Pete. We're on the board now."
O'Ward, in a Chevy for Arrow McLaren, opened the door. new IndyCar season with two consecutive second places. He came close to winning the opener in St. Petersburg until engine failure allowed him to be passed by Marcus Ericsson for the win.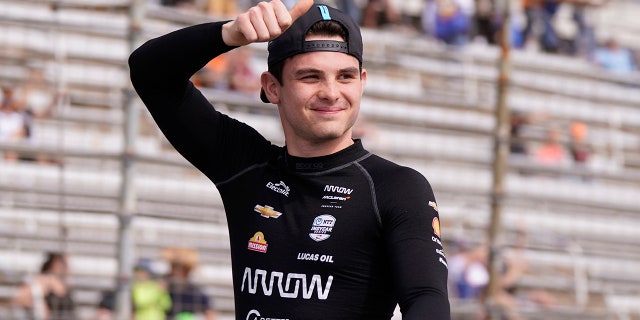 O'Ward, who led 91 laps on Sunday and used three wide moves to stay in front, is the new IndyCar points leader.
"It's been a great start to the year," O'Ward said.
Alex Palou finished third for Chip Ganassi Racing and was followed by Dale Coyne Racing's David Malukas and Ganassi driver Scott Dixon in a group of Honda-powered drivers.
CLICK HERE TO GET THE FOX NEWS APP
Penske's Scott McLaughlin was sixth and followed by Colton Herta, in his first race without his father, Bryan, as his strategist in a personnel change at Andretti Autosport. Only seven drivers finished on the lead lap.