The Princess of Wales' surprise reaction from fans during a Rugby World Cup match in France on Saturday has become a social media hit, going viral a number of times across platforms, including video sharing site TikTok.
Kate traveled to Marseille in the South of France on September 9 in her capacity as patron of England's Rugby Football Union and Rugby Football League, both of which she took over from Prince Harry when he stepped away from the monarchy in 2020.
The princess watched the World Cup group stage game between England and Argentina at the Stade Velodrome, being photographed in the stands wearing an all white pantsuit made by the designers of her 2011 wedding dress at Alexander McQueen.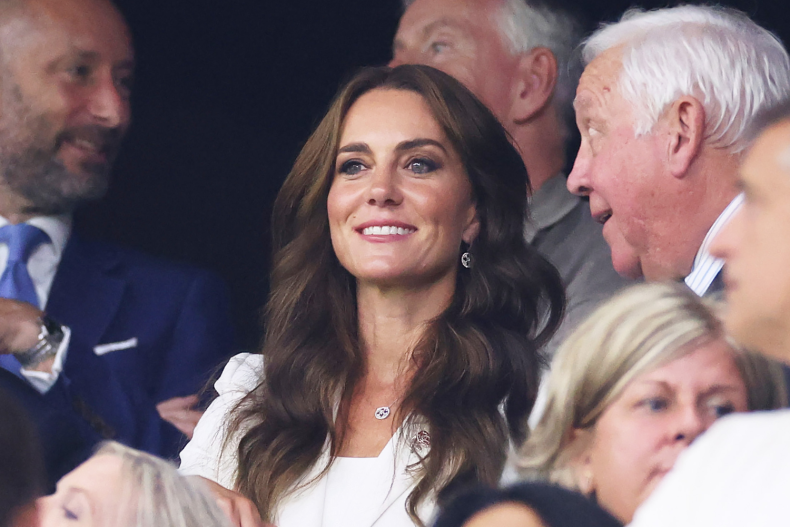 During the game—which England won 27-10—the stadium's large screens showed footage of Kate in her seat which sparked loud cheers from the crowds, resulting in the princess breaking into a smile and a wave.
This moment was quickly shared by multiple accounts on social media, including official England rugby and World Cup channels, being viewed over a million times.
One clip, captioned "Listen to the crowd's reaction to seeing the Princess of Wales," posted to TikTok by the englandrugby account, has been viewed over half a million times in less than 24 hours, gaining in excess of 52,000 likes and 400 comments.
Another post uploaded by the rugbyworldcup TikTok channel has been viewed nearly 2 million times since being made on September 9, receiving over 153,000 likes and 900 comments, many of which have praised the royal.
"Her Royal Highness Princess Catherine is absolutely and utterly PERFECTION! What a magnificent Queen she will be one day!" wrote one user of the footage.
"I MEAN WHO WOULDN'T?? I would be screaming the top of my lungs too," wrote another, with a further comment reading: "Catherine connects with everyone."
The outpouring of warmth for Kate in France and on social media comes as exclusive polling for Newsweek conducted this month found that the princess is the most popular member of the royal family, according to Americans.
Research conducted by strategists Redfield and Wilton between September 3 and 4 found that Kate was liked by 43 percent of the 1,500 American adults surveyed and disliked by just 10 percent, giving her a net approval rating of +33.
She was closely followed by her husband, Prince William, who came in with a net approval rating of +28.
By contrast, Prince Harry polled with a +12 stateside approval rating against Meghan Markle who currently sits at -2.
A number of royal fashion watchers praised Kate's stylish white pantsuit chosen for her rugby appearance in France, noting the white color choice paired with a red rose pin matched the colors of the English flag of Saint George.
Royal fashion expert and celebrity stylist Miranda Holder told Newsweek that the look showed Kate deploying a savvy style "trick" which she learned from another key member of the royal family.
"Wearing monochrome (head to toe single colour) is a style trick Kate learned from Queen Elizabeth II herself, and it was a wise choice for this occasion, as Kate was easily spotted amongst the busy crowd," Holder told Newsweek.
"White was a more subtle patriotic nod to England than wearing red or blue, but nonetheless, the princess made her allegiances clear as she supported her country in the opening match of the competition.
"She complemented her look with subtle gold jewelry from Mappin and Webb, and the general feel of the outfit definitely feels more business-like, in line with her new style strategy of soft power dressing since becoming the Princess of Wales."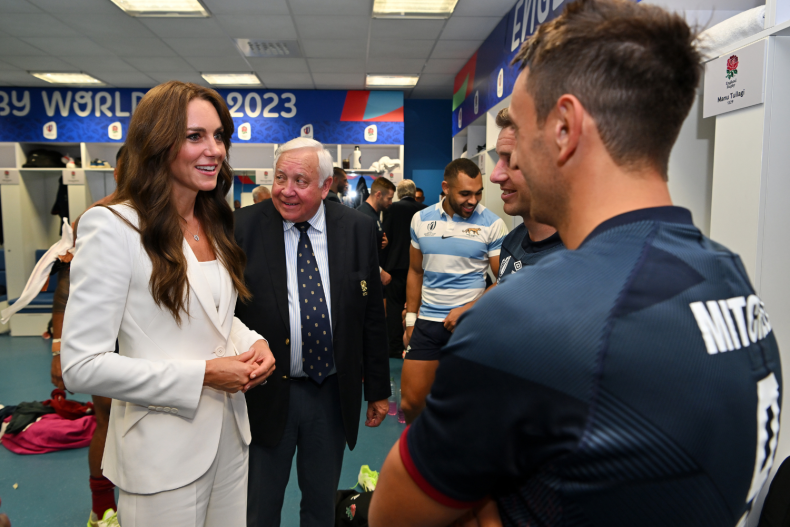 Kate's rugby appearance was followed by Prince William who attended the World Cup group stage game between Wales and Fiji in Bordeaux, France, on Sunday in his capacity as patron of the Welsh Rugby Union.
The couple made a surprise appearance on the rugby podcast The Good the Bad and The Rugby which was released ahead of England's game on Saturday and which had been filmed at Windsor Castle.
William and Kate were joined by the patron of the Scottish Rugby Union, Queen Elizabeth II's daughter, Princess Anne.
Anne's son-in-law, Mike Tindall, is a host of the podcast and was a member of the England squad who won the Rugby World Cup in 2003.
James Crawford-Smith is Newsweek's royal reporter, based in London. You can find him on Twitter at @jrcrawfordsmith and read his stories on Newsweek's The Royals Facebook page.
Do you have a question about King Charles III, William and Kate, Meghan and Harry, or their family that you would like our experienced royal correspondents to answer? Email royals@newsweek.com. We'd love to hear from you.