Rep. Lauren Boebert's attack on President Joe Biden over the devastating wildfires on the island of Maui in Hawaii has sparked a backlash on social media.
A raging fire that swept through the town of Lahaina has killed at least 93 people, authorities said on Saturday, making it the deadliest U.S. wildfire in more than 100 years.
Boebert, a Republican from Colorado, took to social media on Saturday to blast Biden for being in Delaware as the fires rage. The president is spending the weekend in Rehoboth Beach.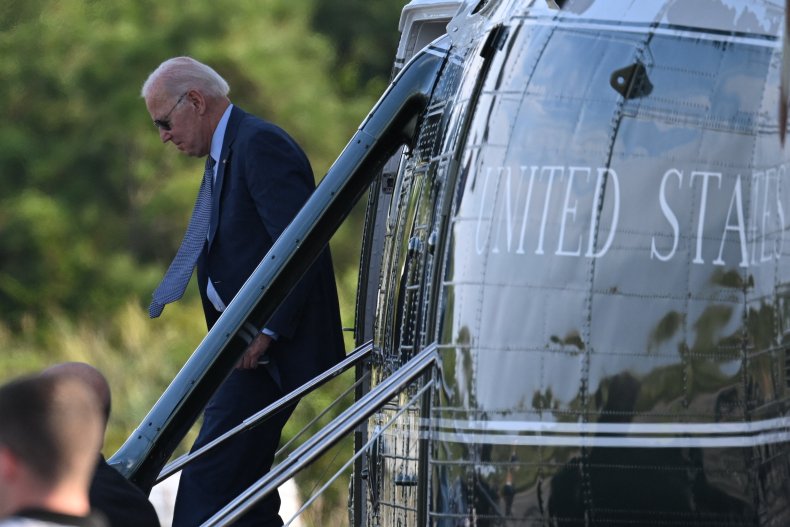 "There is a total crisis in Maui. 3000 destroyed homes. 80 people dead. Where's Joe Biden? On vacation of course. There is no bottom for this president," she wrote in a post on X, formerly Twitter.
Many quickly criticized Boebert, noting that Biden declared a major disaster on Maui earlier in the week.
"Where's Joe Biden? Not fighting the fire because he's not a fire fighter. There is no bottom for Lauren Boebert," journalist Ed Krassenstein wrote in response to Boebert's post.
"This fake outrage is starting to get annoying. Hawaii will likely get as much aid as they need from Joe Biden."
Speaking while traveling in Utah on Thursday, Biden pledged that the federal response would ensure that "anyone who's lost a loved one, or whose home has been damaged or destroyed, is going to get help immediately."
He also said the Federal Emergency Management Agency was "surging emergency personnel" on the island. "they're going to help survivors get access to federal assistance."
Others also criticized Boebert, with the Republicans Against Trump X account pointing to Hawaii Gov. Josh Green's acknowledgment of the support received from Biden. "It's going to take a great deal of time to recover from this, but we have the support from every level of government, especially given President Biden's approval of our disaster declaration request today," Green wrote in a recent post.
Some noted a visit from the president at this time would not be prudent.
"The last thing the rescue effort needs is a presidential entourage," wrote attorney Bruce Godfrey in a post. "They're encouraging homeowners who live off the island to let their houses open to locals and firsts responders. They don't need more hotel rooms taken up by Secret Service. It's an island, not Baton Rouge."
Another X user wrote: "I'm sick & tired of Lauren Boebert! Her Maui tweet is inappropriate and mean-spirited."
However, some sided with Boebert and criticized Biden.
"Where's Joe? Eating ice cream and taking yet another day off? You do have to work on weekends during a crisis. [Former president Donald] Trump would have already been over there helping," one person wrote.
The congresswoman's attack on Biden comes after the president sarcastically called her "very quiet" in a speech this week touting his administration's clean energy initiatives.
Newsweek has contacted Boebert's office and the White House for comment via email.