Former Trump Chief of Staff Mark Meadows testified in court on Monday that his actions related to the Georgia criminal racketeering case fell under his official duties to the former president.
Meadows is among the 19 individuals charged—alongside former President Donald Trump—in Fulton County District Attorney Fani Willis' investigation into Trump and his allies' alleged attempts to overturn the 2020 election results in Georgia. The ex-White House chief took the stand Monday in an attempt to move his case from state to federal court.
During his testimony, which ABC News reported lasted for roughly three hours on Monday without any breaks, Meadows argued that his actions related to Georgia's 2020 election were part of his official role to Trump, telling the court, "I don't know that I did anything that was outside of my role as chief of staff."
Meadows is specifically facing charges for participating in Trump's call to Georgia Secretary of State Brad Raffensperger, a key part of Willis' investigation, in which the former president asked the election official to "find" enough votes for him to win in the state. He surrendered himself to authorities in connection to the case last week.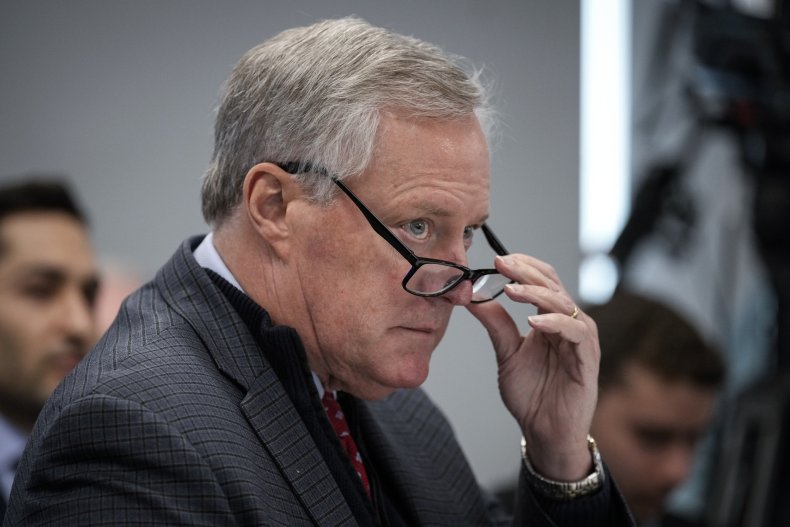 According to Meadows' former counterpart Marc Short, ex-chief of staff to Vice President Mike Pence, the argument that all actions connected to the Georgia case fell under "official duty" may be a "challenge" to prove in court.
"I'm not sure that the job description for Donald Trump's chief of staff ever probably fit into the normal chief of staff role," Short told CNN's Alex Marquardt during his appearance on the network Monday. "I think that it's probably true that Mark was acting at the behest of the president, and I think he does deserve the benefit of the doubt there as far as what he was doing.
"But I do think one challenge for him is to say this is all my official capacity," Short continued. "If that was true, then why was he circumventing all of White House counsel's advice?"
"Instead, Mark recruited outside lawyers who he wanted to listen to," he added. "So I think that undercuts the notion, 'This is all part of my federal responsibility,' if [he's] not getting counsel from the people hired into [his] office to serve the White House in that role."
Short noted during his interview with Marquardt that Pence's staff "weren't as involved" with Trump's actions in Georgia after the 2020 election, adding, "as I've said many times, I think the actions that were taken were wrong, I don't think there's evidence that there was fraud."
Several of the lawyers who allegedly assisted in Trump's election scheme are also attached to Willis' racketeering case, including former New York City Mayor Rudy Giuliani and California lawyer John Eastman, who surrendered themselves to Fulton County authorities last week.
Trump has declared himself and his co-defendants innocent in the Georgia case, arguing that everything he did to contest the 2020 election was legal. The former president surrendered himself to authorities last Thursday in connection to his charges.
Legal experts told Newsweek on Monday that Meadows was taking a risk by testifying in the first place, given that the former White House chief was slated to go through cross-examination related to his charges.
Michael McAuliffe, a former federal prosecutor, said that the decision was "a very public bet that the U.S. district judge will conclude that the charges arise from his duties as a chief of staff and not his role as an informal and personal aide-de-camp to Trump, executing Trump's wishes as a losing candidate to change the outcome of the presidential election."
Newsweek has reached out to Meadows' lawyer by email for comment.