A wildfire that has scorched large areas in Washington state led to the displacement of 5,000 residents last weekend, with some only now returning home to see the damage.
The blaze, dubbed the Gray fire, had burned over 10,000 acres by August 20, according to the Washington State Department of Natural Resources. It has affected an area around Medical Lake and Four Lakes, 20 miles southwest of Spokane, and is still burning.
Level 3 evacuation alerts led to 5,000 people leaving the area, but these were downgraded to Level 1 on August 21 and residents were allowed to return. The I-90, which crosses Spokane, has also reopened in both directions.
A Level 3 alert means "Go! Leave Immediately," according to the Spokane County Emergency Management Facebook page. Level 2 warns residents to "Be Set" and Level 1 means "Get Ready."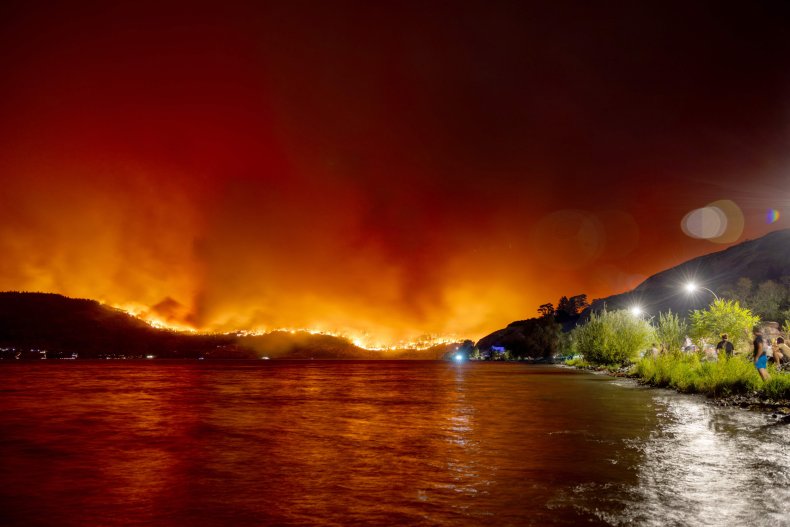 One local resident, Kristina Orchard, told local outlet Komo News: "It spread so fast and I was there just trying to help get people out. Everything seemed so eerie and empty, like something out of a movie that you would never expect to happen to you in your hometown."
The fire began last Friday and was 25 percent contained by Tuesday, according to the Northwest Interagency Coordination Center and Washington Department of Natural Resources.
More than 185 structures, including homes, have been burned and one body has been recovered from the area, reported the Seattle Times.
There are 565 personnel fighting the blaze as well as 57 fire engines.
"Firefighters are making good progress mopping up the edges of the fire, connecting pieces of containment lines and confirming previously created dozer lines," the natural resources department said in a statement.
"Within the interior of the fire, firefighters are successfully expanding the areas they can safely reach and work in. They are also looking for areas that didn't burn to secure fire edges and reduce the chances of fire spreading into unburned areas.
"Wildland fire crews and state mobilization crews are mopping up around structures, setting up hose lays and assessing burned structures for potential hazards."
"Many trees have been weakened by the fire, creating hazards for firefighters as some of these trees give way and fall. Heavy fuels like large trees are still very dry and will continue to smolder despite the rain."
The Gray fire is one of a number burning across the state, including the 11,000-acre Oregon Road fire.
Other wildfires are blazing in Canada, Oregon and California. The Smith River Complex fire has burned nearly 50,000 acres of Del Norte County as of Wednesday, August 23. It is the second largest wildfire in California this year, after the 90,000-acre York fire that began in late July.
In Hawaii, more than 100 people were killed and hundreds are still missing after wildfire swept through the island of Maui in early August.
In Spokane, rain is forecast for the next few days according to the local branch of the National Weather Service. This should help to douse the fires, but the NWS warned: "Watch for debris flows, mud/rock slides and flooding in poor drainage areas."
Do you have a tip on a science story that Newsweek should be covering? Do you have a question about wildfires? Let us know via science@newsweek.com.