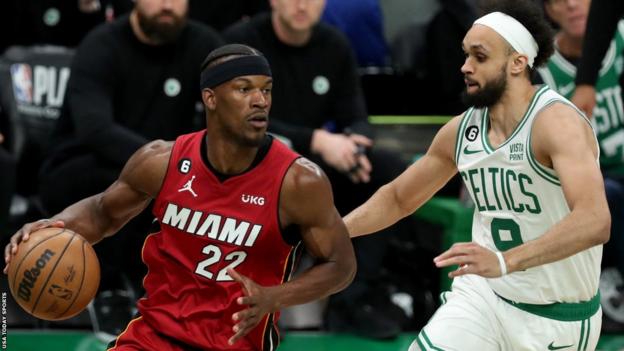 Jimmy Butler shared the credit with his teammates after leading the Miami Heat to another NBA play-off victory.
The 33-year-old has tended to excel in the postseason, earning him the nickname 'Playoff Jimmy.'
And Butler shone again when the Heat beat the Boston Celtics 123-116 in Game 1 of the Eastern Conference finals.
"I'm playing at an incredible level because they let me and they don't put a limit on my game," said Butler, who scored 35 points.
"They're trusting me with the ball and on the defensive end, and I think that's what any basketball player wants.
"What anyone wants in life is to be liked, to be appreciated, and to just let yourself go out and rock."
Butler also finished with seven assists, six steals and five rebounds for Miami, which has become the first eighth-seeded team to reach the conference finals since 1999.
The Heat trailed second-seeded Boston by 13 points late in the second quarter and 66-57 at halftime.
But they outscored the hosts 46-25 in the third quarter to take a 12-point lead, with Bam Adebayo adding 20 points.
Jayson Tatum had 30 points and seven rebounds for the Celtics, while Jaylen Brown added 22 points, nine rebounds and five assists.
Game 2 of the best-of-seven series is Friday in Boston.