Netizens have been in a frenzy over an older dog showing his clear disdain for the new golden retriever puppy his family brought home, as he offered an unwelcoming welcome.
The stark contrast between the two dogs was highlighted in a video posted by TikTok user @wickeddvixenn, as the new golden retriever was shown briskly rolling around and wreaking havoc in the quiet living room.
Meanwhile, the older German Shepherd wasn't so pleased to have his serenity interrupted by this ball of energy, and he instantly looked up at his owner with a very unimpressed expression. That pleading look was a clear sign of dismay, as his owner joked that he "isn't sorry."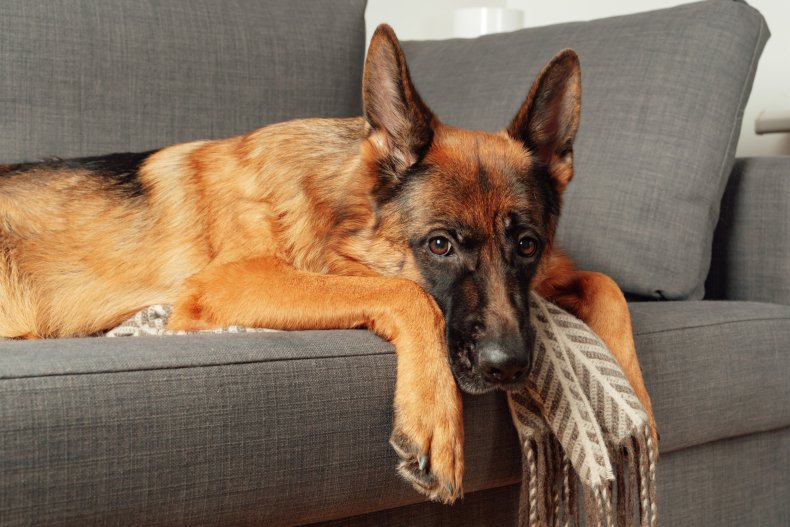 From the video was published as of June 11, it has already amassed over 2.2 million views and over 232,000 likes from bewildered TikTok users.
Introducing a new dog into the home is not without its challenges, and it's important to give both dogs their own space so they can get used to being together. The American Kennel Club (AKC) encourages owners to get a crate or baby gate so dogs can be spaced out, and it's vital to create a routine early on.
The two dogs should be presented in a neutral setting, and if the older dog growls or expresses negative feelings, it should not be reprimanded. The AKC goes on to state that all interactions should be supervised and that the older dog should have plenty of respite from the new addition. Puppies are backbreaking work, after all.
This older German Shepherd certainly doesn't seem too happy to have the excitable golden retriever into his home, but hopefully they'll learn to live together over time.
Many TikTok users loved watching the clip of the two dogs, and hundreds of users commented on the post to empathize with the older dog. As a result of the overwhelming reaction to the video, user @wickeddvixenn continued to share videos of the two dogs.
A comment on the video reads: "Looking at you, did you really bring this guy into our house?"
Another person responded: "GSD and goldens are like opposite ends of the spectrum lol."
One TikTok user commented: "That look is a cry for help."
news week reached out to TikTok user @wickeddvixenn through TikTok for comment. We were unable to verify the details of the case.
Do you have funny and adorable videos or photos of your pet that you want to share? Send them to life@newsweek.com with a few details about your best friend and they could be featured on our Pets of the Week list.