Hundreds of flights have been canceled and thousands more delayed as thunderstorms continue to hit the East Coast.
A total of 811 flights scheduled for Monday were canceled, including 517 flights that were supposed to be flying within, into or out of the United States, according to FlightAware, a flight tracking website. More than 7,000 flights have been delayed—683 of them are traveling within, into or out of the U.S.
Newark Liberty International Airport in New Jersey saw more than 100 flights canceled on Monday, while New York City's LaGuardia Airport had 97 cancellations.
Travelers have been advised to check the status of their flights before making their way to the airport.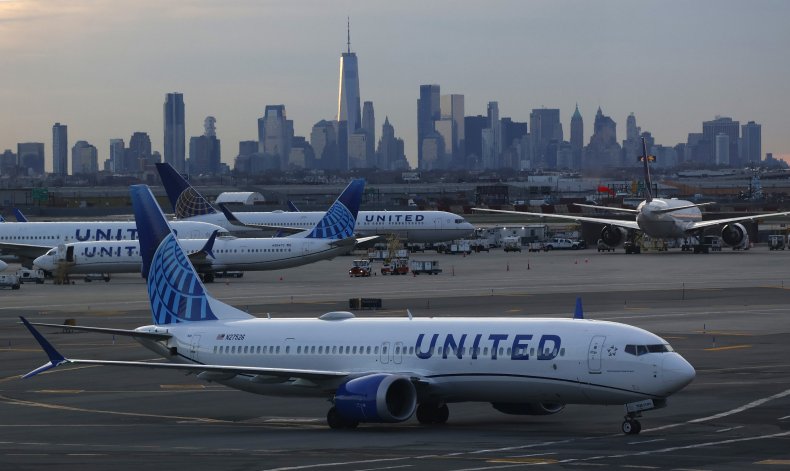 "JFK experiencing delays due to weather. Allow extra time & contact airline for flight status before heading to airport," New York's JFK Airport said on Twitter early Monday.
Frustrated passengers have taken to social media to share their experiences.
One person shared several videos taken inside Hartsfield–Jackson Atlanta airport on Twitter early on Monday, writing: "This is happening right now, multiple flights canceled, thousands of people left with no transportation, no information, no crew working. There is no food, no water, no air conditioning."
Gonzalo Magana, a journalist with Sacramento station ABC10, posted a video showing a long line of passengers waiting to rebook flights at a D.C. area airport.
"This after waiting for nearly five hours for our delayed flight. You need to do better," Magana wrote in a tweet tagging United Airlines.
The National Weather Service (NWS) has warned of an enhanced risk of severe thunderstorms across Mid-Atlantic states on Monday.
"Scattered severe thunderstorms are likely across the Mid-Atlantic states this afternoon and evening," the NWS Storm Prediction Center said in a forecast early Monday. "Damaging gusts and large hail will be the primary hazards."
Thousands of flights were also canceled or delayed due to severe weather on Sunday. According to FlightAware, 1,378 flights within, into and out of the U.S. were canceled on Sunday, and 9,231 were delayed.
Liberty Airport saw 410 flights canceled on Sunday, while LaGuardia saw 182 flights canceled. United canceled 326 flights on Sunday, while Republican Airways canceled 174. Delta Air Lines canceled 171 of its flights for Sunday, while American canceled 116.
Storms also forced a ground stop at several major airports on Sunday, including at Liberty, JFK, LaGuardia and Atlanta, the Federal Aviation Administration said.
Meanwhile, departures to airports in the Washington, D.C., area were briefly suspended on Sunday because of a problem at a major air traffic control facility.
"The FAA has paused departures to D.C.-area airports while repairs to a communications system are made at Potomac Terminal Radar Approach Control facility," the FAA said on Twitter. "The facility has switched to a backup system."
About an hour later, the FAA said operations at Reagan and Dulles international airports had resumed.