Hundreds of protesters marched to the steps of the Tennessee Capitol on Monday, demanding gun safety legislation less than a month after a mass shooting at a school in Nashville left six people dead.
On March 27, Audrey Hale, 28, opened fire inside The Covenant School, killing three staff members and three 9-year-old students. Since then, calls for increased gun control measures have spread across the state, putting pressure on the GOP-led state legislature.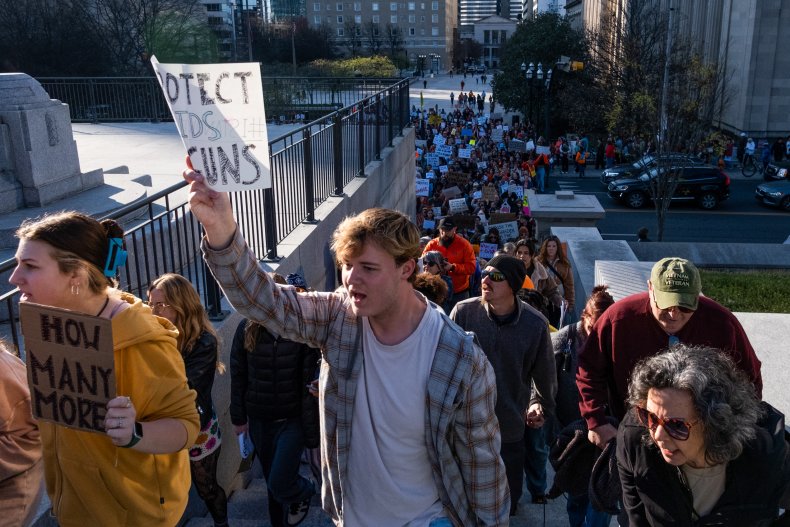 Protesters at Monday's march carried five child-sized coffins and an urn in memory of the six victims of the Pact. According liam adamsreligion reporter for the tennesseanthe caskets were placed on the steps of the State Capitol.
The "Moral Monday" rally was organized by the Reverend William Barber II, a minister and president of the Gap Fixers movement. Members of some activist groups also rallied in support of common sense gun legislation, such as Moms Demand Action and Students Demand Action. Democrats in the Tennessee Senate released a video of the march outside the Capitol on Twitter, saying that more than 1,000 protesters had gathered for the rally, including "hundreds of clergy."
Democratic state Rep. Justin Jones, one of two lawmakers reinstated in the Tennessee House of Representatives last week after being ousted for violating decorum and joining a youth-led gun control protest, participated in the march. State Rep. Justin Pearson, who also faced ouster, was reinstated two days after Jones.
Rep. Jones was photographed walking hand in hand with Barber and other faith leaders during the march, according to a photo released. Kelly AvellinoWZTV reporter in Nashville.
Some protesters also entered the Capitol, including Jones, who was seen walking with Barber toward the House chamber, according to adams. At press time, protesters were not allowed to bring coffins into the building, although there was an argument between Capitol security and protesters, hazel aware.
Monday's protest comes as the Tennessee House of Representatives is scheduled to vote on a bill that would allow teachers in the state to bring guns to school. House Bill 1202Introduced by Republican Rep. Ryan Williams this year, it proposes to allow teachers to carry a firearm after undergoing 40 hours of annual weapons training, as well as receiving approval from the school principal and passing an FBI background check. .
HB 1202 was previously introduced in the House after a vote by the House Committee on Education Administration. A similar bill has yet to be voted on in the state Senate.
news week has reached out to Jones' communications team by email for comment.