Russian President Vladimir Putin's concerns about anti-Kremlin protests may overshadow his desire for a second offensive against Kyiv, a key Ukrainian official said Tuesday.
Oleksiy Danilov, the secretary of national security and defense council of Ukraine, warned that Moscow could face more protests from Russians who are "dissatisfied" with the Russia-Ukraine war, launched by Putin in February 2022, in a tweet on Tuesday.
Putin initially hoped for a quick victory in the "special military operation," but Ukraine's stronger-than-anticipated defense effort, which has been bolstered by billions of dollars in aid from its allies, has prevented Russian forces from achieving their goals.
Recent weeks have seen Ukraine launch a counteroffensive aimed at retaking control of territory currently occupied by the Russian military. Ukraine has already reclaimed large swaths of formerly occupied territory, prompting some criticism of how Moscow's military leadership has handled the war.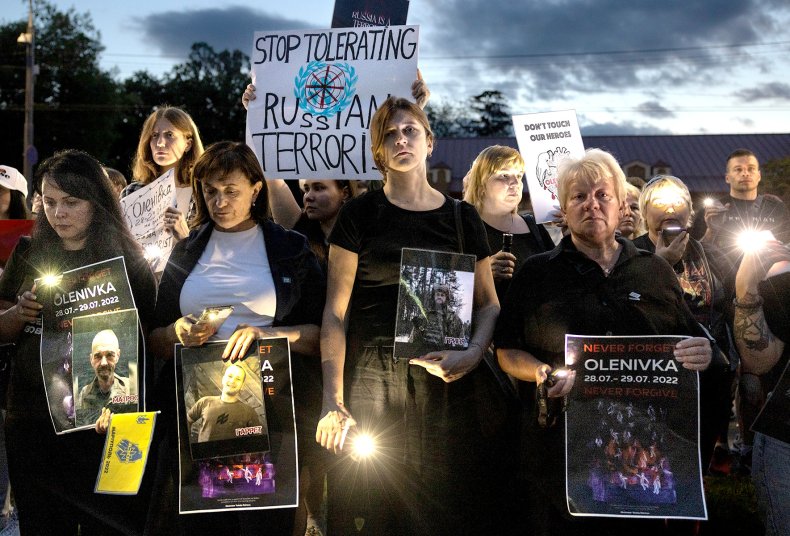 These criticisms culminated in an attempted mutiny in June led by the paramilitary Wagner Group, which fought alongside Russian troops in Ukraine. Although the rebellion ultimately failed, with Wagner troops being exiled to Belarus, the events were the most direct threat to Putin's power since the war began.
Ukrainian authorities believe that future threats to the Kremlin leadership could be preventing the military from launching a second offense on Kyiv, according to Danilov.
"The current situation for the Kremlin is such that the unrealized desire for a second offensive on Kyiv will be overshadowed by the urgent need to prepare to meet a second march on Moscow," he wrote.
Russia has not confirmed these concerns. Newsweek reached out to the Russian Ministry of Defense via email for comment.
Russia attempted to take control of Kyiv when the war began last year, causing widespread destruction in the city's suburbs that have sparked accusations of human rights abuses against civilians. However, the effort against the capital city failed, and fighting now remains concentrated in the easternmost parts of Ukraine.
Danilov suggested more protests against Kremlin leadership may be "not too far off in time," though his claim could not be independently verified.
"The paste squeezed out of the tube," he wrote. "The growth of protests by dissatisfied people of various colors in Russia – cannot be stuffed back in."
His remarks come as Ukraine's Main Directorate of Intelligence (GUR) reported "growing" confrontations between pro-Ukrainian residents of Crimea and Russia's military stationed on the peninsula that Putin invaded and annexed from Ukraine in 2014.
Danilov's Remarks Come Amid New Signs of Frustration Over Stagnant Ukraine Invasion
A poll last month, meanwhile, indicated that popular support for the Ukraine war may be dropping among the Russian public.
A survey conducted between June 16 and 19 by Russian Field, a nonpartisan Moscow-based research company, found that only 45 percent of respondents said they supported continuing the war against Ukraine, and 44 percent said Russia should engage in peace talks to end the conflict. The poll surveyed 1,604 people by telephone from across Russia.
The poll also found that support for peace talks would grow if the Kremlin turned to another mobilization of troops. Only 35 percent said they would support continuing the war if it meant requiring a new wave of conscripts.
Mikhail Khodorkovsky, a self-exiled former Russian tycoon, previously told Newsweek that less than a third of Russia's Federal Security Service (FSB) would back Putin if another mutiny were to take place.