Ukrainian President Volodymyr Zelensky has warned that a "weakened" Vladimir Putin will likely resort to nuclear threats and a fresh winter bombing campaign against Ukrainian infrastructure as the Kremlin grapples with its "military madness" in Ukraine.
Speaking at the Yalta European Strategy summit in Kyiv on Friday, Zelensky again urged foreign partners to be patient while Ukrainian forces push their slow counteroffensive in the east of the country and warned that winter will bring new Russian efforts to undermine Western resolve.
"This winter will see blackouts and nuclear weapon intimidation simply because Putin has run out of arguments at this point," Zelensky said. "The bubble of him, as a politician, has burst."
The Ukrainian president said his Russian counterpart is ruthless but rational. Moscow's repeated nuclear threats and the death of Wagner Group financier Yevgeny Prigozhin—whose June mutiny posed a serious challenge to the regular Russian military hierarchy—point to both "his rationality and his weakness," Zelensky suggested.
"Politically, he has become weakened."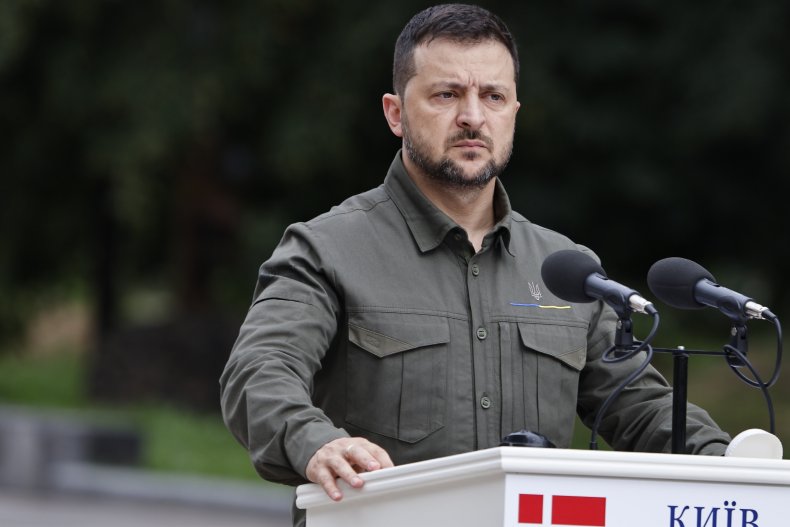 However, Zelensky said Western leaders should not be "panic-stricken" by fresh Russian nuclear threats.
"There is a distance between intimidating and applying," the president said. "We have to live somewhere in between."
The pace of Ukraine's counteroffensive has prompted renewed foreign skepticism over its goal to liberate all occupied territory—currently around 20 percent of the nation's landmass—per its 1991 borders. Calls for fresh peace talks are building, though there is little to suggest that either side is willing to make significant concessions.
Zelensky and his top officials have repeatedly dismissed any suggestion of negotiations while Russian troops remain on Ukrainian territory.
"There will be the end to this, and Ukraine will definitely prevail," Zelensky said on Friday. "Of course, it's going to be complicated and arduous. There is a very clear-cut understanding that on the battlefield, you have to push forward because this only strengthens our positions and the political stance that we assert. Eventually, this will all take us closer to the end of the war."
Zelensky said Russia could immediately end the fighting "if she withdraws all her forces from the occupied territories."
Regarding foreign complaints that the southern offensive operation is moving too slowly, Zelensky retorted: "Our steps are faster than your sanctions packages."
The Kremlin is preparing for a long conflict. The Russian economy is being shifted onto a war footing, waves of mobilization are refilling Russia's mauled ranks, and Moscow officials are framing their full-scale invasion of Ukraine as a preemptive and existential war against the entire NATO alliance.
Putin's hopes that internecine conflict would collapse the unified Western front have, so far, proved unfounded. The pro-Kyiv coalition has proved resolute, if slow. But 2024 will bring elections in the European Union and the United States, potentially offering Putin a lifeline if anti-establishment, Ukraine-skeptic candidates win.
"They're counting on the American elections, very much so," Zelensky said. "It's most important for the American population to maintain democracy and support us in our values, in our fight for these values."