Hungarian Prime Minister Viktor Orbán, one of Russian President Vladimir Putin's main allies, has said Donald Trump can end Russia's war in Ukraine if he wins the 2024 presidential election.
"There is a man in the West who would be able to end this war and make peace. That man is Donald Trump," Orbán told Kossuth radio on Friday. The Russian news agency Tass reported. "Hungary would be interested in seeing a peace advocate leading the United States."
The Hungarian prime minister has been an avid supporter of the former president and has previously said that if Trump had won re-election in 2020, Russia would not have invaded Ukraine. In April, Orbán encouraged Trump to "keep fighting" in a tweet posted ahead of the former president's arraignment in New York City on 34 criminal counts of falsifying business records during his 2016 presidential campaign.
The charges were related to Manhattan District Attorney Alvin Bragg's investigation into a payment made to adult film star Stormy Daniels before the 2016 election to keep quiet about an affair she claimed to have had with Trump in the past. Trump denied the affair and maintained his innocence.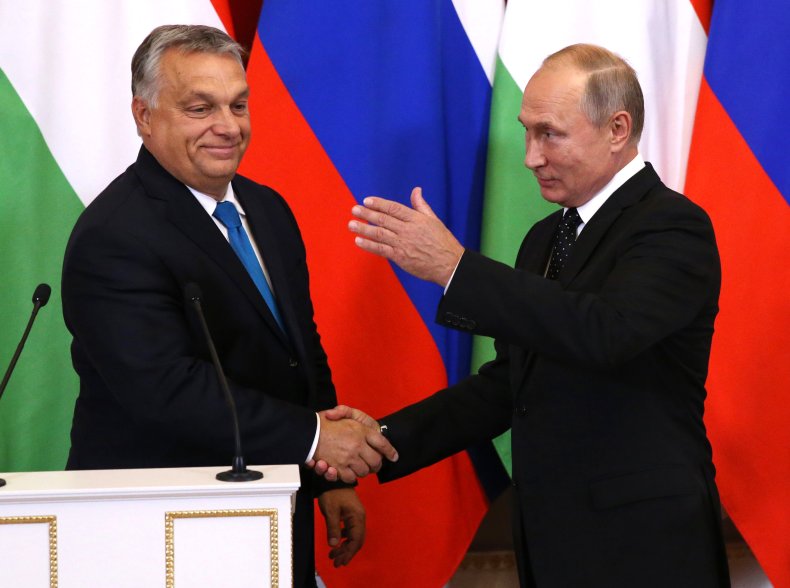 Meanwhile, last month, Orbán called for Trump to return to the White House during a speech at the Conservative Political Action Conference (CPAC) in Budapest.
"Come back Mr. President, make America great again and bring us peace!" Orbán said, according to an Associated Press translation. Orbán is also a loyal ally of Putin, showing his support for the Kremlin by trying to thwart sanctions imposed by the European Union against Russia in response to the war in Ukraine.
Russia's war in Ukraine has raged across major cities since it began last February, including kyiv, Kherson, Odessa and Bakhmut. Putin was confident during the first months of the war that Russia would achieve its goals, but Ukraine displayed a stronger-than-expected defense response that was mainly backed by the West. NATO countries and other Western nations continued to supply Ukraine with advanced military weapons, heavy artillery and tanks, among other defense resources to help defeat Russia.
Trump, who is running in the 2024 presidential election, has repeatedly said he can quickly end the war in Ukraine, but did not reveal his strategy for doing so. In February, he said it would be possible to negotiate an end to the war "within 24 hours." He made similar comments in January.
"It really has to be done from the office of the president. And you have to get the two of them in a room, and there are things that you can tell each of them, that I won't reveal now, that will guarantee that this war will end immediately," Trump said in February.
news week contacted Trump's media office by email for comment.