GOP presidential candidate John Anthony Castro threatened Donald Trump on Monday with "legal hell" in his latest bid to get the former president disqualified from the ballot in several states ahead of the 2024 election.
Castro, a Texas tax attorney who has been sharply critical of the former president over his alleged role in the January 6, 2021, riot at the United States Capitol building, posted a photograph showing legal filings for eight states that backed Trump during the 2020 election to social media platform X, formerly known as Twitter.
"Happy Labor Day! About to unleash legal hell on @realDonaldTrump in what he thought was secure red states… but they're in blue circuits. Zero path to 270," he wrote Monday afternoon.
The filings showed that he is filing challenges to Trump's candidacy in Wyoming, Utah, Oklahoma, North Carolina, West Virginia, Montana, Kansas and Idaho. Of these states, analysts only view North Carolina as being competitive in the 2024 election, but Trump not having access to any of these ballots would complicate his path to winning the Electoral College.
However, Castro's lawsuits have failed to keep Trump from the ballot so far. Castro, who also donated to Trump's campaign after his victory in the 2016 election, has already filed suit in Florida in the hopes of disqualifying the former president and has lawsuits in other states, including the battleground state of New Hampshire.
Former federal prosecutor Neama Rahmani told Newsweek on Monday that Castro's attempts to have Trump disqualified are a "long shot," but may be "worth a 'Hail Mary' for Trump opponents, as the section three of the 14th Amendment has not been litigated in this manner.
The 14th Amendment states that anyone who has "engaged in insurrection or rebellion against" is barred from running for office. Trump critics have sought to make the case that this applies to the former president over his alleged role in January 6.
"The reasons why Castro's efforts probably won't succeed are that Trump hasn't been charged with, much less convicted of, insurrection or rebellion. A conviction is not required under the plain language of the Constitution, but it's telling that even those prosecuting Trump don't believe that there is enough evidence to convict him or insurrection or sedition," he wrote.
Rahmani added that any ruling against Trump would be appealed and go to the Supreme Court, which currently has a conservative majority and is "unlikely" to rule against the former president.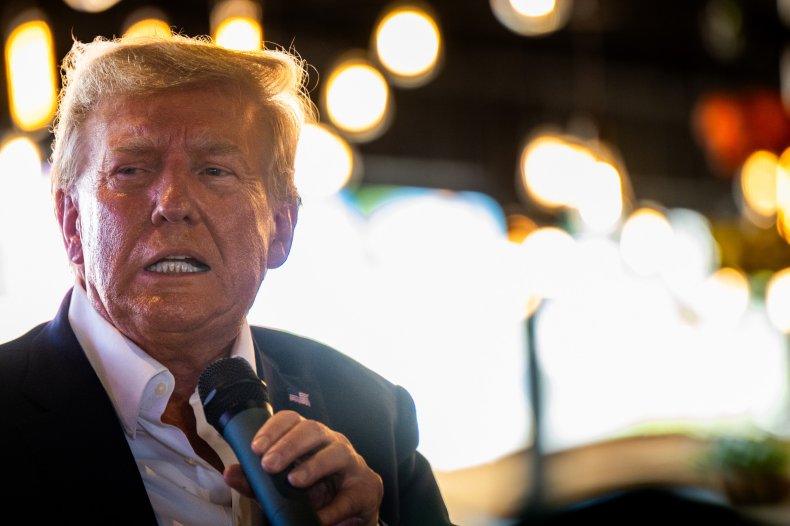 One Florida lawsuit has already beendismissed by Judge Aileen Cannon, who's known for being the judge assigned to Trump's Mar-a-Lago classified documents case, which the former president was indicted by the Department of Justice (DOJ) earlier this year. Trump, meanwhile, has maintained his innocence in the case.
"The fact that all the Trump cases keep getting assigned to Judge Cannon cannot be a coincidence," Castro previously told Newsweek. "I'm a math person, and so I can just tell you like the Vegas odds of this are through the roof. You know what I mean? That's like lightning striking in the same place five times."
Newsweek reached out to Castro and Trump's campaigns for comment via email.
Castro is not the only one who wants to try to bar Trump from the ballot by using the 14th Amendment. On Friday, Judge Robin Rosenberg, who was appointed by former President Barack Obama, dismissed a case challenging Trump's 2024 candidacy.
Lawrence Caplan, a Florida attorney, and two others argued in their lawsuit that Trump needed to be barred from the Florida ballot because of his alleged role in the Capitol riot. However, Rosenberg ruled that the plaintiffs lacked standing to bring their case.
Having become a Republican contender for the 2024 GOP nominee, Castro has said that he has standing for the lawsuits because he's directly impacted by Trump being on the ballot.