The race for Mississippi's next governor has emerged as one of the higher-stakes elections this fall, and Republicans, who want to see Governor Tate Reeves re-elected to a second term, just received some not-so-welcome news that Democrat Brandon Presley's odds are improving.
A new internal poll from Presley's campaign claims the race is now tied, showing a steady increase for the Mississippi Public Service commissioner and a decline for Reeves. Every other poll released thus far has shown the governor leading, except for a February poll from Tulchin Research that showed Presley with the advantage.
A memo of the survey obtained by the Northeast Mississippi Daily Journal shows that Presley's name recognition has shot up to 59 percent from the 25 percent of voters who said they recognized his name when he first started his campaign in January. Name recognition has been widely viewed as a hurdle for Presley, who is running against a veteran state politician, and who has been warned by his opponent that he wouldn't have a chance without building up his exposure.
The latest poll, which suggests that Presley has been able to do exactly that, intensifies Republican concerns that the race in the long-standing conservative state is becoming competitive. Presley, a second cousin of music icon Elvis Presley described as a moderate who holds conservative views on gun control and abortion, secured the Democratic nomination earlier this month after running unopposed.
"Brandon is going to all 82 counties to build a broad coalition of Republicans, Democrats, and Independents who are ready to turn the page on the failed Tate Reeves era so we can clean up corruption and save our rural hospitals that are on the brink of closure," Michael Beyer, a spokesperson for Presley's campaign, told Newsweek.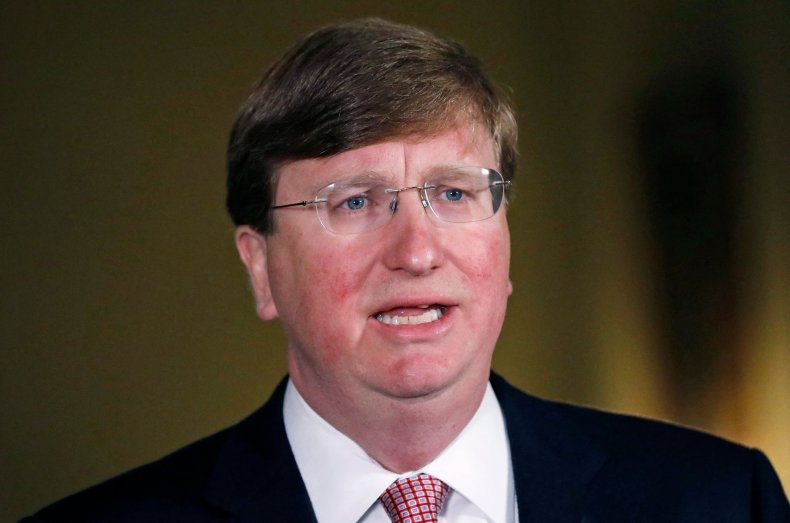 Mississippi is one of five states holding statewide elections this year and one of three that hold gubernatorial elections in an odd year. Voters in Kentucky and Louisiana will also elect their next governor in November.
Mississippi has long been considered a Republican stronghold. Democrats have not won a governor's race in the state since 1999 and have not won on the presidential level since 1976. President Joe Biden's 2020 performance was the best by a Democratic nominee since Walter Mondale's in 1984, and Biden still lost Mississippi by 12 percent. Republicans also hold a monopoly over statewide office and supermajorities in the state legislature.
But Reeves' welfare fraud scandal from last year has opened a line of fire from Presley, who has tried to tie the governor to the state's misspending of welfare funds that developed during Reeves' tenure as lieutenant governor.
Between 2016 and 2019, the Mississippi Department of Human Services misspent more than $77 million, according to the state auditor. Because Mississippi fitness trainer Paul Lacoste, who is a close friend of Reeves, is being accused of improperly receiving $1.3 million in welfare money, some have raised questions about whether Reeves was involved. Reeves has denied any wrongdoing.
Nonetheless, Presley has released a barrage of ads attacking Reeves, including one that tells voters, "Under Tate Reeves, millions were steered from education and job programs to help his rich friends."
Those criticisms come as the Democratic Governors Association (DGA) pour $750,000 into Presley's campaign. DGA Chair Phil Murphy has predicted that the contest could be a "sleeper" for Democrats to unexpectedly win.
Newsweek reached out to Reeves via email for comment.