Key events
Viktor Hovland and Xander Schauffele take turns to screech their approaches at 9 to six feet. Schauffele up first, with an uphill putt. He pours it into the middle of the cup and he's out in 34, -2 for his round. Hovland is pin high and rattles his birdie putt home. He's out in 31 and leads this tournament by two. And it's just a par for Tiger, but it's a decent scramble from the side of the green, and of course it's met with the biggest cheer. He turns in 38 and remains +2.
-5: Hovland (9)
-3: Lowry (10)
-2: Meronk (14), Reed (11), Schauffele (9), Scott (8), Young (7)
Oh yes, I forgot, Bryson DeChambeau. He three-putted from the fringe at 2, and had to settle for par. He's +2 through 3. A reminder that some of these LIV lads may not be tournament sharp. Having said that, look at Patrick Reed, and now Brooks Koepka, who birdies 2 and moves into red figures in short order. He's -1.
Tiger's playing partner Viktor Hovland also makes birdie from the bottom of the swale at 8! The 25-year-old Norwegian had also hit a poor second towards the trees only to get away with it; he takes advantage of his good fortune to hit the top. Meanwhile back on 7, another birdie for Jon Rahm, who moves into red figures at -1, a magnificent effort given the four-putt double on the opening hole. It's all happening!
-4: Hovland (8)
-3: Lowry (9)
-2: Reed (10), Scott (7), Young (6)
A first birdie of the day for Tiger, in slightly wild circumstances. His second into the par-five 8th dices with the trees down the left. He's lucky to get over them all, and finds himself at the bottom of a huge swale … from which he bundles a chip up to kick-in distance. So close to an eagle that would have really put a new complexion on his round. He's +2.
You'll have noticed Patrick Reed back up at -2. That's the result of a tramliner whistled into the cup across 10 for birdie. He's one of three LIV players in red figures at the moment, along with Garcia (-1) and Cameron Smith (-1). Meanwhile news of Fred Couples, who is not exactly a LIV fanboy. The 1992 champion, now 63 years old, is going along great guns, as he so nearly always does at Augusta National. Having hit the turn in 38, he's hauled himself back to level par with back-to-back birdies at 12 and 13.
Shane Lowry hits the lead! He wedges from 154 yards on 9, over the flag to six feet. In pops the putt for a third consecutive birdie. The 2019 Open winner, who tied here for third with Cameron Smith last year, is -3. Speaking of Camerons, namesake Young only just finds the front of the big green at the par-three 6th, then hits a dismal putt from 40 feet that topples back down the slope, leaving himself with a 30-footer for par. He can't make it, and two men are still sharing the lead of the Masters, but he's no longer one of them.
-3: Lowry (9), Hovland (7)
-2: Reed (10), Scott (6), Young (6)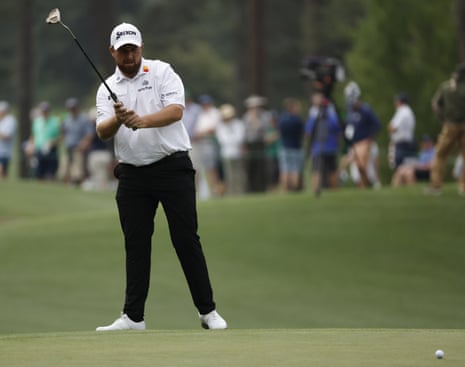 Sergio makes a meal of 10. His drive finds the pine straw down the left, forcing a lay-up. His third goes into the bunker guarding the front right. He does well to limit the damage to bogey by getting up and down from the sand, but he's back to -1. Meanwhile a three-putt for Adrian Meronk from the fringe at the back of 12, and the Pole slips back to -1 as well.
A huge break for Cameron Young on 5. Having pulled his drive towards danger down the left, he finds lush turf between a couple of bunkers, from where he can make the green in regulation. Two putts later, and he's out of Dodge with a par. He remains at -3. His playing partner Justin Thomas, having hit a similarly poor drive, doesn't get the break. He's forced to lay up from a bunker and the mistake leads to his first bogey; he drops to -1. And it's another three-putt bogey for Tiger, this time on 7. He's +3, and a repeat of his 2019 heroics already begins to look like a pipe dream.
An eventful, if not particularly welcome, start for Bryson DeChambeau. From the centre of the 1st fairway, he flies the green, underhits a chip from the bottom of the swale behind, nearly holes out for par only for the ball to traverse the circumference of the cup and slingshot 20 feet past the hole. Two putts to come back and that's a double to start for one of LIV's great hopes. He is, however, on the par-five 2nd in two, with a chance for a Rahm-esque response. More when we have it.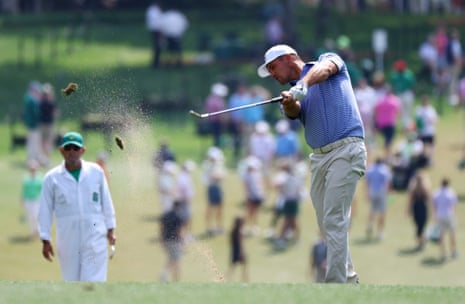 Shane Lowry nearly drains a 70-foot eagle putt on 8! The ball dies to the left, one turn short of the hole, and he taps in for another birdie with a wry smile. He's -2 and the 2019 Open champ has a spring in his step. Adrian Meronk scramble a fine par on 11 after lashing his tee shot into the trees down the right, an up and down from the fringe doing the trick there. He remains -2. Meanwhile the 2003 champion Mike Weir, who hit the first shot of this year's tournament, is in the clubhouse with a level-par 72.
Victor Hovland joins Cameron Young at the top of the leader board at -3. He clips his tee shot at 6 into the heart of the green, before draining a relatively straight 15-footer for his first birdie of the day (to go along with that eagle on 2). There's a chance he'll have the lead all to himself soon, because Young looks to have driven into a bit of trouble down the left of 5. Meanwhile birdie at 7 for Shane Lowry, who hasn't been in particularly great form this season, but will gain succour from memories of his third-place finish here last year. He's -1.
Patrick Reed isn't too far away from draining a monster eagle putt up the slope at 8. He settles for a birdie that brings the 2018 champion to -2. Birdie meanwhile for Hideki Matsuyama at 2; the 2021 champion is going around with the reigning Open champion Cameron Smith, who also birdies the downhill par-five. They're both -1 early doors.
Sighs around the 5th green as Tiger takes three putts for bogey and slips further back to +2. He's sweating quite a bit, feeling the heat both literally and figuratively. Meanwhile fine pars for his partners Schauffele and Hovland, the former getting up and down from a swale at the back of the green, the latter creaming his second onto the dancefloor from pine straw, 200 yards out, and only just missing the birdie putt. Meanwhile eagle-eyed leader-board enthusiasts will have noticed a bounceback birdie for Adrian Meronk at 10, reward for a stunning second from 200 yards to kick-in distance. He rejoins the group just one off Cam Young's lead at -2.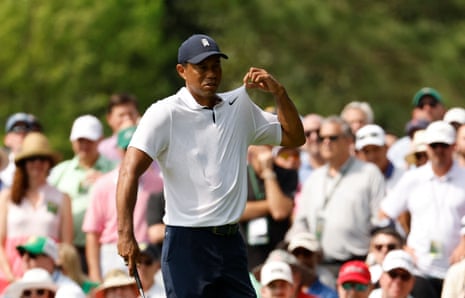 This is a brilliant response by Jon Rahm to that farce on 1. He chips up at the short par-four 3rd to six feet, then rolls in the birdie putt to return to level par. He's going round with Cameron Young and Justin Thomas, who both make their birdie as well. That's back-to-back birdies for JT, but three in a row to start for Cam Young. The Match Play runner-up becomes the first player to reach the -3 mark and leads the Masters!
-3: Young (3)
-2: Meronk (10), Garcia (8), Hovland (5), Schauffele (5), Scott (4), Thomas (3)
Birdie for Sergio at the par-five 8th! There weren't too many folk talking about Garcia earlier this week, the Spanish veteran and LIV defector having long given the impression that he doesn't really care any more. Then again, Seve won two green jackets, Jose Maria Olazabal won two green jackets, and perhaps with expectations low and the pressure off, he fancies his chances of joining his countrymen as a multiple winner on the Augusta National boards. Let's not get too excited yet, but then look at Tiger in 2019, or Phil at the PGA last year. Or Sergio here in 2017 come to that. He's -2.
A lot of smart money will be on Cameron Young this week. A tie for third at last year's PGA, then runner-up finishes at the Open and last month's Match Play, and the 25-year-old Floridian is edging ever closer to his first PGA Tour win. He's opened with a pair of birdies to join the leaders at -2 … and he's alongside the 2013 winner Adam Scott, who's made back-to-back birdies of his own at 2 and 3. Birdie too for Xander Schauffele at 4, a fine eight-foot par saver for his playing partner Victor Hovland after a woeful misread left him in trouble, and bogey at 9 for Adriam Meronk, means there's a new look to the toppermost of the puttermost.
-2: Hovland (4), Schauffele (4), Scott (3), Young (2)
-1: Stallings (12), Meronk (9), Garcia (7), Higa (7), Reed (7), Power (6), Bradley (5), Cantlay (3), Thomas (2)
Of course, slow starts needn't necessarily put an end to one's dreams. Tiger played the front nine in 40 strokes on the Thursday of 1997, before coming back in 30, going on to set a tournament record of -18 that was only beaten by Dustin Johnson at the soft-playing November Masters of 2020. Rahm will do well to keep that in mind, and the lid on top of his simmering head. He looks to have repaired the damage of that four-putt on 1 in one fell swoop at the par-five 2nd, dicing with the trees down the left, before whipping his second from 200 yards to 15 feet. But he can't quite make the eagle putt, rolling it five feet past. He's left himself a real knee-knocker given what went before, but he does well to tidy up and make a birdie. He's +1 and will be feeling a little better about himself now.
The notoriously emotional Rahm will be in a hot funk after that fiasco. Also running a little hot: Tiger Woods, who fails to chip up the bank from the front of the short par-four 3rd and pays with a bogey. He's +1.
A disastrous start to the round by Jon Rahm. He finds the centre of the 1st green in two, then races a 40-foot putt 12 feet past. The next one goes four feet past. The next one doesn't drop. A four-putt double bogey, and while that's not quite as bad as Ernie Els' start to his tilt for the title in 2016 – a six-putt quintuple – that's a hammer blow for one of the pre-tournament favourites. Rahm is already +2 in the blink of an eye.
The 1987 winner Sandy Lyle, making his 42nd and final Masters appearance, opened with an eventful bogey: a pushed drive into trees followed by a left-handed second shot that resulted in a broken club and his ball hitting a nearby cameraman. More bogeys at 4, 5 and 9 mean the great man hits the turn in 40. He's +4 and is propped up on the leader board only by Alex Noren, out in 41 after taking seven on the par-five 2nd, flaying his drive into filth down the left. Noren is +5.
A sensational eagle for Viktor Hovland at 2! He creams a 350-yard drive down the middle of the fairway, then whips a 5-iron to 15 feet. Tiger, on in three after finding sand from the tee, gives Hovland a read with his birdie effort (which doesn't drop). Hovland curls in a glorious right-to-left breaker, and like Seamus Power before him, will be in receipt of some Masters crystal for his efforts. Birdie for Schauffele and just the par for Woods.
-2: Meronk (7), Hovland (2)
-1: Stallings (10), Henley (8), Garcia (6), Higa (7), Reed (5), Theegala (5), Power (4), Bradley (3), Schauffele (2)
Sergio Garcia joins the group at -1 with birdie at 6. The 2017 champion is going around with the 27-year-old Japanese debutant Kazuki Higa, who also cards a two to join him at -1. The diminutive Higa – just five foot two – made his major championship debut at the Open at St Andrews last year, but didn't survive the cut.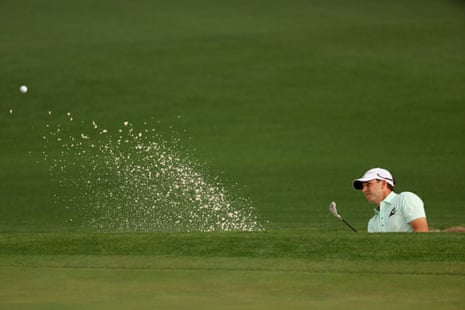 Adrian Meronk became the first Polish player to win on the European Tour last year, with his victory at the Irish Open. He's subsequently won the Australian Open, and now breaks more new ground as the first player to represent Poland at Augusta … and therefore the first from his country to lead the tournament outright. Pole position, if you will. You can have that for free. Meronk's round so far has been quite the rollercoaster: two runs of bogey-birdie-birdie sandwiched by a solitary par. His latest birdie comes at 7, where he knocks his approach from 135 yards to seven feet, then pours in the putt.
-2: Meronk (7)
-1: Stallings (9), Henley (8), Reed (4), Theegala (4), Power (3), Bradley (2)
Tiger, Xander and Viktor all find the heart of the 1st with their second shots, then make no fuss of making two-putt pars. A steady start for the group with the loudest gallery. At the other end of the bedlam scale, it's 2003 champion Mike Weir. He was paired with Kevin Na, but is now playing the back nine on his own after Na withdrew at the turn. He was +4 at the time. Weir is currently level par, after firing his tee shot at the famous par-three 12th to ten feet and rolling in the uphill putt for birdie.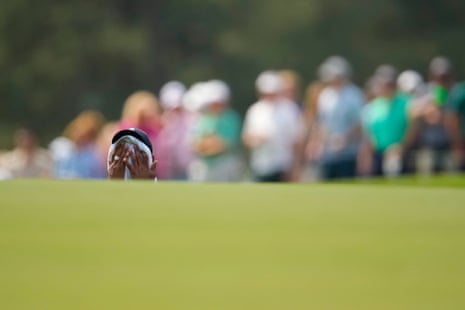 As if making two holes-in-one on consecutive holes in yesterday's par-three contest wasn't achievement enough, Seamus Power nearly emulates Louis Oosthuizen's 2012 albatross on 2. He creams his second downhill from 239 yards to five feet, and tidies up for the first eagle of the week. He'll be given some lovely crystal by the committee for that; more importantly, having started with a bogey, he's also now got a share of the lead at -1.
Meanwhile, apropos the aforementioned CBS theme, here's Dan O: "Just making sure you're aware of this. It's pretty awful but also kind of cool? I only just heard it last year and still can't really believe there's a version with lyrics." It is difficult to believe, yes. Nevertheless, all together everyone, you know the words: ♬ It's the legions of Arnie's Army and the Golden Bear's throngs / and the wooden-shafted legend of Bobby Jones♯🎶
Here comes Tiger! The five-time living legend is going round with Viktor Hovland and Xander Schauffele today. Schauffele finished just the one shot behind Woods in 2019 and, while he missed the cut here last year for the first time in his career, is one of the favourites to win this week; he's also got a tie for third (2021) on his CV. All three split the fairway.
Let's bring everything right up to date, then, with the latest leader board … and for once, there's some good news at Augusta for Greg Norman. The LIV bigwig will be pleased to see 2012 runner-up Louis Oosthuizen and 2018 winner Patrick Reed up there in the early standings. Sergio is level par through 3 as well. Norman has promised that, should one of the 18 LIV golfers playing here prevail at the end of the week, the other 17 will join him in celebration at the 18th green. Good luck organising that group hug should, say, to pick a couple of random names from a hat, Brooks or Bryson win.
-1: Stallings (7), Kisner (5), Oosthuizen (5), Reed (3), Theegala (3)
The final part of our Stuff Not Taking Long trilogy considers how quickly things can unravel at Augusta, as players from the days of Ken Venturi through Ed Sneed to Jordan Spieth can attest. Matthew McClean went on to birdie 4, hitting the heights of -2, at one point leading the Masters by two strokes. Not bad for an amateur debutant. But he immediately bogeyed 5, then made a hash of 7, slicing his drive deep into the trees down the right, then three-putting en route to a double-bogey 7. He drops back to +1 but will always have Augusta National, Thursday Morning.
It didn't take long for someone to register the first birdie of the week, either. The 29-year-old amateur Matthew McClean, an optometrist from Belfast, won the US Mid-Amateur last year, and with it trips to this Masters and the US Open at Los Angeles Country Club in June. He's made the dream start to his major-championship career by sticking his second from 180 yards to five feet and rolling in the putt. Let's do the leader board thing again, if only to state for the record that McClean once led the Masters …
-1: McClean -a- (1)
E: Weir (2), Stallings (1)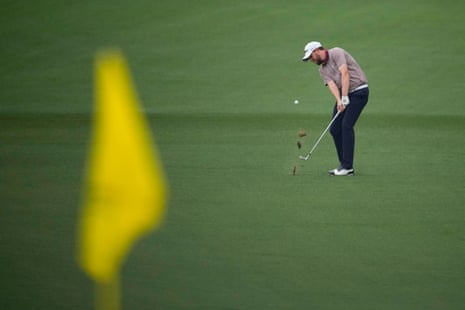 Augusta National didn't take long to claim its first victim. The 2003 champion Mike Weir hit the first shot in anger this year, and sliced it onto the 9th fairway. No matter! A wedge over the trees, followed by another from 86 yards to seven feet, saw him save his par. No such luck for partner Kevin Na, though: the 39-year-old Korean-Californian tugged his tee shot behind a tree down the left, then after chipping back out, flew the green and only just held it when chipping back up. A double to start, and there's ten minutes of his life he'd like to have back. For what it's worth – absolutely nothing, just to be clear – let's do this …
E: Weir (1)
+2: Na (1)
The par-three contest was won yesterday afternoon by Tom Hoge. The 33-year-old North Carolinian is a late bloomer: a first PGA Tour win at the Pebble Beach Pro-Am last year, followed by a top-ten finish at the PGA Championship and a tie for third at last month's Players. He made a hole-in-one at the 8th yesterday en route to a winning mark of -6, though in terms of sheer wow factor he was somewhat upstaged by Seamus Power's back-to-back aces (!) on 8 and 9, and Scottie Scheffler's slam-dunk ace on the final hole. Hoge also now has to go into serious battle with the knowledge that no player has followed up victory at the par-three contest with a Masters win in the same year, though Ray Floyd went close in 1990, eventually losing the main prize to Nick Faldo in a play-off.
If it makes Hoge feel any better, a dozen players have both the par-three contest and the Masters on their CV. While it's true that only two of those won the Masters in a year subsequent to their par-three victory – Ben Crenshaw and Vijay Singh – that's got to count for something, right?
The ceremonial opening tee shots were hit by Gary Player, Jack Nicklaus and Tom Watson. Just the 243 years and 11 Masters wins between them. It's exactly six decades since the Golden Bear pulled on a green coat for the first time; in lieu of that tale, here's the story of how he slipped into it for a third.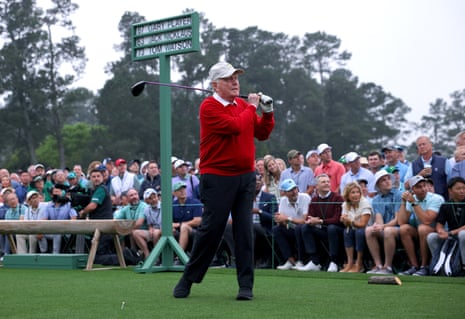 Weather report … and it's going to be …
It'll be warm today, albeit with the outside possibility of some thunderstorms in the afternoon. Hopefully they'll swerve Augusta National. What appears to be swirling Augusta National is the wind, so low scores today may come at a premium.
There are more serious threats of thunderstorms tomorrow afternoon, plus a smattering of rain. Saturday is when things get serious: although the thunderstorm threat is low, the rain is expected to tip down in large enough quantities to put a stop to play. The wind will be up as well, so it'll be a real Open-style scene. And then there's Sunday, which isn't expected to be so bad, but still a bit wet nonetheless. All good news for the longer hitters, mind you.
Should the worst happen, and the conclusion of the Masters is delayed until a fifth day for the first time since 1983, the forecast for Monday looks good. But here's to that not being a factor whatsoever.
One thing worth pointing out to those fretting about any disruption to the natural rhythms of the Masters: the committee at Augusta National are a great bunch of lads, and are past masters at crowbarring the tournament into any manner of gaps so it can finish on Sunday as planned. There was a two-tee start on Sunday in 2019 to avoid thunderstorms late in the day; the 2003 edition was played over three days after rain washed out Thursday in its entirety. But of course we'll see how things pan out. Bugger off, thunder! Do one, lightning!
Hello friends, and welcome to our live hole-by-hole coverage of the 87th edition of the Masters Tournament. There's only one way to begin, isn't there.
So many questions! Not enough answers! Can pre-tournament favourite Scottie Scheffler, the new Players champion, become only the fourth man to win consecutive Masters? He'll join an elite club if he does: Jack Nicklaus, Nick Faldo, Tiger Woods. Or can Rory McIlroy, who shot 64 on Sunday last year to finish second, go one better this year and finally complete the holy grail of career grand slam? Again, exclusive club: Jack, Tiger, Ben Hogan, Gary Player, Gene Sarazen (and Augusta National co-founder Bobby Jones if you factor in the career slam in its original form).
Could Jon Rahm become the fourth Spaniard to pull on a green coat, after Seve, Jose Maria Olazabal and Sergio Garcia? Or will the true heir to Seve's throne in Jordan Spieth – the lunacy of the driving, the heatseeking ability to find trouble, the other-worldly ability to escape from it in ever-entertaining fashion; it's all there, don't let the Mom's-apple-pie image throw you off the scent – win a second Masters on a course of which he knows every inch?
The USA prevails more often than not, with 63 wins out of 86 to date. So who makes it 64? The reigning PGA champ Justin Thomas? Two-time major winner Collin Morikawa? Cameron Young, who had two top-three finishes in the majors last season, and just finished runner-up at the Match Play? Sam Burns, who won that Match Play? One of the major-championship nearly men such as Patrick Cantlay, Xander Schauffele, Tony Finau or Will Zalatoris, all of whom have finished strong at Augusta in the past?
Jason Day, runner-up in 2011, has been working his way back into form and loves this place. Im Sung-jae, runner-up in 2020, has three top-six finishes this calendar year. Justin Rose, runner-up in 2017, has been back in the winner's circle this season and finished high at the Players. Hideki Matsuyama, the 2021 winner and fifth at Sawgrass? Reigning US Open champ Matt Fitzpatrick? Everyone's new favourite Tom Kim? Amateur sensation Gordon Sargent? Any of those?
Or what about one of the crazy LIV kids? Open champion Cam Smith? The 2020 winner Dustin Johnson? Four-time major winner and Netflix brooder Brooks Koepka? The 2018 champion and festive-subpoena enthusiast Patrick Reed? No doubt a lot will be written about their presence, and Greg Norman's lack of it, but unless Reed and Rory start throwing hands halfway down the 15th on Sunday afternoon, we promise to do our best to ignore the extraneous noise, concentrate on how everyone's actually playing, and generally feel and spread the love.
Or what about Tiger? Well, y'know. But really. We've already learned to put nothing past him.
All those words, then, and still a fair chance that we've forgotten to mention the eventual winner. Ah well. We could go on for ever – Bryson! Bubba!! Sergio!!! – but what would be the point? There aren't too many no-hopers in this field. So unwrap the green paper from a pimento cheese sandwich, pour yourself a long cool glass of iced tea, suck absent mindedly on a Georgia Peach Ice Cream Sandwich, and settle down on the porch. We'll get going here at 3pm BST, which translates as 10am in Georgia. Until then, we refer you back to the CBS theme, which you can find here on a one-hour loop.