Key events
Mixed emotions for Jordan Spieth. He was in the middle of the 18th fairway when the hooter suspended play, so close to home and yet so far. Now he'll get to finish and put his feet up … but his approach doesn't hold the top shelf of the green and spins back down, 40 feet from the hole. Two putts from distance for a par and a 70 to go alongside yesterday's 69.
The hooter goes again … but this time it's good news. It's back on!
Jon Rahm was fuming when the hooter went. He's smiling now, though, with everyone pretty much convinced that the first batch of troublesome thunderstorm cells have passed, and that play will resume in short order. This isn't to say there won't be more storm concerns later on … or that the rain won't start bucketing down soon … but fingers crossed, huh … and at the risk of tempting fate, the satellite images don't identify any other imminent threats. Yep, fingers crossed.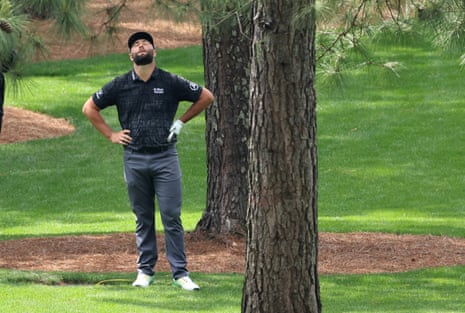 Now then! The skies have suddenly cleared … a break in the cloud … and the players haven't moved too far from where they were when the hooter went. In fact, they're all heading back to their balls! It looks as though play will continue! Great news. Well, no official word yet … but none of the players are moving an inch. This could be back on!
Play suspended due to threat of lightning
The hooter goes. A lot of unhappy players stop what they're doing and make their way back to the clubhouse. This might not be the end of play today, though. The current satellite pictures don't appear too bad. But in they go, and we'll have to wait and see how this all pans out. Depending on how much of a battering the storm gives the course, Augusta National could be playing very differently when everyone finally comes back out. If everyone comes back out. More news when we have it. In the meantime, here's Steven Pye on the last time the Masters concluded on a Monday.
-12: Koepka (F)
-8: Bennett -a- (F)
-7: Rahm (6)
-6: Morikawa (F), Hovland (7)
-5: Day (F), Burns (F), Spieth (17), Lowry (10), Young (6)
Bennett: I've got what it takes to win
The record-breaking amateur Sam Bennett talks to Sky. "That was incredible … I think a lot of people didn't think I was going to be able to back it up, but I went out there with the same gameplan … I hit a lot of solid shots … I put myself in great positions … this is right where I want to be … I love pressure, I love nerves … I know it's the Masters and a bigger stage, but I've played in front of a lot of people … I've put myself in a good spot … anything can happen … I like where I stand … I think I can [win] … I'm playing really well … I think I've got what it takes to win … I love hitting shots in front of people and making shots when it matters … I think I have a good chance!"
He then explains the tattoo on his arm for those who haven't heard the story of his late father, who passed away two years ago from early onset Alzheimer's: "I look at it a lot … it was the last words he said before he passed when he was still in his right mind … so I use it for a little motivation … I know he's watching and has a good view looking down at Augusta National … I know he's thrilled but I wish he could be here … but he's happy, I know he is."
Those words? "Don't wait to do something."
"… and I think I'm not this week!"
Bogey for Rory McIlroy at 18. A second round of 77 to go with yesterday's 72, a level-par score that, let's be honest, flattered him. He ends his week at +5 and will be missing the cut for sure. Back this time next year for more career-slam speculation? It's a date!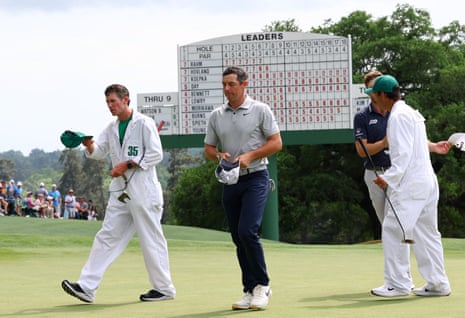 Brooks Koepka talks to Sky Sports. "I just played really solid … took advantage of the par fives … that's what you have to do around this place … I feel good … my game is right where it should be … I'm excited and ready to go over the next two days … I'll just keep doing what I've been doing … I'm very pleased we got in with no rain … we'll see how this afternoon and tomorrow morning goes."
Amateur Sam Bennett shoots another 68
Par for the amateur Sam Bennett at 18! He signs for his second 68 of the week! Unless somebody still out there gets to -9, Bennett will go out in the final pairing tomorrow. He's already broken the record for the lowest front nine shot by an amateur at the Masters (32); now he's broken new ground for the best 36-hole total by an amateur (136).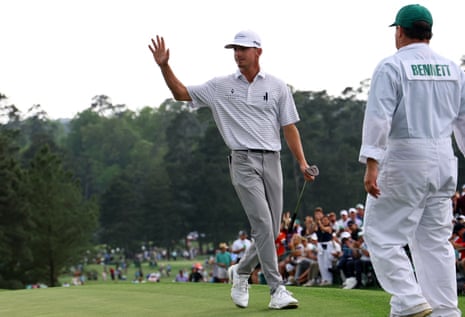 -12: Koepka (F)
-8: Bennett -a- (F)
-7: Rahm (5)
-6: Morikawa (F), Hovland (7)
Scottie Scheffler sends his second at 18 through the back of the green. He bumps up from the bottom of the bank, but as gentle as he goes, he can't stop the ball from rolling past the hole, then down the ridge running across the middle of the green. He rolls the 40-footer he leaves himself up to kick-in distance, but that's a closing bogey and an extremely disappointing 75 for the defending champion. He goes into the weekend at -1, and his chances of joining an elite list of those to hang onto their title – Jack Nicklaus, Nick Faldo and Tiger Woods – are pretty slim now.
Rory McIlroy's race is surely run. He nearly chips in from the back of 16, but the ball rolls four feet past, then he clanks the par putt wide right. Missed by an absolute mile! He grins in embarrassment as he walks away from the scene of the crime. He's +4 and he could save himself with a birdie on 17 or 18, certainly if the cut moves further out … but you wouldn't bet on his making one given the current state of his game/mind.
Collin Morikawa can't make the birdie putt on 18, but par secures his second 69 of the week. He goes into Moving Day well placed. Meanwhile a bogey for Viktor Hovland, punishment for going over the back of the par-three 6th.
-12: Koepka (F)
-8: Bennett -a- (16)
-7: Rahm (4)
-6: Morikawa (F), Hovland (6)
-5: Day (F), Burns (16), Spieth (14), Lowry (8), Young (4)
Collin Morikawa whistles his approach at 18 pin high, from 182 yards to eight feet. He'll have a great look at birdie for a round of 68. Meanwhile as the rain begins to patter down again, Rory McIlroy pulls his tee shot at 16 over the back left of the green. Time really is running out for him now. Meanwhile a near miss for Tiger on 6; he whips a glorious tee shot over the flag to ten feet, but has to trickle his birdie putt back down the green and it's never going in. Six pars in a row.
Sam Burns nearly drains a 40-footer for eagle on 15. He'll make do with a birdie that brings him back to -5. McIlroy has to settle for birdie as well, disappointingly pushing his five-foot eagle putt right of the cup. Never going in. He's still outside the cutline at +3, though he's still got three holes to fix things, and the weather might effectively move the cut further out anyway. Meanwhile wild drives down 18 cost both Justin Rose and Dustin Johnson. Both make bogey, and they sign for 71 and 72 respectively. Rose goes into the weekend at -4, DJ -1.
The projected cut remains at +2. Tiger Woods remains at +2. The five-time winner opens up with five straight pars. Hanging on in there. So is Rory McIlroy, sort of. Having birdied 13, he's now creamed his second at 15 from 230 yards to five feet! Should he knock his eagle putt in, he'll be back inside the cutline alongside Tiger!
Collin Morikawa has been plugging away quietly all week. He's certainly not been getting his fair share of television coverage. In fact his major contribution so far has been inadvertent, a wholly confected rules brouhaha for which he was categorically found to be not at fault. But the 2020 PGA and 2021 Open champion will surely have a higher profile this weekend, because a birdie at 15 has brought him up to -6 for the tournament. He's one par away from carding his second 69 of the week.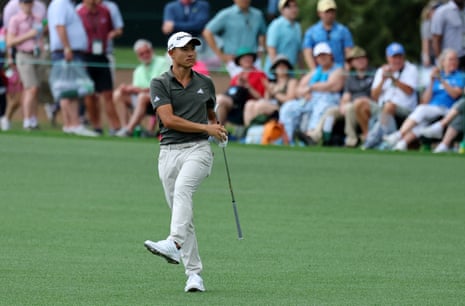 Back-to-back birdies for the 2020 champion Dustin Johnson at 16 and 17. That hauls him back into contention at -2. He looks reasonably content with life at the moment, unlike Scottie Scheffler, who will have been expecting to pick up a shot or two on the par-fives coming home, but has only been able to par them both. He's not responded to that painful double bogey on 9, and remains at -2. Like DJ, he's not out of it yet, but his mood music is more …
The rain has stopped for now, which is good news, though for how long the storm holds off is anyone's guess. There are already dark clouds hovering over Xander Schauffele, mind, after a costly double bogey six on the short par-three 3rd. His tee shot found sand; his bunker shot failed to reach the green, toppling back down the bank; his chip then did likewise. He slips to -2. Meanwhile, as LIV enthusiasts around the world get their pom-poms out, this is a great point courtesy of David Howell: "A lot of the talk around the defectors coming into this week is that they would be rusty from the 'meaningless golf' they played in preceding non-majors. We should have guessed that this wouldn't affect Brooks Koepka, for whom preceding non-majors seemed meaningless even when they were 72-hole events with a 36-hole cut."
Jason Day's round crumbled the minute he hit that fat chip into the drink at 15. A double bogey, a three-putt bogey at 16, and a short par putt missed on the last. Four shots shipped in the last four holes, in just under an hour. How quickly things can change at Augusta, and what could have been a 68 or better ends in a level-par 72. He goes into the weekend at -5.
Bah! The skies have opened. The rain has started to come down, reasonably heavily as well. No reason to stop play just yet, but it's noticeable that quite a few of the players are picking up the pace, in order to complete as many holes as they can before the thunderstorm klaxon makes its inevitable call.
Yet another huge putt steered in by Sam Bennett! A 22-foot right-to-left curler from the back of 14! The birdie moves him into second place on his own! "I fear that, like myself, Monty, and Lloyd Mangrum, Rory is destined never to win the Masters," begins Simon McMahon. "Even now, there's a sad inevitability about it. Like for Tom Watson and Phil Mickelson, the career Grand Slam just isn't going to happen, despite how much they, and we, want it to. McEnroe and the French Open, Lendl and Wimbledon, Dundee United and the European Cup, Rory and the Masters. So near and yet so far."
Ah yes, Lloyd Mangrum! The 1946 US Open champion. A two-time runner up at Augusta (1940 and 1949). The Rhett Butler of the fairways. It took 12 heart attacks to finish him off. He was once told off by a spectator for chugging away on a cheroot. "Athletes shouldn't smoke." His pat response: "I'm no athlete, lady, I'm a golfer."
-12: Koepka (F)
-8: Bennett -a- (14)
-7: Hovland (2), Rahm (1)
Phil Mickelson will be 53 years old in a couple of months. He's already won one major championship as a fiftysomething, the 2021 PGA, and if you could offer him the pick of one last triumph, he'd absolutely, categorically, definitely select the US Open, the one biggie that's eluded him. Having said all that, he wouldn't turn his nose up at a fourth Masters … which, if only as a result of his dismal LIV form, is surely beyond him. Except, except. He's just come home in 33 strokes, with birdies at 12, 13 and 18, to sign for a second round of 69. Add that to yesterday's 71, and Lefty goes into the weekend at -4. I mean, he couldn't, could he? No, don't be so daft. But he could!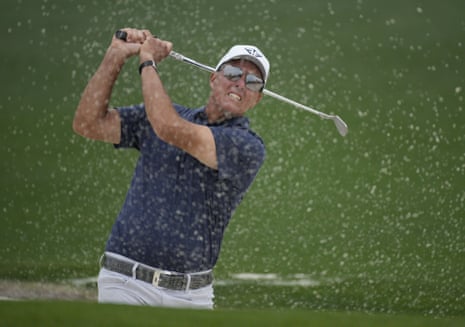 Two putts for Viktor Hovland at 2. Jon Rahm nearly chips in from the back of 1. Both remain at -7 … alongside the amateur Sam Bennett, who makes another birdie, this time at 13! Now then. Let's not get carried away with ourselves. No amateur has ever won the Masters, something of an ironic twist seeing the tournament was founded by the greatest amateur of them all, Bobby Jones. But some have come close. Ken Venturi was runner-up in 1956, and probably should have won having led by four going into the final round. Frank Stranahan (1947) and Charlie Coe (1961) both tied for second; Billy Joe Patton finished third in 1954. Oh, and Jack Nicklaus tied for seventh in 1961, and he didn't go on to do too badly as a professional. Just a little something to think about, is all.
-12: Koepka (F)
-7: Bennett -a- (13), Hovland (2), Rahm (1)
-6: Day (17)
-5: Morikawa (14), Burns (12), Spieth (11), Young (1)
If there's one worry about Viktor Hovland, it regards his wedge play. Having bladed one at the 1st, he now sends a dismal heavy-handed chip 25 feet past the hole at 2. Meanwhile back on 1, Jon Rahm, having sent his opening drive into trees down the right, whistles his second through the green and is fortunate the gallery act as an unwitting backstop. The chasing pack are making life easy for Brooks Koepka, who will be in the clubhouse with the metaphorical feet up, cigar on, and ball of brandy rolling around a large tumbler beside a roaring fire.
It's all going wrong for Jason Day. He growls in anguish as his tee shot at 16 is taken 40 feet from the flag by the camber of the green. Three putts later, and that's three shots gone in two holes. An excellent round goes deep south. He's not out of it by any means at -6, but his mood's not good right now.
The 31-year-old Korean, with two wins at the Byron Nelson but nothing else on his PGA Tour CV, missed the cut on his Masters debut last year. He'll be playing this weekend for sure, though. Since we last heard from him, he's picked up another stroke at 15, then parred his way home to sign for a 67 that equals Brooks Koepka's best-of-day. That's doubly impressive seeing his round threatened to go off the rails after back-to-back bogeys on 5 and 6. He goes into Moving Day at -3 for the tournament, with a first top-ten finish in a major his goal for the weekend.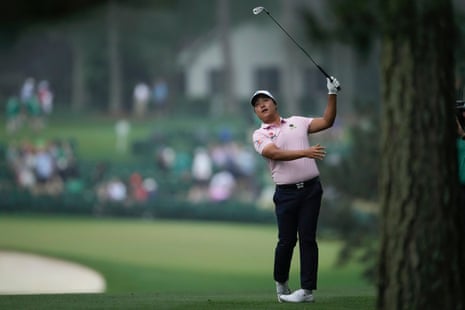 Rory McIlroy continues to unravel all the way around Augusta. He tugs his approach at 11 into the drink guarding the front left of the green. He does pretty darn well to limit the damage to bogey, knocking his shot from the drop zone to ten feet and rolling in the putt. But unless he tears it up over the remaining seven holes, one suspects it doesn't really matter. He's now +5 and the cut is projected to fall at +2. Perhaps a combination of a strong finish and the weather may save him, but his game – as well as his spirit – appears in tatters right now.
Sam Bennett is made of the right stuff. The 22-year-old amateur sends his tee shot at 12 over the flag, then nearly makes the 12-footer coming back. Just a par, but he remains at -6, having responded to dropping his first stroke of the week at 4 with birdies at 8 and 9. Whatever happens from here on in, it's been a performance for the ages. Just a reminder: his front nine of 32 yesterday is a Masters record for an amateur.
Some proper comic cuts from Viktor Hovland at 1. Having split the fairway with his opening tee shot, he sends his second over the back, then thins an appalling chip 60 feet past the flag! No worries! He then sends a tramliner into the cup to save his par. That raises the roof, and it's an absurd save that will either rattle the Norwegian or convince him that this is his week! Meanwhile up on 16, it's indeed a two-putt double bogey for Jason Day. With one shot hit fat into the water, Brooks Koepka's lead is now five strokes.
-12: Koepka (F)
-7: Day (15), Hovland (1), Rahm
-6: Bennett -a- (12), Morikawa (12), Burns (10), Spieth (10), Young
Thanks John … and I'm back just in time to witness a disaster for Jason Day on 15. Having laid up in front of the drink, he chunks his chip straight into the briny. Then, having popped his ball down in the drop zone, he only just clears the lake the second time. Two putts coming up for a double bogey. Ach.
Koepka seeks to finish his round without dropping a shot but fails when his third shot leaves him plenty to do from the fringe of the green. He has to sign off at -12, though Day missing a chance to go -10 at 14 means there's something of a let-off.
Tiger Woods is imminent, on +2, and set to tee off with Hovland and Schauffele. Handshakes all round before he sets off. And huge applause as he tees off in dark blue, and to the left-hand side of the fairway. That'll do for now. Schauffele meanwhile lands the ball on the ninth rather than first fairway. Oops.
Willett's championship looks done, as he's blammed his drive into the Georgian woodlands, and is forced to lay up to have any chance of avoiding a multiple bogey. He signs off with a 6, and +6, the 2016 champion.
And with that, I can hand you back over to Scott Murray.
Rory at the ninth, par 4, his second shot up the hill looks good enough but there's no spin and that leaves him well short for a birdie. The putt is good, but just wide, better but not enough.
Jason Day's on his game, the Australian entertainer who was always there or thereabouts a decade ago or so at majors and won the PGA Championship in 2015. He's set himself up for a challenge at -9 after the 13th.
On 17, Koepka from some semi-rough lays up his shot from tee to green and makes a decent fist of it. No dramas, that's the key to his game today, though his third shot is not good and leaves him with a bit to do. Again, no dramas. And that means the rest have to play spectacularly to catch up.
Big cheer as Freddie Couples, his hair now white under that trademark cap, goes to -2 with a birdie at 6.
-12: Koepka (17)
-9: Day (13),
-7: Hovland, Rahm
-6: Bennett (10)
– 5 Morikawa (11), Burns (9)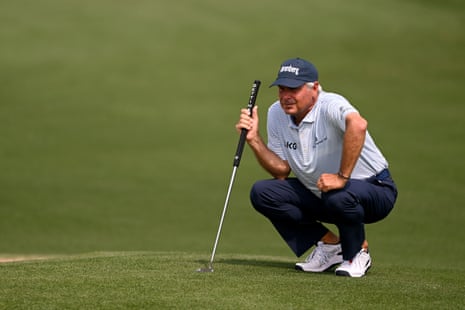 This all seems quite cheap. Even the beer. What gives there?
Koepka on the 16th, leaves his tee shot short, bouncing off the shelf and back down the green. Perhaps no birdie this time. Danny Willett's shot on the same hole is better but still on the fringe. The Sheffield lad, on +3 drops his putt within easy distance of par. So tooWoodland, the third member of this group. And Koepka sinks his par, too. All good.
Rory on the eighth, a par five, finds himself chopping into the green from the woods, and a birdie is a very outside chance. His step quickens, as it does when the Rory gameplan has done for a Burton. He misses the birdie and just wants this over. As might Scheffler, who makes a terrible mess of his putting on the ninth, and ends up with a six. The reigning champion is also doing the quickened walk of imminent doom.
Meanwhile, uh oh, the weather is drawing in. A split in the field could develop with Brooks scampering away with the loot.
Scottie Scheffler lopes up the fairway, looking unhappy with life. He got surprisingly done in last week's Matchplay, and his putting is not as dead-eyed as it can be. Koepka meanwhile, looks well on it, and on 15, punches in a pitch that gives him a chance of a three, an eagle. A birdie will have to do. Nobody can do it better at the moment. Especially not Rory. More body language as he drops another. He's four over for the day, four over for the Masters and his pilot probably needs to start thinking about the route home. Jason Day, on 11, thought he could get a shot closer, only for his putt to run out of gas.
-12: Koepka (15)
-8: Day (11), Hovland, Rahm
-5: Morikawa (9), Bennett (8), Burns
So, only a day and a half into it, and the field is having to chase hard, and that could mean trouble. And mistakes. Dustin Johnson has just missed a big putt on the ninth. He's at -1. Justin Rose slots a nice birdie to go -4, a long accurate putt, reading the green well. Bernhard Langer, with his time-honoured belly-putter – more a chest-putter these days – misses a birdie putt at 14. His weekend looks unlikely to include grand slam golf at this stage.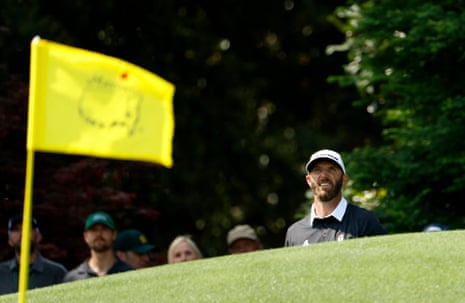 Stepping into some big shoes here but here goes nothing, with Brooks Koepka fully in the swing of things and Rory Rorrying away.
KH Lee's aforementioned fast start (see 2.39pm BST) soon went south, with consecutive bogeys at 5 and 6. But he's rebuilt his round with great determination, picking up shots at 9, 10 and now 13 to move back up to -2. Along with Brooks Koepka, he's the hottest property out there today, at four under for his round.
Speaking of hot properties, here's John Brewin to take you through the next hour of play. See you again soon!
At the other end of the spectrum, Brooks Koepka takes two putts from the back of the green at 13 to extend his lead to four strokes. Meanwhile Sam Burns rattles in a 15-foot birdie effort on 6 to keep on the tail of Brooks et al. Latest leader board? Here you are!
-11: Koepka (13)
-7: Day (9), Hovland, Rahm
-5: Morikawa (7), Burns (6), Spieth (5), Young
Scottie Scheffler becomes the latest player to see his tee shot at the par-three 6th topple down the slope running through the centre of the green, miles away to the left of the flag. His 70-foot putt ends up eight feet past, but he coolly slots the one coming back to remain at -3. Rory McIlroy next, and he chuckles self-consciously as he repeats Scheffler's mistake from the tee. However his putt, from 60 feet, is a blood-rushing abomination, racing 20 feet past the flag. He can't make the one coming back, and yet another stroke goes. He smiles wryly for the umpteenth time this week. He's +3 and now battling to survive the cut. As things stand, he's one shot outside it.
Bounceback birdie for Jason Day! He cracks his drive at 9 down the middle, sends his second to 13 feet, then steers in the downhill putt he leaves himself. He rejoins the as-yet inactive pair of Viktor Hovland and Jon Rahm in second place at -7. That's currently three behind the leader, but Brooks Koepka has just crashed a drive down the Tiger line at 13, tight on the left, nearly making it around the corner. He nearly slam-dunks his second in for a Jeff Maggert-esque albatross, but his ball topples off the back of the green. He'll still have a chip, maybe a putt, for eagle, and you'd expect him to get up and down for birdie at least given the way he's playing.