Latin American truckers are reportedly planning a boycott of Florida services in response to Gov. Ron DeSantis' new migrant legislation.
Migrant crossings at the US-Mexico border are back in the national spotlight after Title 42 expired this week. Signed into law by former President Donald Trump in the early days of the COVID-19 pandemic, the measure allowed undocumented immigrants crossing into the US to be quickly removed on the grounds that doing so would help prevent the spread of the virus. It came to an end, along with all other remaining pandemic emergency protocols, on Thursday, raising concerns from some that it would lead to a spike in crossings at a time when various crises have already led to a general surge in migrants who seeking to enter the United States
In response to the end of Title 42, the Florida state government passed SB 1718, a new law that will target undocumented immigrants in the state. Among its contents, the bill would require employers to use E-Verify to verify that workers are authorized to work in the US and would require hospitals to collect information on undocumented patients. The bill was signed into law Wednesday by DeSantis and will go into effect on July 1.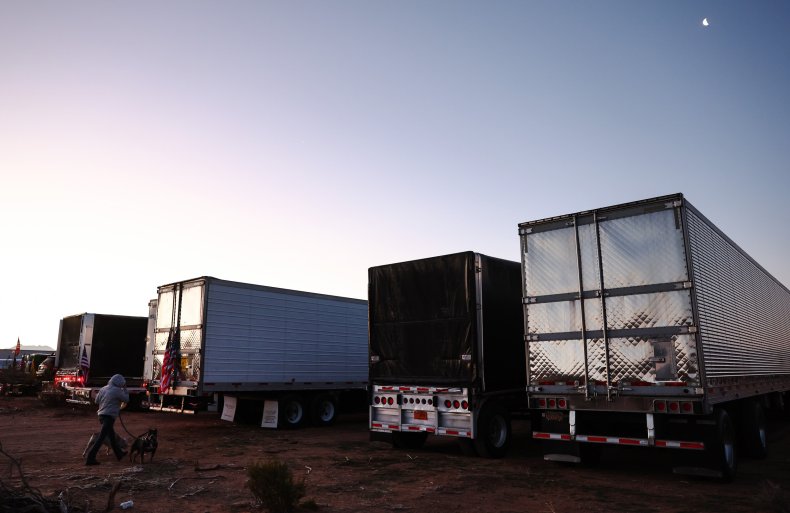 While the new law drew some praise from DeSantis's fellow Republicans, reports have surfaced on social media that Latin American truckers are planning an effort to boycott Florida in response, which would include refusing to bring shipments to the state. The growing response was documented on Twitter by independent journalist Arturo Domínguez, who shared several videos of truckers discussing the plan on Twitter.
"Spanish-language social media has exploded with Latino truckers calling for a boycott and refusing to take shipments to Florida," Dominguez wrote in a tweet. "Things are about to get interesting."
In one of the videos, news week was able to translate some of what was said: "Truckers, do not enter the state of Florida. Let's unite as Latinos in defense of our Latin American brothers who are being attacked by this stupid law, which incites hatred and discrimination." ..My truck won't move. Do not enter Florida. No one enters Florida."
Rep. Alexandria Ocasio-Cortez, D-N.Y., offered a response to the boycott reports, suggesting that the Florida leaders who signed the new law "reaped what they sowed."
"Anti-immigrant policies reap what they sow," the congresswoman wrote. "DeSantis' Florida is about to find out. America has such deep needs right now, particularly on labor. Yet lawmakers (of ALL stripes) take our immigrant communities for granted. No more It's time to stop biting the hands that feed."
news week reached out to DeSantis' press office via email for comment.