Former Fox News host Tucker Carlson said only positive things about former President Donald Trump while speaking with comedian Russell Brand on Friday, despite texting a co-worker about Trump: "I passionately hate him." .
Carlson declared his praise while appearing on the last episode branded stay free podcast after being asked by Brand about his stance on the former president.
"I love Trump, personally," Carlson responded.
"I think we are going to see the rise of Trump as the most important thing that has happened in American politics in 100 years, because he reoriented the Republican Party against the wishes of the Republican leadership," he added later in his conversation with Brand.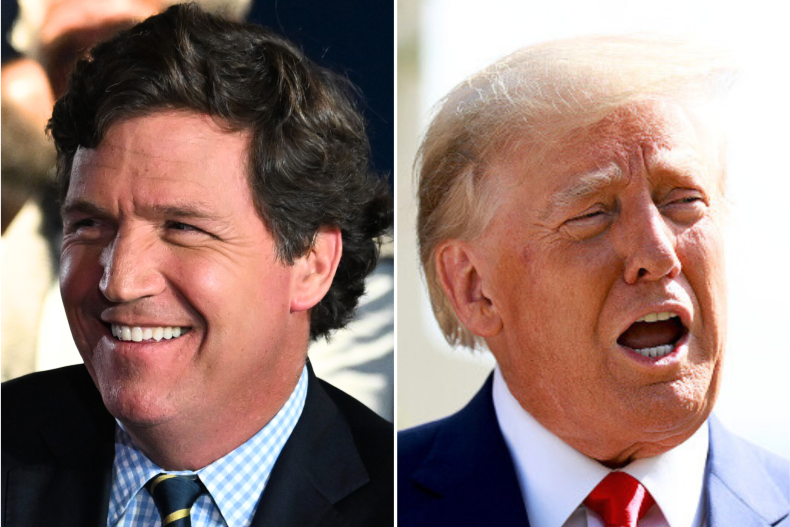 Carlson specifically applauded Trump's position on the war in Ukraine, who, unlike other members of the Republican Party, expressed concern about continued US support for Ukraine against Russia's invasion. Trump also vowed to end the 16-month conflict within "24 hours" if he is re-elected as president next year.
"You know, Trump is the only person with stature in the Republican Party, really, who says we can't, you know, why are we supporting an endless war in Ukraine?" Carlson said Friday. "Leaving aside whether Trump will get the nomination or be elected president… All I can say at this point is that I am very grateful that he has that position. He is right. And everyone in Washington is wrong."
The former president published again a clip of Carlson's "love" on her Truth Social account, writing in response, "Thank you Tucker."
"So many lives wasted, so many lives to save!" Trump added, apparently in reference to the war in Ukraine.
Carlson has shared a friendly relationship with the former president since Trump was elected in 2016, but his loyalty to Trump has come into question in recent months after copies of Carlson's text messages were revealed during the Fox News defamation deal. with Dominion Voting Systems.
In a text message to a coworker on January 4, 2021, two days before Trump supporters stormed the US Capitol, Carlson wrote that he "really can't wait" so he can "ignore Trump most nights."
"I passionately hate him," Carlson added. "I can't handle much more of this."
news week reached out to Trump's press team Friday via email for comment.
However, the former president has remained steadfast in his support for Carlson, even after the former primetime host was abruptly ousted from the network in April. The events leading up to Carlson's firing remain unclear, though there is speculation that a racist text message sent by the former host that was exposed during the Dominion deal may have played a role.
Carlson told Brand during Friday's interview that he still didn't know "why I got fired," but added that he wasn't "mad" at the network. He also said that he doesn't believe anyone at Fox News is behind the leak of the controversial text message.
"I didn't expect to get fired that morning in April," Carlson said. "So I was surprised, but I wasn't really surprised and I wasn't angry. It's not my company. And when you work for someone else, that person reserves the right and actually has the inherent right to decide whether you work there or No".