The avalanche of legal setbacks for former President Donald Trump looks likely to continue, with police in Fulton County, Georgia, making a move that may signal yet another criminal indictment is on the way.
Trump on Thursday received the latest clue that his fourth indictment could be coming soon—the same day that the former president appeared at a federal courthouse in Washington, D.C., and pleaded not guilty to four felony counts related to the January 6 Capitol attack and attempts to overturn the 2020 presidential election.
The Fulton County Sheriff's Office announced that it will beef up security in anticipation of a new indictment by shutting down a section of Atlanta's Pryor Street that runs in front of the Fulton County Courthouse, according to The Atlanta Journal-Constitution. The street closure is planned to begin Monday and last until August 18.
Newsweek reached out for comment to Trump's office via email on Thursday night.
Fulton County District Attorney Fani Willis, who is investigating Trump related to attempts to overturn his 2020 loss to President Joe Biden, confirmed during an interview earlier this week with local station WXIA that a decision on whether to charge the former president would be made no later than September 1.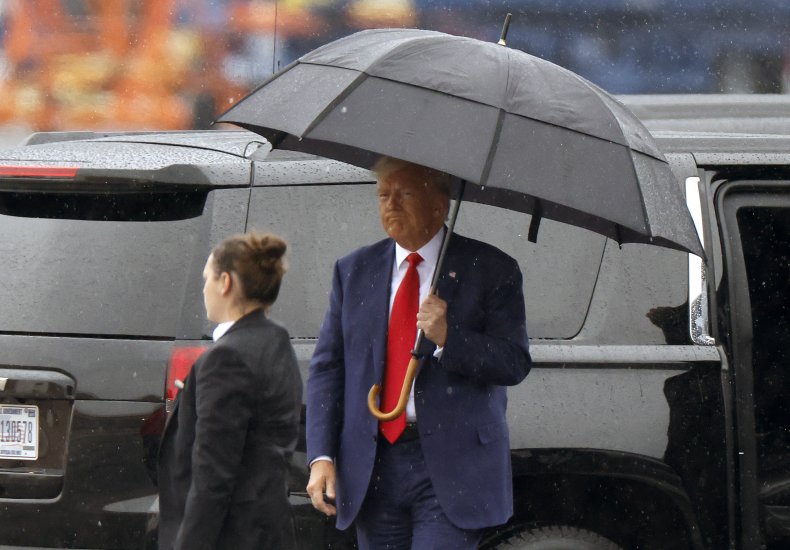 "The work is accomplished," Willis said during the interview. "We've been working for 2 1/2 years. We're ready to go."
Speculation that an indictment may happen by August 18 began to mount in May when Willis announced that she was instructing most of her staff to work remotely between July 31 and August 18—providing a strong clue about the possible timing of the indictment. A grand jury expected to vote on whether to charge Trump was sworn in last month.
Another hint that an indictment could be imminent emerged last week, when videos appeared online of large orange barricades being placed outside Fulton County Courthouse.
Trump called Willis, who is Black, a "racist" and predicted that she would "be dropping all charges" against him "for lack of a case" in a post to Truth Social on June 30.
Fulton County Sheriff Pat Labat told reporters on Tuesday that a mugshot of Trump would be taken in the event of his arraignment. The former president has so far been spared the indignity.
Trump is also facing 40 federal felony counts related to his handling of classified documents and 34 felony counts of falsifying business records in New York. He denies all wrongdoing and claims to be the victim of a political "witch hunt."
Willis' investigation began more than two years ago, not long after Trump called Georgia Secretary of State Brad Raffensperger days before the January 6 attack on the U.S. Capitol to demand that he "find" enough votes to overturn his 2020 loss.
Trump later described the phone call as "perfect" and continues to falsely claim that the election was "stolen" due to massive voter fraud.