Georgia law offers "no escape hatch" for ex-President Donald Trump if he's found guilty in the 2020 election case, former federal prosecutor Glenn Kirschner said.
Trump was handed his fourth criminal indictment on Monday in connection to Fulton County District Attorney Fani Willis' investigation into the former president's purported attempt to overturn his 2020 election loss in the state to President Joe Biden. Georgia prosecutors charged Trump and 18 of his allies on a plethora of counts, including racketeering and forgery.
The former president has denied any wrongdoing in connection to Willis' investigation, calling the charges another example of "election interference" ahead of the 2024 presidential election. Trump has already pleaded not guilty to his three other criminal indictments, and claims that all charges against him are part of a "witch hunt" to upset his reelection bid.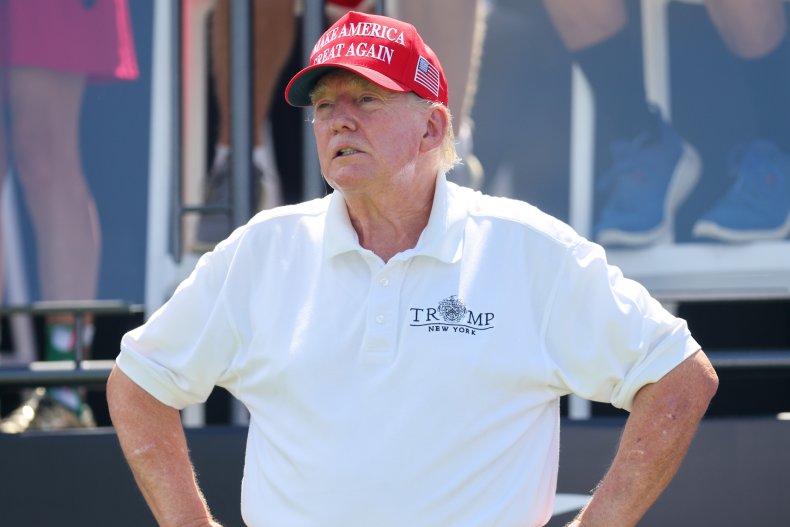 Unlike the other indictments, however, Georgia's legal landscape could offer new hurdles for Trump in court. During Tuesday's episode of his Justice Matters podcast, Kirschner, a legal analyst and staunch critic of the former president, noted that one major difference in Willis' investigation is Georgia's law on criminal pardons.
"Most governors of the states have the pardon power," Kirschner explained. "But the Georgia governor doesn't. So even if the governor of Georgia wanted to pardon Donald Trump in the event of a conviction, he can't. He doesn't have that lawful authority."
Instead, that power rests in Georgia's State Board of Pardons and Paroles, which requires that those convicted complete at least five years of their sentencing before they are able to apply for a pardon, according to the board's website. Convicts must also not commit any crimes during those five years or have pending charges in connection to another case.
"That is especially good news, because there is no escape hatch for Donald Trump, at least not based on the pardon power," Kirschner added.
Several Republican candidates running against the former president have promised to pardon Trump in the event of a conviction if they are elected as the next president. However, a president can only excuse federal charges, meaning that Trump could only be pardoned by a potential ally in the White House on the charges stemming from the Justice Department's January 6 case and classified-documents investigation.
New York state does allow a governor to grant clemency and pardon criminal convictions. The former president faces 34 criminal counts in the New York City hush-money case. However, it is fairly unlikely that Democratic Governor Kathy Hochul would grant Trump such relief.
Trial dates have been set for the spring in the first three criminal cases facing Trump. Willis told reporters on Monday that she plans on pursuing a trial start date within the next six months in her investigation.
It is likely that Trump's defense team, however, will argue for the Georgia case to start after the 2024 election, as his lawyers have in the other criminal cases. The former president claims that he cannot be offered a fair trial while the race for the White House is still taking place.
Newsweek reached out to Trump's press team via email Tuesday night for comment.