Donald Trump's supporters attending his rally in Erie, Pennsylvania, praised the former president's Christian values and referred to him as king ahead of his campaign stop Saturday evening.
Trump is expected to deliver remarks at the Erie Insurance Arena at 6 p.m. ET in the western Pennsylvania city that helped propel him to the White House during his 2016 run, as he hopes to again secure the GOP presidential nomination next year. The rally is the latest campaign stop for the former president, who has held similar events across the country, that attract thousands of his supporters.
The Pennsylvania rally comes as Trump remains the frontrunner to win the 2024 GOP primary. He holds a comfortable lead over his rivals in essentially every poll as conservatives rally behind him. However, Trump will arrive to the rally after a difficult week in court. The Department of Justice (DOJ) revealed new charges against him on Thursday in the Mar-a-Lago classified documents case, and he may face new indictments as two separate investigations into the January 6, 2021, riot at the U.S. Capitol building conclude. The former president, meanwhile, has maintained his innocence in all cases.
Ahead of the rally, several attendees showed support for Trump in videos that have circulated across Twitter from interviews with the conservative news outlet Right Side Broadcasting Network (RSBN).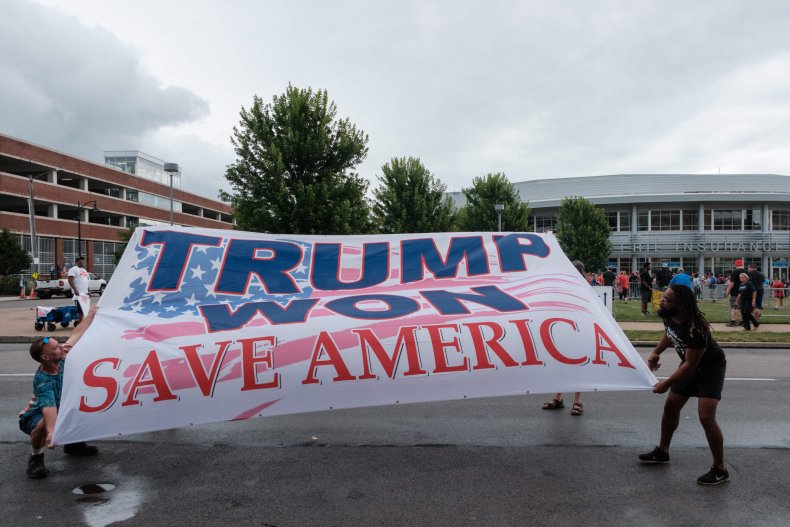 In one video, a rally goer, wearing a shirt that says "The Great MAGA King," praised the former president as a king.
"We've got to support the king," she said, adding that "King Trump" comes only after "King Jesus."
Meanwhile, another rally goer praised Trump's Christian values.
"He's for the American people, like he said. I think most importantly I like his lower taxes and his Christian values that he stands for, for the unborn and all that. He's just all around a better choice than anybody else that I've seen in history while I'm alive," he said.
Another attendee said she is proud to be a Trump supporter, even if people accuse his followers of being in a cult.
"I was just told yesterday that I was part of a cult, and I'm damn proud of it," she said. "He's part of us. He truly is. The things that the liberals are putting his family through is horrendous."
Another rally goer also backed Trump's unfounded claims of widespread voter fraud, alleging that he himself audited the 2020 election and found over a million duplicated ballots in New York, a safely Democratic state easily won by President Joe Biden. He offered no evidence to back up that claim, and Trump's election fraud claims have not been proven.
"I've seen a lot of things you're not supposed to see when you're auditing," he said, "We found over a million duplicated ballots. We have the proof. We found the double voting, we've seen the algorithms. It's facts."
In addition to various legal troubles, the rally also comes after Trump found himself at odds with city officials in Erie. Ahead of the rally earlier this week, Erie Mayor Joe Schember again asked for Trump to pay the city $35,129 for a 2018 rally, which drew thousands of supporters and required police to stay overtime to ensure the safety.
While Trump's campaign, which had more than $35 million on hand at the time, did not pay the city for the rally in 2018, it did pay $17,500 to the arena, the Erie Times-News reported based on Federal Election Commission (FEC) filings.
Meanwhile, Pennsylvania is expected to be a key battleground state in the 2024 election. Although Trump became the first Republican to win the state since the 1980s during the 2016 race, winning by less than 1 percentage point, Biden flipped the state back to Democrats in 2020, winning by 1.2 points.
Newsweek reached out to the Trump campaign for comment via email.