Donald Trump's days in Washington, D.C., may be over for now, but his presence on Capitol Hill likely isn't going away anytime soon. And it could soon put embattle House Speaker Kevin McCarthy's tenuous grip on a bitterly divided Republican majority back in the spotlight.
On August 28, Georgia Republican Congressman Andrew Clyde announced the launch of a bid to use the federal budget process to defund several ongoing efforts to try the president in federal court on allegations of attempting to overturn the result of the 2020 presidential election.
If adopted by the committee and, later, the Republican-led House of Representatives, the proposal seeks to prohibit the use of federal funding for the prosecution of any major presidential candidate at the state or federal level prior to the 2024 presidential election. But it would also put McCarthy's allegiance to the former president to the test at a time when some within his party on Capitol Hill have sought to move on.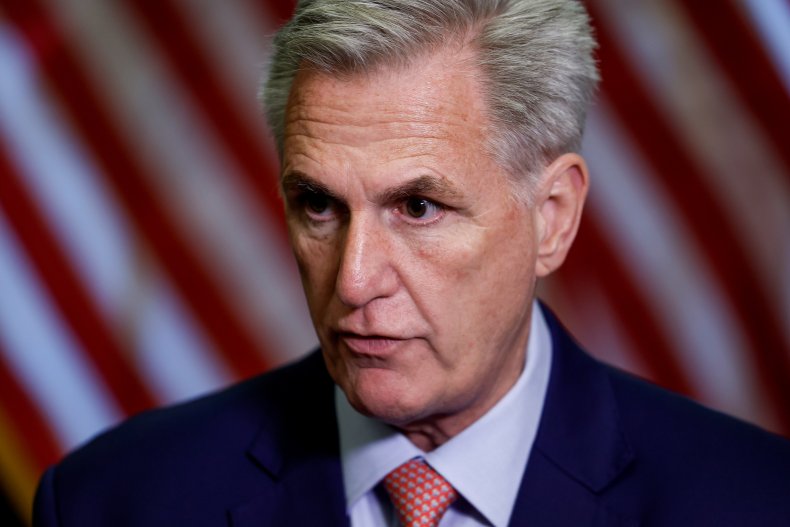 "Americans' hard-earned tax dollars have no place funding the radical Left's nefarious election interference efforts," said Clyde in a statement. "Together, Jack Smith, Alvin Bragg, and Fani Willis intentionally brought four sham indictments against the sitting president's top political opponent, President Donald J. Trump, as the upcoming 2024 presidential election ramps up."
These bogus charges are undoubtedly intended to smear and take down President Trump, as well as hinder his ability to campaign effectively," he added. "This overt election interference continues to undermine both our Republic and our fair system of justice."
Newsweek has reached out to Clyde and McCarthy's office for comment. However, the latest development in the U.S. House of Representatives could present the beginning of yet another contentious appropriations fight between party moderates and their hardline Republican counterparts.
If Congress fails to agree on a budget by October 1, the United States could face a government shutdown. And Republicans, seeking steep reductions in federal spending, already face an uphill battle against a slim Democratic majority in the Senate that is likely to balk at many of their spending requests.
McCarthy has also been plagued by crises of confidence throughout his calamitous time as House Speaker, requiring Democratic votes to pass a deal to raise the debt ceiling earlier this year that cost him the support of a number of members of the hard-right House Freedom Caucus, which opposed numerous facets of the deal.
After McCarthy proposed a stopgap funding package earlier this month that would extend current levels of federal funding to December so lawmakers have more time to negotiate a package, the House Freedom Caucus announced plans to oppose any deal that did not include a number of key conservative priorities.
That legislative wish list included the entirety of the text of the Secure the Border Act of 2023, policies to address the so-called "weaponization" and "political witch hunts" of the Department of Justice and Federal Bureau of Investigations, "woke policies" in the Pentagon, and "any blank checks for Ukraine in any supplemental appropriations bill."
But McCarthy has also felt substantial pressure to side with the former president—and fiercely oppose the current one—against a narrative among Republicans that incumbent President Joe Biden was seeking to use his Department of Justice to jail a political rival while allegedly covering up the crimes of his family.
After the leak of comments McCarthy made following the Jan. 6 riots at the U.S. Capitol expressing concerns Trump would seek a pardon for his alleged crimes, McCarthy has since softened his tune, including making comments appearing to show some support for expunging Trump's impeachments made under a Democratic majority in Congress during Trump's time in office.
Despite the reluctance of more moderate members of his conference, McCarthy has also expressed an openness to using his power as speaker to open an impeachment inquiry into sitting president Joe Biden over an alleged influence-peddling scheme involving the Ukrainian gas giant dating back to his days as Vice President—even though recent investigations have failed to unearth concrete evidence of any wrongdoing in the case.
That, as some on the Hill have noted, would go against his own words: ahead of the first Trump impeachment in 2019, McCarthy wrote a letter to then-House Speaker Nancy Pelosi calling on her to suspend the inquiry pending the full approval of the House, going as far to even introduce a resolution claiming that launching an inquiry without a full House vote "undermines the voting privileges afforded to each Member and the constituents they represent."
McCarthy, however, feels like this time is different.
"If you look at all the information, we've been able to gather so far, it is a natural step forward that you would have to go to an impeachment inquiry," he told Fox News host Maria Bartiromo on an August 27 episode of Sunday Morning Futures.