A US company has refused to recall 67 million airbag inflators that safety officials say can "create an unreasonable risk of death and injury" to drivers and passengers.
Knoxville, Tennessee-based ARC Automotive Inc. disputes the admittedly "tentative" findings by National Highway Traffic Safety Administration (NHTSA) regulators, who have been investigating parts used in various makes and car models around the world. the country and beyond.
NHTSA fears that at least 2 people have been killed in the US and Canada, and 7 more injured, after potentially faulty ARC inflators allegedly ruptured, according to a letter it sent to the auto company this week.
The security agency investigation began in 2015 and its scope gradually widened over time. The letter, released Friday by NHTSA to ARC Vice President of Product Integrity Steve Gold, reads: "NHTSA is issuing this recall request letter to notify you that the agency has tentatively concluded that a safety-related defect exists. of motor vehicle front driver and passenger airbag inflators under investigation […] Over pressurizing the inflator has the potential to cause it to rupture, resulting in metal fragments being thrown into the passenger compartment."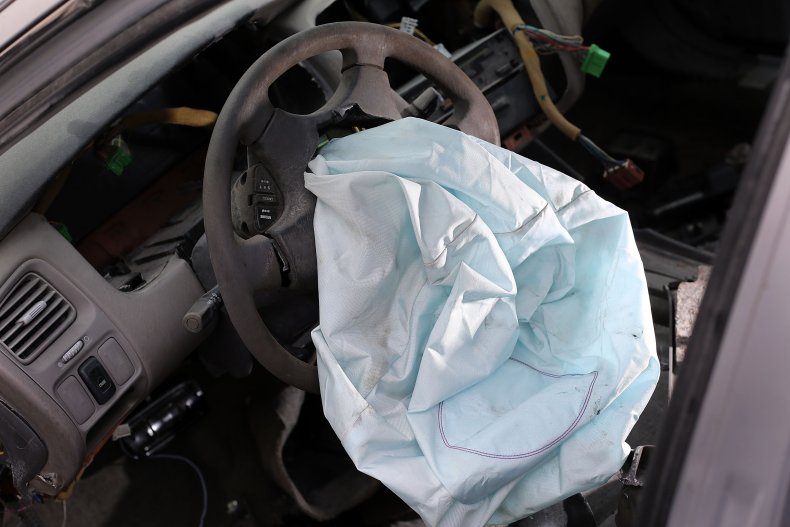 However, the letter signed by Stephen Ridella, director of NHTSA's Office of Defect Investigation, said that tests were conducted in April 2018 in which, "[n]o Anomalies were detected in any of the deployments. None of the inflators tested ruptured."
However, the agency listed 7 airbag deployments in the US, 1 in Canada and 1 in Turkey. Most resulted in facial injuries to the drivers, but two reportedly resulted in fatalities. A driver in Michigan died in August 2021 after the driver-side airbag inflator ruptured in a 2015 Chevrolet Traverse, the NHTSA said. And in July 2016, a driver in Canada died after the driver-side airbag inflator ruptured in a 2009 Hyundai Elantra, the agency said.
"Based on currently available information, NHTSA has tentatively concluded that a motor vehicle safety-related defect exists in the driver and 4-passenger frontal airbag inflators and requires ARC to issue a Recall Report of Part 573 that addresses that security flaw," the agency said. at the request of ARC. "The subject inflators present an unreasonable risk of death or injury that may result from an item of motor vehicle equipment that, when not defective, is designed to save lives.
"Air bag inflators that project metal fragments at vehicle occupants, instead of properly inflating the attached air bag, create an unreasonable risk of death and injury. Accordingly, the Agency requires ARC to immediately dispatch NHTSA a Part 573 Recall Report that identifies a safety defect in the driver and passenger airbag inflators in question NHTSA's request that ARC conduct a safety recall does not constitute a formal conclusion from NHTSA regarding the evidence in its investigative file."
The recall would cover a large portion of the 284 million vehicles now on American roads, the Associated Press reported, but the percentage is hard to determine.
ARC rejected the agency's demands for a recall, issuing a statement Friday night to the Associated Press that said, "We disagree with NHTSA's sweeping new request when extensive field testing found no inherent flaw." . However, he confirmed that General Motors is recalling nearly 1 million vehicles equipped with ARC inflators, including the automaker's 2014-2017 Buick Enclave, Chevrolet Traverse and GMC Acadia SUVs. Owners will be notified by letters to be mailed at the end of June.
news week contacted ARC by email on Saturday requesting more information and comment.
Following ARC's dismissal of NHTSA's findings and its refusal to enact a recall, it is believed the agency may schedule a public hearing on the case. Ultimately, it could take the company to court to force a recall, according to the Associated Press.
ARC is not the only manufacturer in the auto industry that has faced recall lawsuits.
Tech mogul Elon Musk ran into trouble with Tesla in November when 40,000 cars were recalled over fears some models would lose power steering assistance.
While in May last year, 239,000 vehicles made by the Korean firm Hyundai were recalled due to concerns that the seat belts could explode and shoot metal fragments through the car.
In February 2021, more than 153,000 Ford Ranger trucks from 2004 to 2006 were recalled for potentially dangerous airbags made by the now-bankrupt manufacturer Takata. Thousands of other models, including Ford, Lincoln and Mercury vehicles, were also affected.