A video capturing the moment lightning struck the tower of One World Trade Center in New York City during a storm has gone viral on social media.
Photographer Max Guliani tweeted the clip of the spectacular moment lightning struck the skyscraper on Saturday night, writing: "Tonight's thunderstorm over One World Trade."
The clip has amassed more than two million views and more than 14,000 likes.
Commenters reacted in awe, with one person saying the clip "is probably the most incredible footage of lightning I've ever seen."
Others also shared their photos and videos captured during the storm on Twitter.
Gary Hershorn, a photojournalist, tweeted two photos of the moment lightning struck One World Trade Center.
In their images, taken from Hoboken, New Jersey, lightning can be seen fanning out across the sky over Lower Manhattan, the Hudson River and Jersey City.
The National Weather Service said a severe storm watch was issued for parts of New York, Connecticut, New Jersey and Massachusetts until 10 p.m. Saturday night.
The NWS warned people that wind gusts up to 65 mph, hail and tornadoes were possible.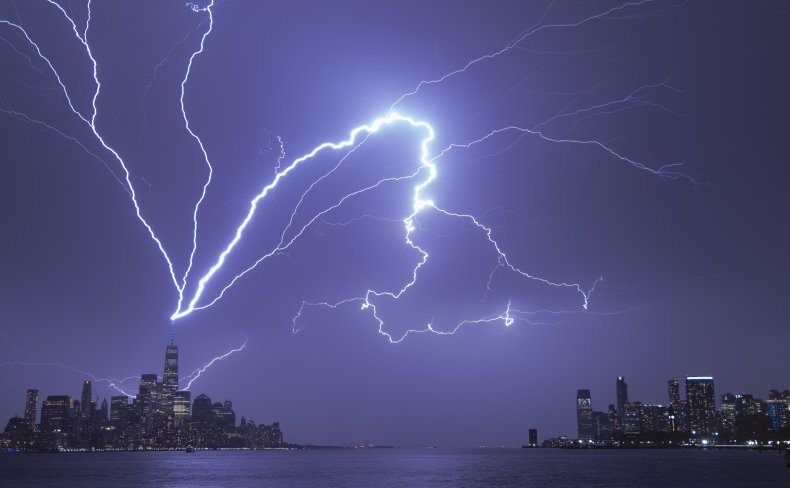 Early Sunday morning, the NWS New York City office said in a tweet that the worst of the storm was over and sunny was expected Sunday.
"The latest batch of shower activity is moving east across the eastern sections," the tweet read. "Any rain ends in the next hour to the east, with clouds and stratus remaining for a good part of the night. We're back in sunshine Sunday!"
Severe Weather Threats and Tornado Watch also aired for parts of Pennsylvania and Delaware on Saturday.
It came after a powerful storm system tore through the South and Midwest on Friday, killing at least 26 people.
Deadly weather, including multiple tornadoes, destroyed homes and businesses in multiple states, including Arkansas, Illinois, and Indiana.
A tornado devastated several neighborhoods in Little Rock, Arkansas, on Friday, killing one person and causing widespread damage. The NWS said preliminary information indicated the tornado was a high-end EF3 tornado with wind speeds up to 165 mph (265 kph) and a track of about 30 miles (48 kilometers).
And in Belvidere, Illinois, the roof of a theater collapsed during a sold-out heavy metal concert, killing one person and injuring 28.
meanwhile, president Joe Biden on Friday he visited Rolling Fork, Mississippi, to see for himself the consequences of a deadly tornado that ripped through through cities in Mississippi and neighboring states a week ago.