New footage circulating online appears to show smoke billowing into the sky over the Russian city of St. Petersburg after media reports said an oil depot had caught fire on Sunday.
Authorities dispatched more than 100 people to extinguish a fire and prevent damage to nearby buildings in St. Petersburg, Russia's Ministry of Emergency Situations said in a post to Telegram on Sunday. The fire was contained to an area of ​​800 square meters (8,600 square feet) the ministry said, adding there were no casualties.
Videos published on social media show a thick column of dark gray smoke rising from a facility. Orange flames are clearly visible in a number of clips, with sirens wailing in the background.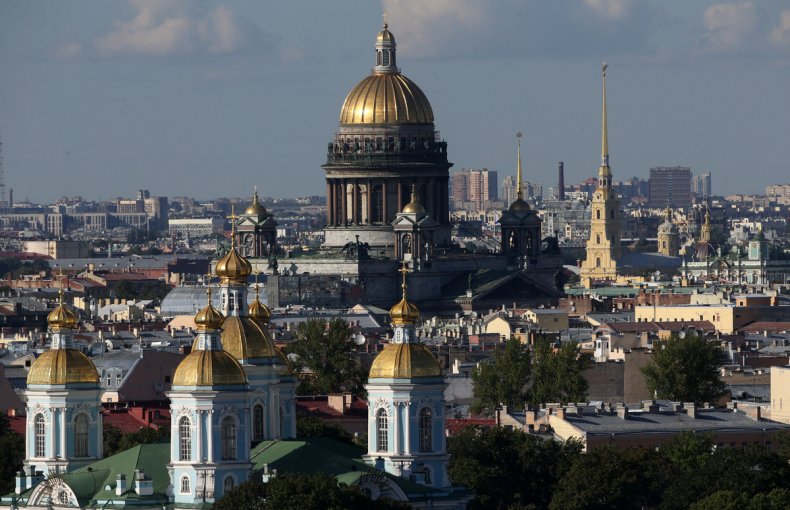 The Russian government did not specify the type of building set ablaze further than describing it as a "hangar," but some Russian and Ukrainian media reports said an oil depot was on fire in the Krasnogvardeisky district in the northeast of Russia's second-largest city. "Gas cylinders and fuel were stored at the site of the fire," news outlet NEXTA reported, citing eyewitnesses.
But independent Russian-language outlet Astra reported that the fire did not break out at the oil depot, but in a car service building.
Local residents heard "sounds similar to explosions" at the Ruchi oil deport, according to Russian agency, Readovka. Newsweek has contacted the local St. Petersburg government for comment via email.
The cause of the fire is not yet clear, and although there have been suggestions online that it could be the result of a Ukrainian strike, there has been no comment from Russian nor Ukrainian authorities about this.
The blaze comes just hours after a separate hangar fire was reported on the southeastern outskirts of St. Petersburg on Saturday. Readovka reported in the early hours of Saturday that 80 people were tackling a fire covering 1,500 square meters around a refrigeration plant in the Kolpinsky area of the city.
Late last week, Ukraine's military intelligence agency said a fire had broken out at a Russian electronics factory in Moscow, but stopped short of explicitly claiming responsibility for the blaze.
The capital's mayor, Sergei Sobyanin, had posted on social media that air defenses had intercepted a drone travelling towards the city.
However, Andriy Yusov, a spokesperson for Ukraine's Main Directorate of Intelligence said Russia's air defenses "did not shoot down anything," adding in remarks reported by Ukrainian media: "There is a fire in Lyubertsy, at the Tomilinsky electronics factory."
"Russians produce electronics for missiles there," Yusov added.
Newsweek was not able to immediately verify any of the claims.